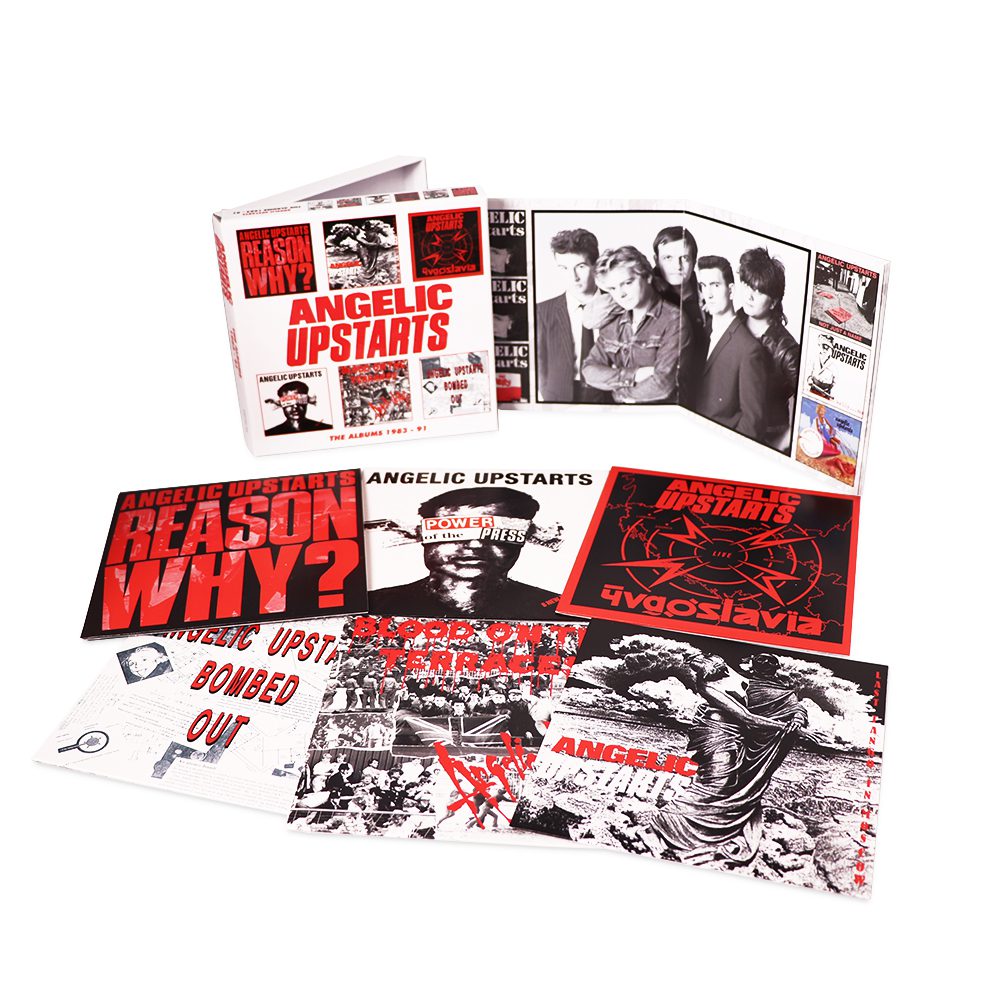 It was in late 2021 that Thomas 'Mensi' Mensforth, the Angelic Upstarts lead singer died due to complications, as a result of Covid. He had been the mainstay of this punk band since its formation in 1977. The band had still been active on the live stage and their last performance was a memorial show for Mensi, which had been at the O2 Forum, Kentish Town in September 2022. Forthcoming dates have yet to be announced.
To fill this void, fans and interested parties alike can commemorate this illustrious lead singer, as Cherry Red release The Singles 1978-85. A 44-track double-disc compilation, covering every A and B-side released by the band between 1978-85, and wow what a collection. Like the touch paper on a firework being lit, this sparks off with the band's debut single 'The Murder Of Liddle Towers'. As the first dish served, what comes across is just how similar the band's vocalist is to that of later pretender Pete Doherty of The Libertines. Both timing and vocal phrasing seem pretty similar. The instrumentation is a riot of guitar, composed by the band's guitarist Mond and the mainstay of drums offered by Decca. Mensi sings, "…Police have the answers. But they haven't got the right, to kill a man. To take away his life. Perhaps I'm not too clever, perhaps I'm not too bright. But I think your verdict was just a lie, a lie, a lie, lie…". The storytelling was one of Liddle Towers, an electrician and boxing coach from County Durham, who died following a spell in police custody in 1976. As a debut single and after 47 years, what comes across is just how powerful this still is. Telling a story that was plain and simple of police brutality and even though an inquest considered this justifiable homicide, this is where Mensi picked up the story and turned the narrative of Liddle Towers into punk history.
Stories of teenage angst, police aggression, and mental health, the Upstarts were to chronicle their times from the perspective of the angelic youth. With songs like 'Police Oppression', 'Leave Me Alone' and taking Cliff Richard's 'The Young Ones' and telling the story as the Comic Strip would later do so 3 years later, in 1982 with an irreverence that would speak of the punk rock movement. Tracks like 'Never 'Ad Nothing' & 'Out Of Control' were to point a spotlight on mental health, especially in the younger generation, and was an issue that wasn't to enter popular thinking until up to two decades later.
Here Mensi was to articulate this in his lyrics, which, with the anxiety expressed in the composition, really hit the mark. Quite the opposite to their previous compositions were to appear in 1980 as a single release. 'We Gotta Get Out Of This Place' was a song written by American songwriters Barry Mann and Cynthia Welland and released in 1965 by The Animals. This was a song, research has found, that resonated particularly with soldiers serving in the Vietnam war and at the time the Upstarts recorded the tune, perhaps similar to the perceived wasteland caused in Thatcherite Britain. As always Mensi and the band would add their vicious telling to this tale and the line '…We gotta get out of this place if it's the last thing we ever do…", would not resonate more highly with the disaffected during this time. I have to say that the B-side 'Unsung Heroes Part II' might have had more punk credentials than its A-side though. Interestingly Messi was to parody the John Le Carré novel on the B-side to 'Last Night Another Soldier'. 'The Man Who Came In From The Beano' would hear a punk playfulness displayed by both lyricist and band alike, as Mensi sang "…stick your pen right up your nose, we all know you caught a dose…", as the band continued with their solid back-line, cheering along to the lyrics as they went.
1981s 'England' came as something of a surprise. Less punk, less playfulness than had been seen previously, as an acoustic guitar opened this intensely patriotic number. The chorus stands as the mainstay to the song, "…England, oh England the country so great, the land that's so fair and so true. There'll never be any colours like the red and the white and the blue…", these days could be mistaken as nationalist, but quite the opposite, were to stand for anti-fascist principles and just like the songwriter, held social working-class values. I simply love the 1981 single 'I Understand' and its B-side 'Never Come Back' not just for their inclusive values expressed in the lyrics, but just how this B-side rang of Joe Strummer and The Clash during their dub phase. 'Heath's Lament' follows and is prose worth taking time out for. Its subject matter was of early 80s disaffection and with Mensi's gorgeous Geordie telling of men standing on the picket line. This whole disc is a worthwhile document and shows how the band progressed during this phase in their career, '78-'81 rounding off with a journey into dub, as 'Different Strokes' and 'Different Dub', really stir the pot.
1982's 'Never Say Die'  starts off the second disc and with quite a key change. I don't remember 1982 shifting quite so dramatically, but I suppose with the rise of electronic music this number could almost be a film score. Starting with the chords of a synthesiser, Mensi's vocal chimes in, "There's got to be a future somewhere, there's got to be a chance out there…". Audibly, this is a vocalist I don't recognise, a polished vocal delivery and instrumentation that might be heard in an 80s John Carpenter film, before turning into a teen flick, of the same era. I was confused, before its  B-side 'We Defy You' came into view, less 70s punk, but this time brought into 1980s. To follow 'Victory For Poland' strikes a happy medium, Mensi's vocal containing the same ferment as it had during the band's opening years. 'Woman In Disguise' really sees the band settle into their comfort zone, with Mensi's tale making veiled references to a Thatcherite Britain. It's worth seeking out the video, although it's perhaps more Spitting Image than 'Rock the Casbah'.
The vocalist's political views can once again be heard, as 1983s 'Solidarity' is offered. A wonderful acoustic guitar rings out, before lyrics telling of the working man, their struggles and life. What is the real change, that became apparent in '82's 'Never Say Die' is the band's use of synthesizer. Not very punk-rock, but at least by the time we reach the single's B-side, 'Five Flew Over The Cuckoo's Nest' fun is the order of the day. A number with solid punk-rock tells a tale of youthful joking around and breaking the law. What follows is 'Dollars And Pounds', another hard-hitting prose again told by Mensi, this time of the Falklands conflict. A worthwhile tale and ends by telling the truth behind the conflict as "…the fat man appears in many a guise and the name of the game is for him to survive, but this is quite easy because he pays with your life."
Containing 3-live recordings, these culminate in The Clash's 'White Riot', introduced to the assembled crowd by Mensi, "…this is a good song, which was wrote by me for Joe Strummer…", maintaining their own punk credentials along the way. 'Machine Gun Kelly' follows and is a song written about inspiration to the band, American gangster George Kelly Barnes. This is filled with punk menace. The lyric is twisted to depict Kelly, wearing a uniform, walking the beat, but "…watch out what you do, one false move and he'll shoot you…". The song 'Brighton Bomb', released in 1985 was Mensi's take on the bombing of the Conservative conference in 1984. As a socialist he takes no victory in this, singing "…there's a bomb gone of in Brighton, a bomb gone off to kill…", when so much could've changed had circumstances been different. This number is brought in by an acoustic guitar, before the band picks up the pace, but it is dealt with sympathetically, with no hard instrumentation providing illustration where it's not necessary. Soldier' finishes off the album, a heart rending story of a soldier's life in Ireland during the conflict. This time Mensi manages to put into words heartbreak and real life, "…The soldier moved towards the bomb his stomach like a stone. Why was this his battle God why was he alone. He lay down on the package and he murmured one farewell. To those at home in England to those he loved so well…". A fitting number to conclude this look at the Upstarts singles releases, but you were unlikely to see these on Top Of The Pops. An appropriate tribute to the late Thomas 'Mensi' Mensforth. It's got me sold, I hope it does the same for you.