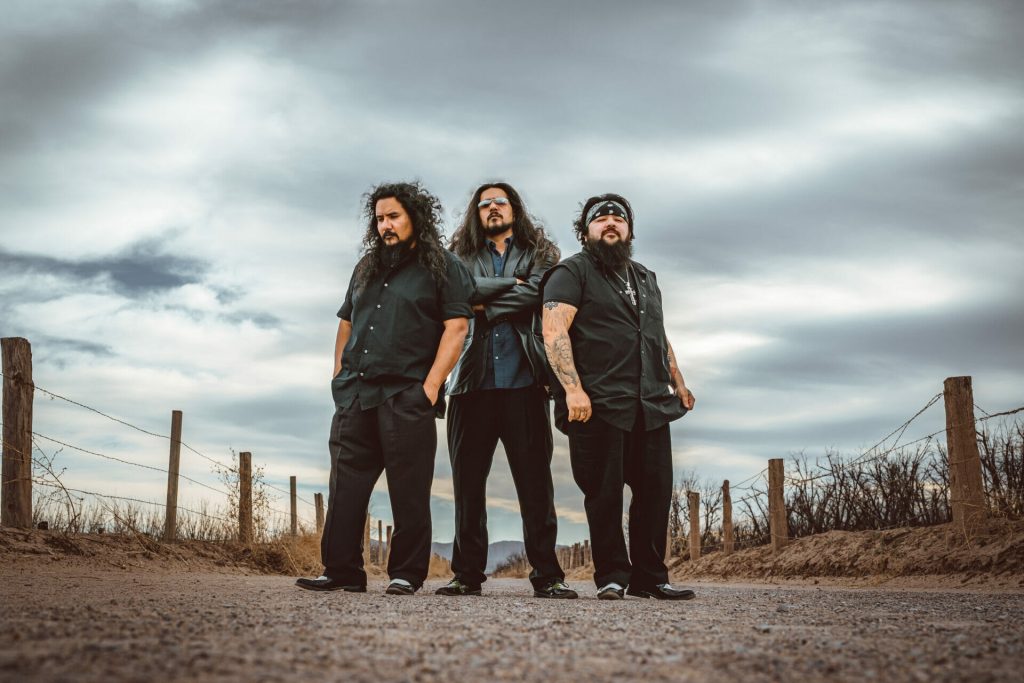 Photo by Gaston Jouany
In a musical landscape often dominated by fleeting trends and short-lived fame, the power of brotherhood and enduring connection remains a rare and precious gem. Grammy Award-winning trio Los Lonely Boys embody that bond and speak it fluently through their music. Today, Los Lonely Boys–comprised of brothers Henry Garza (vocals, guitar), Jojo Garza (bass, vocals), and Ringo Garza (drums)–a San Angelo, Texas trio have shared the video for "Send More Love" with Relix, their first original single in 10 years, as they prepare to embark on their highly anticipated Brotherhood Tour.
Leveraging the unique language of brotherhood, Los Lonely Boys have been communicating emotions, experiences, and stories understood only by them since 1996. Since their inception, the trio has become a musical force that defies convention and genre boundaries. Scaling one artistic mountain at a time, they've achieved remarkable feats, including their 2004 double-platinum self-titled album that yielded the unforgettable hit "Heaven" – which not only cracked the Top 20 of the Billboard Hot 100 but also secured them a Grammy Award for Best Performance by a Duo or Group with Vocal.
With their subsequent albums, Sacred, Forgiven, Rockpango and Revelation, Los Lonely Boys have consistently showcased their skill, collaborating with legends like Santana, Willie Nelson, and Dr. John while gracing major stages, from the World Series to CMT's Crossroads.
In 2019, after 23 years of recording and touring, Los Lonely Boys decided to take a hiatus, marking a temporary departure from the limelight. However, as fate would have it, the pandemic and an invitation from The Who led to a rekindling of their creative fire.
"Send More Love" marks Los Lonely Boy's first original single in a decade and their first on BMG. The song's acoustic strumming and euphoric guitar melodies converge into a powerful chorus that asks, "This world is going crazy, can you send more love?" The song's plea reflects the prevalent chaos and longing for connection that permeates society. In the video, they face the daunting question by looking directly toward the future by featuring the musical inclinations playing of their own children on screen.
Henry Garza, the band's vocalist and guitarist, shared that the song was born from a desire to address the suffering and turmoil in the world, asking for divine intervention to shower love upon humanity. "We're asking the higher power to send more love to this crazy world. Performing with our families in this video brought us to tears," Garza shared with Relix.
As the heartbeat of Los Lonely Boys continues to go strong, the trio has also announced their upcoming Brotherhood Tour, marking their first extensive tour dates in three years. The tour promises to celebrate their unity and the enduring connection that defines their music and will span from Aug. 26 to Nov. 11, with stops in cities like Nashville, Las Vegas, Dallas, and more. It will culminate with a four-date stint aboard the Latin Cruise in Los Angeles. See full dates below.
Listen to the premiere of "Send More Love" below.
[embedded content]
Los Lonely Boys – The Brotherhood Tour
Aug 26 Hinton OK  Sugar Creek Casino
Sept 9 Trinidad, CA The Heights Casino
Sept 15-18  Los Angeles CA  Latin Cruise
Sept 30  Midland TX  Centennial Park
Oct. 3  Nashville TN  Bridgestone Arena
Oct. 5  Turlock CA Turlock Community Theatre
Oct. 6  Porterville CA. Eagle Mountain Casino
Oct. 20 Dallas TX  Longhorn Ballroom
Oct. 21 Marble Falls TX  Fiesta Jam
Oct. 27 Orange Grove TX  The Post OG
Oct. 28 Eagle Pass TX  Eagle Pass Casino
Nov 11 Las Vegas NV Silverton Casino Hotel