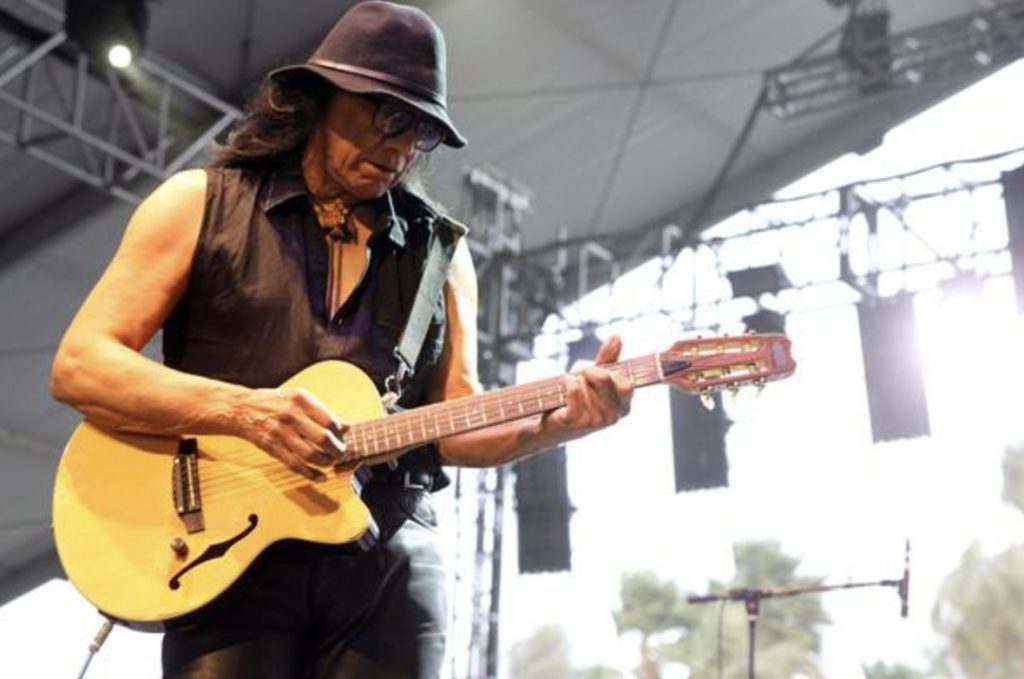 Photo via Rodriguez's Facebook
Revered Detroit musician Sixto Diaz Rodriguez, whose extraordinary journey from obscurity to international acclaim became the heart of the Oscar-winning documentary Searching for Sugar Man, has died. He was 81 years old.
Rodriguez's daughter, Regan, confirmed his passing, shedding light on the end of a remarkable life that left an everlasting mark on the hearts and minds of fans of music, film and mysticism worldwide. The official statement from Sugarman.org conveyed, "It is with great sadness that we at Sugarman.org announce that Sixto Diaz Rodriguez has passed away earlier today… Rodriguez was 81 years old. May His Dear Soul Rest In Peace."
Born in 1942, Rodriguez's journey began in a Chrysler automotive assembly line in Detroit. It was during this time that he released his albums Cold Fact (1970) and Coming From Reality (1971) through Sussex Records, albums that remained largely unheard. Despite immediate recognition Stateside, Australia beckoned in 1979, offering Rodriguez a glimpse of international recognition as he embarked on a tour of the continent. His initial brush with success seemed surreal; a sentiment echoed in his subsequent visits to Australia in 1981.
However, the emergence of the internet would truly reshape his destiny. Rodriguez's daughter Eva stumbled upon fervent online communities dedicated to his music, particularly in South Africa, where his resonant themes struck a sticky and sweet chord.
The raw, authentic narratives woven into Rodriguez's compositions resonated deeply with the young South Africans grappling with the oppressive apartheid regime. His songs became anthems of resistance and self-discovery, offering solace and connection amidst challenging times. In a candid reflection upon his music's revival, Rodriguez shared with The Detroit News in 2008, "It's been a great odyssey… All those years, you know, I always considered myself a musician. But, reality happened."
Enthusiast Stephen "Sugar" Segerman, a subject of the Oscar-winning film, diligently and successfully sought out Rodriguez said, "He was on everyone's cassette tapes. It's great pop music. But you start to realize this is raw, brutally honest ― and that's the chord it struck."
The artist's influence and ability to extend beyond the realm of music, touching the souls of countless individuals with his evocative folk melodies, led to his journey, chronicled in the 2012 documentary by Malik Bendjelloul.
In a 2012 interview with the New York Times, Bendjelloul shared his perspective on the tale, stating, "This was the greatest, the most amazing, true story I'd ever heard, an almost archetypal fairy tale… It's a perfect story. It has the human element, the music aspect, a resurrection, and a detective story." The dedication of those committed to capturing Rodriguez's rediscovery, coupled with the artist's own resolute spirit, culminated in a film that won the 2013 Academy Award for Best Documentary.
The resounding success of Searching for Sugar Man propelled him to international stages, gracing prestigious music festivals and captivating audiences across the globe. His influence reached luminaries like guitarist Carlos Santana, the band Los Lobos, and actor Russell Crowe, along with droves of other individuals.
While his journey took him on extensive tours following the documentary's release, Rodriguez's final years were marked by a departure from the road. Nevertheless, his music continued to resonate, and a testament to his enduring legacy arrived in the form of Rodriguez Rocks: Live From Australia, released in 2016.
As Rodriguez's daughter, Regan, confirmed his passing, the world mourned the loss of a visionary artist whose humble beginnings blossomed into a profound legacy. Reflecting on his extraordinary voyage, Rodriguez once mused, "The world is such a big place and there's enough for everyone… To say you want it all ― there's just so much to share and the beautiful part of it is I get to share this with so many people."