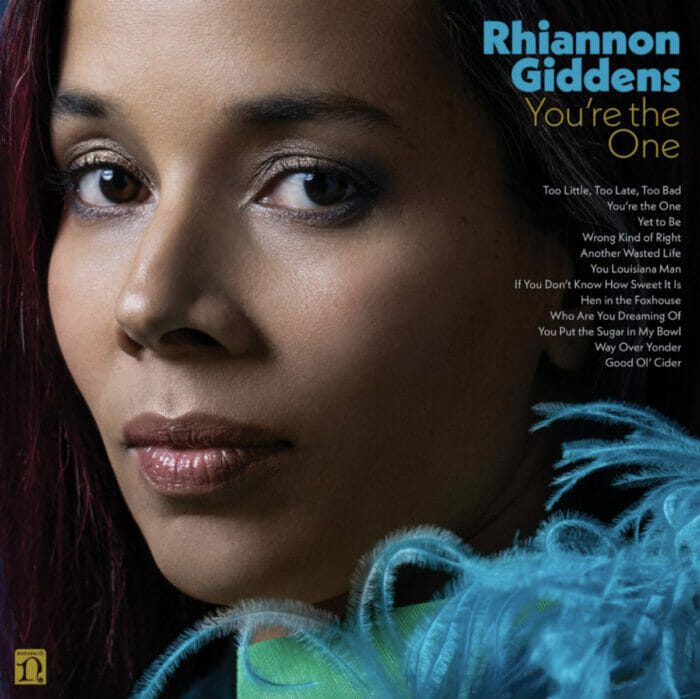 Photo by Ebru Yildiz
Rhiannon Giddens, the Grammy, MacArthur and now Pulitzer-winning singer, composer and instrumentalist, is set to release her third solo studio album titled You're the One on Aug. 18 via Nonesuch Records. In celebration of the achievement, Giddens shared the first taste of the album its title track.
The 12-track LP was written by Giddens over the course of her career and produced by Jack Splash, who has worked with Kendrick Lamar, Solange, Alicia Keys, Valerie June and Tank and the Bangas. You're the One was recorded at Criteria Recording Studios in Miami, Fla., with a band composed of Giddens' closest musical collaborators from the past decade and musicians from Splash's own Rolodex, making an impressive ten-to-twelve-person ensemble with a horn section.
"I hope that people just hear American music," Giddens said of the project in a press release. "Blues, jazz, Cajun, country, gospel, and rock—it's all there. I like to be where it meets organically. They're fun songs, and I wanted them to have as much of a chance as they could to reach people who might dig them but don't know anything about what I do. If they're introduced to me through this record, they might go listen to other music I've made and make some new discoveries."  
The album opens with "Too Little, Too Late, Too Bad," an R&B blast, and other tracks include "If You Don't Know How Sweet It Is" and "Another Wasted Life," which was inspired by the tragic story of Kalief Browder, who was incarcerated on Rikers Island for three years without trial. Jason Isbell, the Grammy-winning singer-songwriter, is the lone featured guest on the album on the track "Yet to Be," a song that tells the story of a Black woman and an Irish man falling in love in America.
In addition to the release of her album–her first since 2017's Freedom Highway–Giddens has even more to celebrate since being awarded the Pulitzer Prize in Music for the opera Omar, which she co-wrote with Michael Abels, the composer of the score for the movie Get Out and the upcoming film Nope. Omar, based on the autobiography of an enslaved Muslim man, Omar Ibn Said, who lived in Charleston, S.C., in the 19th century, made its world premiere last year at Spoleto Festival and has been performed at L.A. Opera, Boston Lyric Opera and North Carolina Arts, with San Francisco Opera scheduled for this November.
Giddens has also announced the biggest headlining shows of her career, including performances at the Ryman Auditorium in Nashville in September, along with stops at the Barbican Centre in London, the Beacon Theatre in New York City, and the Ace Theater in Los Angeles next spring. Giddens said she hopes that if people are introduced to her music through this record, they might go listen to other music she's made and make some new discoveries.
The album's title track, "You're the One," is available now and was inspired by a moment Giddens experienced 10 years ago with her son not long after he was born. Giddens said, "Your life has changed forever, and you don't know it until you're in the middle of it and it hits you. I held his little cheek up to my face, and was just reminded, 'Oh my God, my children—they have every bit of my heart.'"
Pre-order You're the One here.
Listen to the album's title track below.
Track list:
Too Little, Too Late, Too Bad
You're the One
Yet to Be (feat. Jason Isbell)
Wrong Kind of Right
Another Wasted Life
You Louisiana Man
If You Don't Know How Sweet It Is
Hen in the Foxhouse
Who Are You Dreaming Of
You Put the Sugar in My Bowl
Way Over Yonder
Good Ol' Cider 
TOUR DATES:
May 11: Union Chapel, London, UK~
May 12: Saint Andrews & Blackfriars Hall at Norfolk & Norwich Festival, Norwich, UK~
May 13: Birmingham Town Hall, Birmingham, England~
May 14: Saffron Hall, Saffron Walden, UK~
May 26: Our Common Nature: An Appalachian Celebration, Knoxville, TN 
May 27: Bijou Theatre, Knoxville, TN% 
June 8-11: Ojai Festival, Ojai, CA~
July 6: Festival dei Due Mondi, Spoleto, Italy~
July 12: Umbria Jazz, Perugia, Italy~
July 15: Pori Jazz Festival, Pori, FI$
July 17: Wigmore Hall, London, UK$
Sept. 13: University of Iowa, Iowa City, IA^
Sept. 14: The Sheldon, St. Louis, MO^
Sept. 15: Ryman Auditorium, Nashville, TN^
Sept. 17: Athenaeum Center, Chicago, IL*
Sept. 18: Michigan Theatre, Ann Arbor, MI*
Sept. 19: St. Cecilia Music Center, Grand Rapids, MI^
Sept. 20: Royal Conservatory, Toronto, ON^
Sept. 22: House of Blues, Boston, MA^
Sept. 23: University of Maine, Orono, ME^
Sept. 24: FreshGrass MASS MoCa Festival, North Adams, MA
Sept. 26: Keswick Theater, Philadelphia, PA^
Sept. 27: University of Maryland, College Park, MD^
Sept. 28: Carolina Theater, Greensboro, NC^
Sept. 30: University of North Carolina at Wilmington, Wilmington, NC^
Oct.  1: Modlin Center at University of Richmond, Richmond, VA+
Oct.  2: Paramount Theatre, Charlottesville, VA*
Nov. 17: Zellerbach Hall, Berkeley, CA@
Feb. 21, 2024: Barbican Centre, London, UK 
March 16, 2024: Beacon Theatre, New York, NY
April 25, 2024: Ace Theatre, Los Angeles, CA
~with Francesco Turrisi
$with Christian McBride & Francesco Turrisi
%with Dirk Powell & Justin Robinson
^with Adia Victoria
*with Charly Lowry
+with The Legendary Ingramettes
@Silkroad Ensemble with Rhiannon Giddens