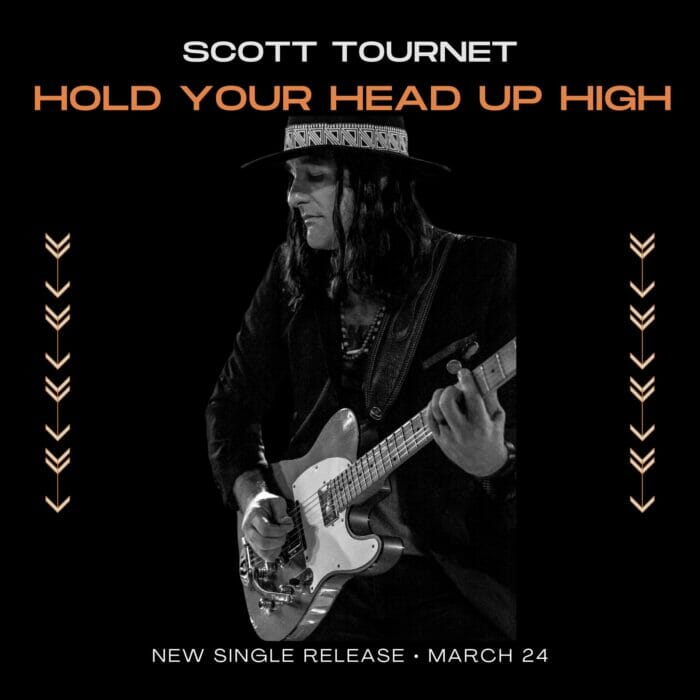 Scott Tournet has delivered the second single, "Hold Your Head Up High," off this forthcoming album which is due out in 2023. The new number was inspired by tunes turned out at Stax and Muscle Shoals studios in the '60s, and doubles as a nod to the golden era of R&B and soul.
"The first music I fell in love with was on a soul/R&B compilation cassette tape I had when I was 10 years old," offered Tournett via a press release, referencing his spark of inspiration from the effervescent music scene, which has been coupled with traces of Sly Stone, Jimi Hendrix and Beck on the new track. 
"Otis Redding, Wilson Pickett, Sam and Dave, Clarence Carter, that music just made me feel so good and hopeful. There's an unbridled optimism in a lot of those songs. When I got older I learned that both of the house bands at Stax and Muscle Shoals were integrated, which was pretty rare and progressive in those days. That made me love it even more," continues Tournet. 
Lyrically, "Hold Your Head Up High" is like bottled sunshine, offering rays of light to its listeners. "I needed to write something to lift people up. I needed to write something to lift myself up. The past few years have been hard on everyone. I started purposefully listening to uplifting music as I was feeling down from all the negative news bombarding my phone every day. It started to work and I started to feel more hopeful. I realized that it was time for me to be part of the solution instead of just pointing out the problems."
Known as a founding member and musical director for Grace Potter & The Nocturnals, frontman of Elektric Voodoo, as well as a mixing and sound engineer, Tournet has exemplified many roles in the music industry leading up to the impending release of the new collection of music. The veteran guitarist previously released the first song off the forthcoming LP, "Fever," which features Tournet alongside his new quartet, Bronson Hoover (keyboard), Jeff Reed (bass) and Ricky Wise (drums). 
Tournet also shared that on Thursday, May 11, he will perform at the 8×10 in Baltimore. The show will mark the first live appearances by the frontman and his new quartet. To purchase tickets to the upcoming gig, follow this link. 
Listen to "Hold Your Head Up High," below.