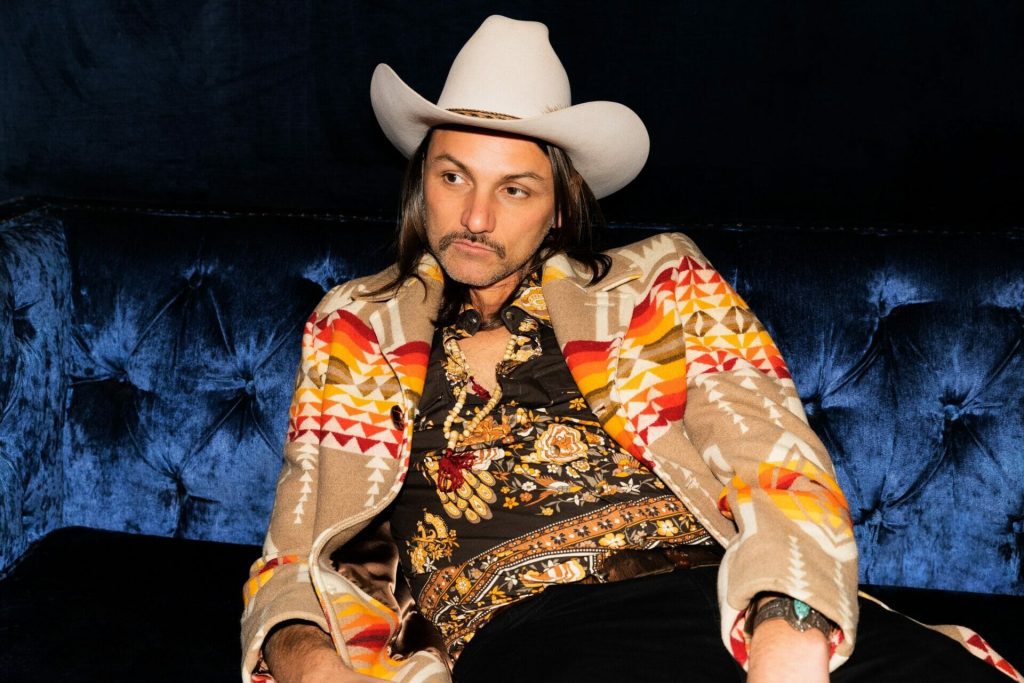 photo: Kaelan Barowsky
***
When the Allman Betts Band announced a hiatus in January 2022, Duane Betts— the group's cofounding guitarist, singer and songwriter—knew exactly what he wanted to do next. A few months earlier, a couple of old friends had put a tantalizing offer on the table. Several of his now-idle bandmates were available for some work. With such stars aligned, Betts headed back to Florida—to his Gulf Coast hometown—to write and record his newly released debut solo LP, Wild & Precious Life.
Since birth, Betts has been riding the rock-and-roll roller-coaster. His own wild and precious life began in April 1978, one month after his father, Dickey, had issued Atlanta's Burning Down—for all intents and purposes, a Dickey solo outing with his band, Great Southern. The album was Dickey's second following the dissolution of the group he co-founded, The Allman Brothers Band.
In his youth, Betts was a drummer. He's still able to rattle off, with zealous precision, a few of Jaimoe's trademark Allman Brothers drum fills. At the age of 12, Betts switched to six strings. By the early '90s, the home-schooled teen was on the road, apprenticing as an assistant guitar tech for his dad and the reunited Allman Brothers Band.
He spent most of his earnings on compact discs, building a collection that eventually boasted nearly every album, single and rare import from Smashing Pumpkins, as well as myriad archival live sets by the Grateful Dead.
"The Dead was never in a hurry to make something happen," says Betts, who recently performed with Grateful Dead bassist Phil Lesh. "The music would just kind of go around in circles in a beautiful way. And there was such a vulnerability and fragility to Jerry Garcia's playing. It's just sacred American music."
Dickey's divorce from Duane's mother, Paulette, left the younger Betts divided between coasts, balancing time with his mom in Southern California and his dad in The Sunshine State. As a guitarist, he was a quick study and a valued ensemble player in Backbone69, a turn-of-the-millennium Los Angeles band stocked with other rock scions, including Roy Orbison's son Alex and Berry Duane Oakley, son of The Allman Brothers Band's late founding bassist, Berry Oakley. He was also finding it harder to leave the party, turning occasional indulgences into increasingly risky abuse.
In 2005, Betts joined his father in the reactivated Great Southern, touring heavily over the next 10 years. In 2014, the guitarist formed Brethren of the Coast, and served as an opener for his dad's final West Coast appearances. It was the first time that he had fronted a band as both a guitarist and lead singer.
From there, he launched into a yearplus stint as a touring guitarist for folk rockers Dawes. After the tour wrapped in the summer of 2016, Dawes committed to a new guitarist, Trevor Menear. Betts committed to sobriety.
He counts himself as a lucky one. The guitarist admits, "If I didn't make [sobriety] happen, with the help of so many others, I wouldn't be here today."
***
Living in Southern California, Betts emerged in 2017 in full-throttled pursuit of the positives: yoga, swims in the Pacific Ocean, a healthier diet and time reserved for talking with others struggling with substance abuse. He also formed a new band, The Pistoleers, and formally solidified a creative partnership with Los Angeles guitarist Johnny Stachela.
A consummate collaborator, Betts also moonlighted on a summer run with Jamtown—alongside friends G. Love, Donavon Frankenreiter, Cody Dickinson and Cisco Adler—and gathered Stachela and Gov't Mule's mighty rhythm section, drummer Matt Abts and then-bassist Jorgen Carlsson, for a one-off gig as Bando. In December, he joined Devon Allman at San Francisco's The Fillmore to pay tribute to Devon's late father, Allman Brothers Band co-founder Gregg Allman, and kickstarted his next creative chapter.
By age 40, Betts was rolling. For most of 2018, he toured as an opening artist and guest for the Devon Allman Project. Away from the stage, he'd won a bout with cancer, embraced sobriety and fallen in love with artist and designer Lisa Hadley, who he'd marry in the same Wyoming town where they originally met a few years later.
Betts also released his first solo EP, Sketches of American Music, a promising, six-song patchwork of rock, country, blues and Americana inclinations. The material was written over the course of several years and various sessions produced, alternately, by Booker T. & the M.G.'s guitarist Steve Cropper, former Black Crowes guitarist Marc Ford and Betts' co-writer, Stoll Vaughan. As an initial solo effort and recording debut for Betts as a singer and primary songwriter, it performed modestly well, selling out its limited-edition vinyl pressings.
Then, the guitarist and Allman formed The Allman Betts Band—a septet that included Oakley on bass, John Ginty on keyboards and a phalanx of Betts, Stachela and Allman on guitar. The group issued two albums and spent the better part of three, COVID-interrupted years on the road.
In October 2021, at a birthday party in the Florida Keys, Betts and Hadley ran into their old friends Susan Tedeschi and Derek Trucks. Over dinner, Betts told the musical couple that he had been woodshedding a lot of new material, especially during the lockdown. "I had been on a good writing streak and, at that point, I knew some of those songs were definitely for a solo record," Betts recalls.
Trucks suggested Betts consider recording at Swamp Raga, Tedeschi and Trucks' studio at their Jacksonville, Fla., property. Trucks also offered to guest on a track. "These were offers I wouldn't pass up," Betts says. Three months later, he and Allman shelved their band, and Betts beelined to Florida.
***
Dickey's place is located just south of Sarasota, Fla., resting serenely along the sunbathed shoreline of Palmetto Avenue. Around here, fishing tales grow taller, swamp cabbage can still be found on menus and songs ebb and flow like the tide. When he visits, Betts takes up temporary residence in the guesthouse, otherwise known as the Palmetto Motel. Gregg Allman, Billy Joe Shaver and Vassar Clements have all stayed there, along with, as Betts says with a laugh, "some really eccentric characters we still know."
At Dickey's house, there is a quiet, little-used study downstairs, with its own door to the outside—the walls are adorned with neatly arranged books, framed album covers and photos of Dickey with Garcia, Willie Nelson and Stephen Stills. "It's really quite inspiring," Betts says.
Within a week of the hiatus announcement, Betts convened a writing session with Stachela and Vaughan. He had a handful of songs—some fully formed, others just a kernel. The trio—armed with acoustic guitars, mics and a laptop—set up shop in the study.
From the outset, they had three strong contenders for the album, including a pair carried over from an Allman Betts writing weekend the previous year: "Evergreen," which is imbued with a dramatic, twinguitar overture and a resolving lyric donated by Allman; "Colors Fade," a beautifully patient song hanging on a loping rhythm and a sweetly melodic riff that Stachela hatched and had loosely titled "That Dead Tune;" and "Circles in the Stars," an intimate and vulnerable paean to Hadley that Betts composed at their Wyoming home.
They fleshed out seven more demos, with Vaughan mining Betts' own trials and triumphs for metaphor and meaning. Betts stops short of revealing too much about any of the stanzas, but he admits that they all represent things that are deeply personal. "I think that's what art is," Betts says. "If you're not writing songs about what you're going through, and the people who inspire you, then you're not really doing it."
For the recording sessions, Betts manifested his perfect band—Stachela, his trusted guitar partner, was a given. He recruited Ginty and Oakley and invited one of his "favorite drummers," Tedeschi Trucks Band's Tyler "Falcon" Greenwell, to join the party. Then, in March 2022, the quintet decamped to Swamp Raga with their new tunes, guided by the wizardry of Tedeschi Trucks Band's studio engineer, Bobby Tis.
"Bobby runs that room like a champion," Ginty says.
Their hosts also popped in on occasion. Tedeschi lent Betts some valued advice and encouragement. When the ensemble blistered away on a take, tracking live to two-inch tape, an approving Trucks shared the moment, holding his phone up to a control-room speaker.
Trucks also not only made good on his offer to lay down some guitar but also ended up providing some inspiration when Betts and Vaughan needed a narrative for a musical outline Betts had composed in 6/8 time.
"Derek had said that my father was a player who is not afraid to stare directly at the sun," Betts recalls. That conversation provided them with their hook and, after Trucks added his molten slide, they had a blinding, guitar rave-up, "Stare at the Sun."
Trucks wasn't the only heavyweight on the bill: Guitarist Marcus King lent his services to modern blues nugget "Cold Dark World" and fellow Nashville transplant Nicki Bluhm sings on "Colors Fade."
Within Wild & Precious Life's 10 tracks, which were co-produced by Betts, Ginty and Stachela, there are bursts of coronating trumpet, ethereal pedal-steel licks and a chorus of background singers. Nine of the songs are co-writes—only the closing, acoustic love letter, "Circles in the Stars," is singularly authored.
"There's a mutual trust and respect among all of us. If somebody just says, 'That's not it. Let's do it again,' then that's good enough reason for everybody to go again," Ginty says.
Stachela, whose playing Betts calls "beautifully melodic," found the trust empowering. He shares writing credit on three songs and often coached Betts' vocal performance. "It enabled me to have a lot more of a voice in what we were doing," Stachela says. "This was like building a house from the ground up."
Following a final session in May 2022, Ginty poured over the tapes at his home studio, selecting the best takes, turning out rough mixes and shuttling overdubs back to Tis at the Swamp. "I would catch the pedal-steel tracks. I would catch Marcus King's solo and put it together. I'd have Oakley come over and sing harmony. Then, I'd bounce them over to Bobby, who'd bounce them into the tape machine," Ginty says. "We had this beautiful rhythm going between us."
Ginty also channeled his inner New Jersey strongman, telling Betts: "We've got classic songs that are coming out great. Jim Scott has to mix this fucking record. If we don't get Jim to mix this record, we're not doing it right."
Scott—a veteran engineer and producer with seven Grammys on the mantel for his work with Tedeschi Trucks Band, Santana, Foo Fighters, Tom Petty and Dixie Chicks— consulted on the construction of Swamp Raga and helms his own PLYRZ studio in the foothills north of Los Angeles. Betts booked a week at PLYRZ in July 2022, with Ginty and Stachela joining him for the mixdowns.
"We'd come in each morning and Jim would already have a mix up on the console; if it wasn't it already, it was already 90% there," Stachela says.
"I love the way this record sounds," Betts says. "There are things brought out in a way that only Jim Scott would bring out."
Ginty, whose own keyboard contributions are an integral ingredient, says Betts could trip and play a great solo as he's falling. Yet, the album's true strength, Ginty contends, is something simpler and more elusive.
"In the history of man, the only two qualities that matter are a singer and a song. And, on this record, it's check and check," he says. "It sounds easy, and super obvious, but you don't always get that. We got that. It's right there. You can put this record next to any Bob Dylan or Rolling Stones record you want to."
For his current Wild & Precious Life On the Road tour, Betts wanted to distinguish his band as more than just a group of talented supporting players. In addition to the core of Stachela and Ginty, he recruited former Great Southern bassist Pedro Arevalo and drummer Vince Fossett Jr. from his Pistoleers days, christening the ensemble Palmetto Motel.
Betts is a grateful survivor. He cherishes his wife, their labradoodle Willie and their days off in the mountains of Wyoming or on the Florida shores. He knows how fleeting life can be, and he loves spending his making music.
"It goes back to being in awe of all of our surroundings. We need to celebrate life and why we're here because we're here for just a split second," Betts says. "If me playing guitar and singing songs makes people feel good, then that's my purpose."