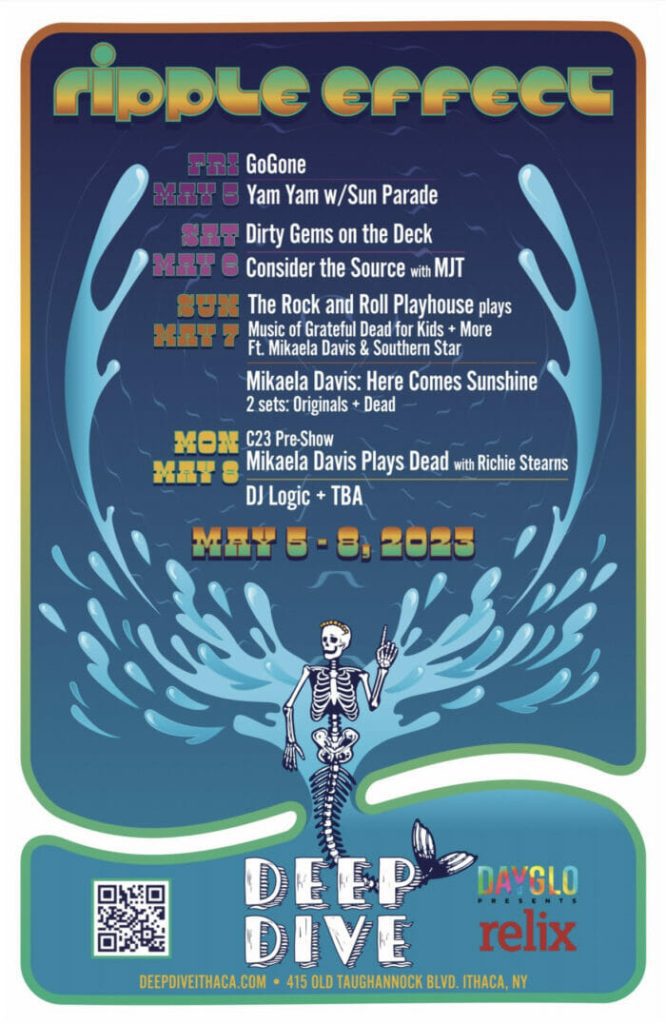 Dayglo, Relix and Deep Dive have come together to present the Ripple Effect, a weekend of concerts scheduled to occur at Deep Dive in Ithaca, N.Y. The upcoming series of shows will happen on May 5 through 8–the final date will coincide with Dead & Company's highly anticipated benefit concert at Barton Hall on Cornell University's Campus. 
The live music event will begin on Friday, May 5, with an afternoon appearance by GoGone, who will deliver their signature blend of roots, blues and rock. Later that night, Yam Yam are scheduled to take the stage with assistance from Sun Parade. 
Saturday, May 6, is billed to include a mid-afternoon set on the deck with the Dirty Gems, who will take the stage at 2 p.m. Later that evening, Consider The Source, with Long Island fixture, MJT band will perform at 8 p.m. An additional performance will arrive on Sunday, May 7, morning, with The Rock and Roll Playhouse's family-friendly celebration of the Grateful Dead, which will be helmed by Mikaela Davis & Southern Star. 
Notably, later on Sunday evening, the Dead-inspired sets will continue into the evening with a tribute to the San Francisco jamband led by the renowned harpist and her band. The final Ripple Effect events will land on Monday, May 8, and include a 5 p.m. frame courtesy of Davis with Richie Stearns, who will be followed by a set billed as DJ Logic and TBA.  
In addition to the events mentioned above, the Jerry Dance Party is scheduled to take place during Dead & Company's upcoming visit to Barton Hall. Dayglo and Elmthree will present two shows on May 7 and 8 at The Range on the commons in Ithaca, N.Y.
The Jerry Dance Party will feature state-of-the-art audio combined with a mind-bending light and video experience and will be hosted by DJ Jerrbrother. The events are known for featuring guests in after-shows to celebrate all eras of Garcia's career, with live cuts by Grateful Dead as well as Old & In The Way, Jerry Garcia Band, Merl Saunders, John Kahn, New Riders of the Purple Sage and many more. Read more. 
Tickets for Dayglo, Relix and Deep Dive presented Ripple Effect events go on sale Monday, April 3 at 11 a.m. E.S.T.