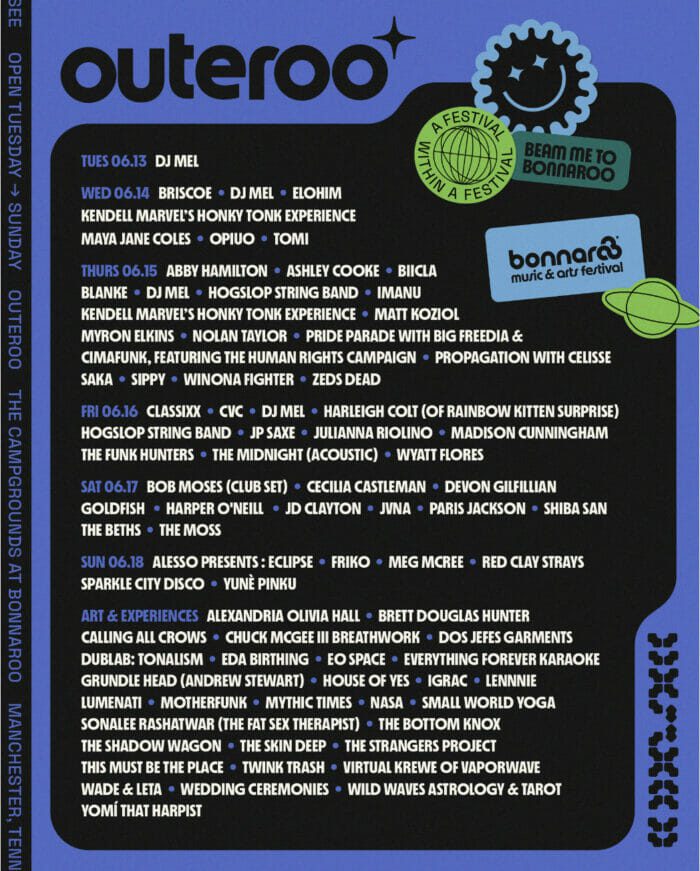 Bonnaroo Music & Arts Festival has announced the lineup for its renowned Camping Plazas, which coincides with annual Bonnaroo gather, happening on June 15 through 18, on the Bonnaroo Farm, located 60 miles southeast of Nashville in Manchester, Tenn. 
The Where In The Woods stage will feature DJs and surprise sets from DJ Mel, Maya Jane Coles, Zeds Dead, The Funk Hunters, Shiba San, and Sparkle City Disco. Meanwhile, Bonnaroo's Galactic Giddy-Up will offer guest an experience steeped in honky tonk, with highly anticipated live performances by Hogslop String Band, Ashley Cooke, and Myron Elkins.
The Toyota Music Den will host intimate performances from emerging artists such as Paris Jackson, JP Saxe and CVC. Also during the 2023 gathering, House of Yes, the world famous nightclub from Brooklyn, N.Y. will present Dirty Circus shows, Little Cinema movie screenings, signature all-night dance parties, and Bonnaroo's annual Pride Parade, featuring Big Freedia and Cimafunk.
The campground experiences coincide with Bonnaroo's main event, which features headlining sets by Kendrick Lamar, Odesza and Foo Fighters. And additional frames from Tyler Childers, Portugal. The Man, My Morning Jacket, Marcus Mumford, Pixies, The Revivalist and more. Read about the 2023 artist lineup here.
For additional information about the Campground Plazas, follow this link. 
Scroll down to view the plaza artist lineup.
BONNAROO 2023 – PLAZA ARTIST LINEUP:
TUESDAY, JUNE 13:
DJ Mel
WEDNESDAY, JUNE 14:
Briscoe
DJ Mel
Elohim
KENDELL MARVEL'S HONKY TONK EXPERIENCE:
Maya Jane Coles
Opiou
TOMI
THURSDAY, JUNE 15:
Abby Hamilton
Ashley Cooke
Biicla
Blanke
DJ Mel
Hogslop String Band
Imanu
KENDELL MARVEL'S HONKY TONK EXPERIENCE:
Matt Koziol
Myron Elkins
Nolan Taylor
Pride Parade with Big Freedia & Cimafunk, featuring the Human Rights Campaign
Propogation with Celisse
Saka
Sippy
Winona Fighter
Zeds Dead
FRIDAY, JUNE 16:
Classixx
CVC
DJ Mel
Harleigh Colt (of Rainbow Kitten Surprise)
Hogslop String Band
JP Saxe
Julianna Riolino
Madison Cunningham
The Funk Hunters
The Midnight (acoustic)
Wyatt Flores
SATURDAY, JUNE 17:
Bob Moses (Club Set)
Cecilia Castleman
Devon Gilfillian
GoldFish
Harper O'Neill
JD Clayton
JVNA
Shiba San
paris jackson
The Beths
The Moss
SUNDAY, JUNE 18
Alesso (Eclipse)
Friko
Meg McRee
Red Clay Strays
Sparkle City Disco
yunè pinku
ART & EXPERIENCES
Brett Douglas Hunter
Calling All Crows
Chuck McGee III Breathwork
Dos Jefes Garments
dublab presents Tonalism
Eda Birthing
EO Studios
Everything Forever Karaoke
Grundle Head
House of Yes
iGRAC
Lennie
Motherfunk
Mythic Times
NASA
Small World Yoga
TN Pride Chamber
The Bottom Knoxville
Twink Trash