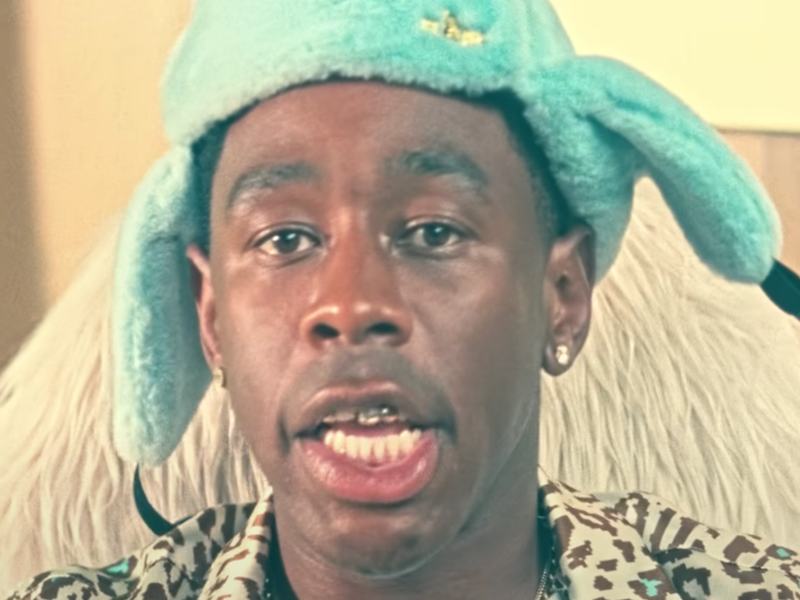 California rap visionary Tyler, the Creator has been living his best life since the release of his latest album, Call Me If You Get Lost – from hanging out with DJ Drama to throwing pop-up concerts in LA. The Odd Future boss now celebrates in light of massive project sales with a new $500,000 chain.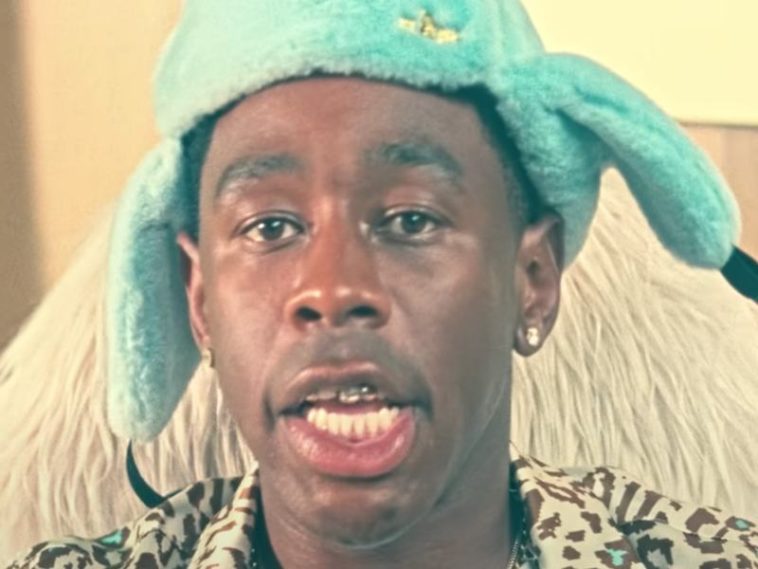 119 Views
Comments Off on Tyler, The Creator Cools Off W/ Iced-Out Gum Balls Chain
Tyler, The Creator Cools Off W/ Gum Ball Chain
Tyler made a visit to Alex Moss New York to get his custom iced-out Bell Hop piece with a Gum Ball chain in commemoration for his new album, Call Me If You Get Lost. Alex Moss has also created chains for other rappers such as Nav and Jack Harlow, who was recently spotted checking out Saweetie on the BET Awards red carpet. Moss went to Instagram to dish out details about the ice.
"The Bunny Hop Piece and Gumball Chain made for @feliciathegoat ❄️ 887 grams of 18k gold, 186 carats of VVS diamonds, 60 carats of pink saphires and 23,517 stones individually set by hand. Do the math ✌🏼🤧 #AMNY #BUNNYHOP #CallMeIfYouGetLost"
Tyler even hopped into the comments section to geek out over his piece. The Bell Hop has a significant meaning to him. At the 2020 Grammys where he won Best Rap Album, Tyler came dressed as a Bell Hop holding suitcases and wearing a Call Me If You Get Lost pin, which it was later revealed that his outfit was a preview to the theme of his new album.
"GUMBALLS COOL ME DOWN"
Tyler the Creator Will Have His Career Best Sales Debut
Odd Future boss Tyler, the Creator is destined for greatness. The hip-hop star's Call Me If You Get Lost studio album is slated to not only go down as a chart-topping release but also give him the most sales of his music career after seven days.
Based on early estimates, there should be zip-zero competition for Creator's latest solo effort. The project appeared to face stiff heat courtesy of rap singer Doja Cat but should still secure the top spot.
Tyler, The Creator will score his second #1 debut on next Friday's HITS Top 50, with CALL ME IF YOU GET LOST (Columbia). After one day of sales and streams, the album is projecting around 175k in activity for Tyler's biggest debut yet. 2019's IGOR opened with 165k. In addition to a projected 180m streams, sales of the album's sold-out box set, available from Tyler's online store, are contributing to his overall total. Doja Cat's Planet Her (Kemosabe/RCA) is headed toward a career-best 100k and could compete with Olivia Rodrigo's SOUR (Geffen) for the runner-up spot. Victor Victor/Republic's Ski Mask the Slump God looks good for around 18k, a likely Top 25 debut. (HITS Daily Double)
Tyler the Creator Gives First 'LUMBERJACK' BET Awards Live Set
Odd Future's Tyler, the Creator has kept the attention on his newly released Call Me If You Get Lost album. Last Sunday, the hip-hop star pulled through for an epic 2021 BET Awards performance of his standout "LUMBERJACK" anthem.
First 'LUMBERJACK' Live Set
The must-see 'LUMBERJACK' live set came packed with wild visuals and producer DJ Drama narrating the live set. Donning a baby blue fit, Tyler hopped out of his set's vehicle and battled some wild elements throughout the entire set. The windstorm had Tyler gripping onto a mailbox as he tried to survive the live set – his first live performance of the single.