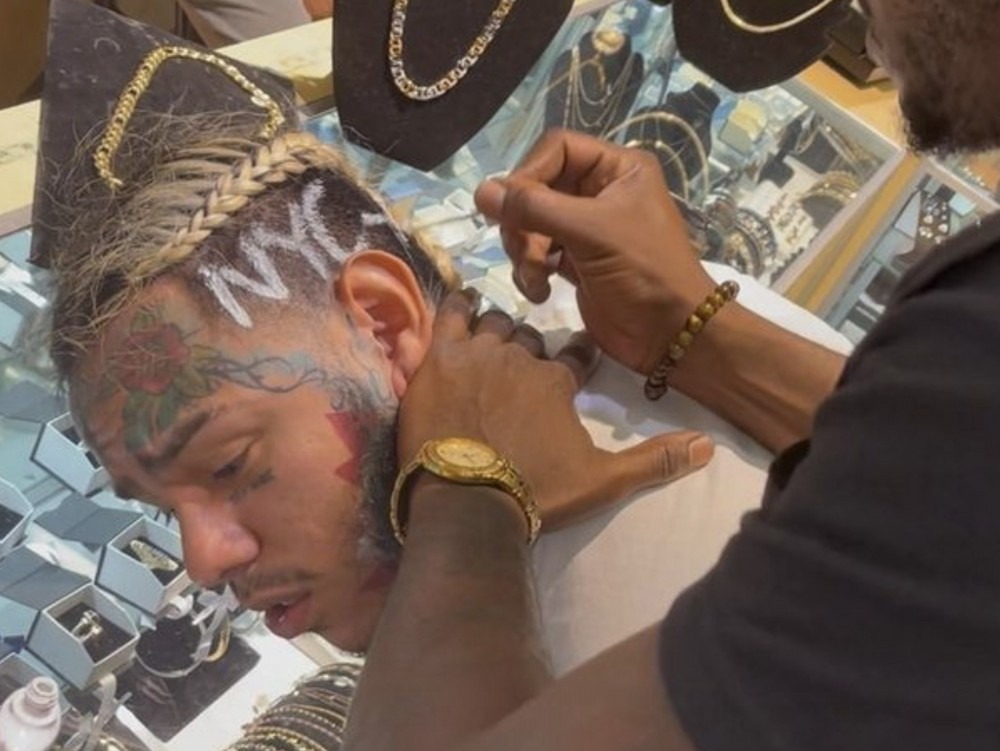 New York rapper Tekashi 6ix9ine and Blueface really, really, really, don't like each other right now. The hip-hop pair have taken some major swings at one another over each other's social media flexing.

119 Views
Comments Off on Tekashi 6ix9ine + Blueface Have The Most Cringe Beef Happening Right Now
Tekashi 6ix9ine + Blueface Have Cringe Beef
Things appeared to all start when Blueface shared viral footage of himself getting a massive tattoo placed onto his head. Speculation developed about an 'NYC LUXURY' ink job randomly getting inked onto him for the popular New York celebrity jeweler.
However, Tekashi jumped at the opportunity to troll Blue over the footage. 6ix9ine speculated Blue owed money and had to sacrifice his body as a result of not having the funds to cover gems.
"One hit wonder problems"
Things didn't end there. Blue stood behind his ink job and attempted to expose Tekashi with footage of his daughter's mother Sara Molina dishing on a child support battle with him and alleged domestic violence pics. Tek countered by suggesting the Molina injuries came as a result of an alleged fling with his jailed former manager Shotti.
Hours prior, Tekashi appeared to almost directly reference Blueface and anyone questioning his money-generating ability. 6ix9ine announced a slew of upcoming concerts while walking around a million dollars cash and showing off luxury Louis Vuitton bags.
Tekashi 6ix9ine + Jade Drop Stacks On Kids
In late June 2021, 6ix9ine went to his Instagram page with footage of himself surrounded by tons of children. Along with giving them money for their parents, Tek received hugs from the appreciative kids.
"MEXICO IS SO FUN ❤️💚 I love my people and I love that god has bless me to bless others 💚❤️ HOUSTON TEXAS TOMORROW ‼️ HUMBLE CIVIC CENTER 📍"
Tekashi 6ix9ine Won't Stop Disrespecting Lil Durk
Switching topics up, 6ix9ine recently went to his IG page with a TikTok clip joking about someone in heaven not having his team get vengeance for his death. Tekashi took things a step further by sharing another clip of late rap rival King Von rapping "my n*ggas gonna slide everyday" before his 2020 death. Tek even referenced the recent fatal shooting of rap enemy Lil Durk's brother DThang.
"😂😂😂 He really thought ya loved him 😂😂😂 He believed y'all 🤣🤣🤣 if he ain't slide for his brother who got shot in the head you thought u be different 😂😂😂😂😂😂"
Tekashi 6ix9ine Blasts Lil Durk
In early June 2021, a screenshot showing a headline revealing Durk's family loss initially started to circulate online. Tekashi ultimately reacted to the post in an Instagram comments section with a reference to Durk's late slain affiliate King Von.
"Time to smoke a NEW pack .. it's like every week.. I didn't even finish enjoying smoking Von yet 🤣🤣 YALL dying to fast"
According to reports, Durk's brother suffered a fatal gunshot wound to his head outside of a Chicago nightclub. Details were still coming together on the attack.
Cook County officials tell us Dontay Banks Jr. — DThang's government name — was found deceased on the 7900 block of S. Loomis Blvd. in Chicago, and has been assigned a case number. An autopsy still has to be done to figure out the cause and manner of death. Reports say DThang was shot in the head outside of a nightclub and died on the spot … citing alleged witnesses who say they saw the shooting go down. (TMZ)