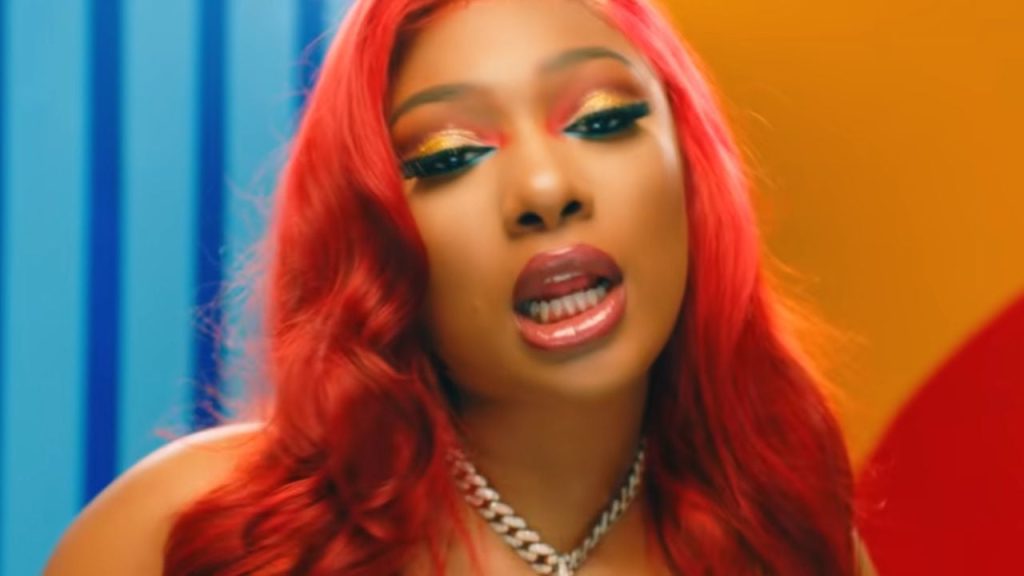 Megan Thee Stallion is not backing down from her legal battle with her record label. The rapper has filed a motion to compel an executive from 1501 Certified Entertainment to appear for a deposition. She claims he has crucial information about the alleged financial mismanagement and abuse at the label. She also accuses the label of stalling the discovery process and delaying the trial.
Megan Thee Stallion Wants To Depose Darien Smith
According to court documents obtained by RadarOnline.com, Megan wants to depose Darien Smith, an executive at 1501 Certified Entertainment. 
Depose refers to the act of questioning a deponent under oath, either a witness or a party to a lawsuit, at a deposition. A deposition is a pre-trial procedure where lawyers can obtain evidence and testimony from witnesses before the trial begins.
Megan alleges that Smith has "first-hand knowledge" of how the label operates and treats its artists. The "Thot Sh*t" rapper added that Smith was involved in negotiating her contract, collecting and distributing royalties, and handling accounting and bookkeeping.
Megan says she needs Smith's testimony to prove her claims that 1501 Certified Entertainment breached her contract, violated her rights, and engaged in fraud, negligence, and defamation. She also wants to question him about the label's relationship with music mogul J. Prince, who has publicly sided with 1501 Certified Entertainment and criticized the Houston rapper.
Megan Thee Stallion Accuses 1501 Entertainment Of Delaying The trial
The Traumazine artist also accuses 1501 Certified Entertainment and its founder Carl Crawford of failing and refusing to work with her "in good faith to schedule these depositions." She says they have been uncooperative and unresponsive to her requests for documents and dates. 
Meg also alleges they have been trying to drag out the discovery process and postpone the trial. The rapper's motion reads:
"The Court should compel 1501 to comply with its discovery obligations, produce outstanding documents, and produce the deponents requested for depositions to ensure all outstanding discovery is completed by July 5, 2023. The clock is ticking. [Megan] Pete is eager to obtain closure; this action has been pending long enough."
The parties are scheduled to face off in a jury trial starting on August 7th.
Megan's History With 1501
Megan's lawsuit against 1501 Certified Entertainment stems from her long-standing dispute with the label over her recording contract. She claims that she signed the contract when she was 20 years old without proper legal advice and that it is unfair and exploitative. She says she is owed royalties and wants out of her deal.
Megan also claims that she has "endured mistreatment and abuse from 1501 and Carl Crawford" and that they have tried to sabotage her career and reputation. Megan also said they had threatened her, spread lies about her, and interfered with her business relationships.
In March 2020, Megan obtained a temporary restraining order against 1501 Certified Entertainment, allowing her to release new music independently. She then dropped her EP Suga, which featured the hit song "Savage." The remix of "Savage" featuring Beyoncé became Megan's first No. 1 single on the Billboard Hot 100 chart.
The defendants deny all allegations of wrongdoing and have countersued Megan for defamation and breach of contract. They claim that Megan owes them money and that she has violated the terms of their agreement by releasing music without their consent. They also accuse Megan of being ungrateful and disloyal to the label that helped launch her career.
In December 2022, Lanez was found guilty on all counts of shooting Megan Thee Stallion in the foot by a Los Angeles County Superior Court jury.
Updated by Nicole Bartley (5/25/2023)
---
Megan Thee Stallion Demands Her Freedom In $1M Lawsuit Against 1501 Certified Entertainment
It has been a rocky couple of years for Megan Thee Stallion, from winning three Grammy Awards last year to dealing with the legal battle over the alleged shooting involving Tory Lanez. The rapper now wants to end her torn business relationship with a Houston label and is asking for at least $1 million in damages.
The Legal Document
Megan asked a Houston judge to relieve her from her contract with 1501 Entertainment. 
The case claims Megan "has satisfied all option periods" in the 2018 contract, with her recent album Traumazine and October 2021 album Something for Thee Hotties.
In February, she filed her initial lawsuit against the label but did not ask for compensation in that case. 
Now the "Pressurelicious" rapper is valuing the price of her freedom at $1 million.
1501 Says Megan Owes Them Money
1501 countersued Megan's February lawsuit, saying Something for Thee Hotties did not meet the requirements under the contract to be considered an album, and the rapper still owed them music and money.
Ex-professional baseball player and owner Carl Crawford says the album features freestyles available on YouTube, not master recordings of unreleased music stated in the contract.
A partner at King & Spalding LLP in Austin spoke to Rolling Stone about the monetary matters filed in the suit. 
"I think she did that for the impact," said Steven Zager. "I think at the end of the day, Megan owes 1501 lot more money that she claims 1501 owes her."
Megan Wants Her Freedom
Megan has been more than open about the complicated relationship with 1501, calling them out for not letting her release music. 
The "Realer" rapper has also mentioned that signing a management deal with Roc Nation in 2019 has opened her eyes to the unorthodox contract with 1501. 
Megan's initial agreement with the label gave them 60 percent of recording income instead of the standard 0-50 split. 
In a video posted on Twitter, Megan opened up about the events that happened after she told the label she wanted to re-negotiate.
"As soon as I said I wanted to renegotiate my contract, it went left," said the Houston-based rapper in the video, "It's really just a greedy game." 
A trial won't be expected until next year. 
Megan will also attend an in-person deposition in October, and the discovery is expected to close next year.