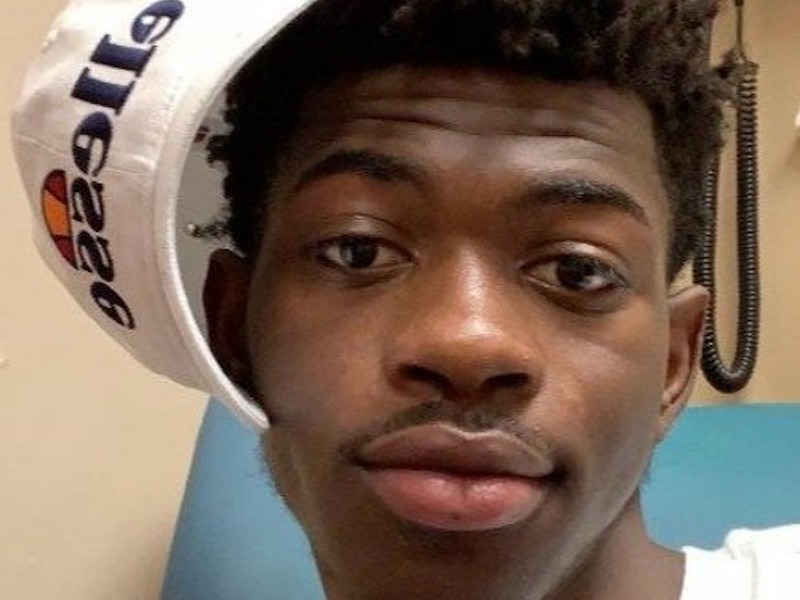 "MONTERO" hitmaker Lil Nas X is fearlessly facing his haters head-on. The hip-hop star called out those who accused him of being gay to fuel his success as a musician.

199 Views
Comments Off on Lil Nas X Says You Can't Name 5 Gay Male Stars In Last 10 Years
Lil Nas X Says Name 5 Gay Male Stars
Through Twitter, Lil Nas dared his followers to try to name at least 5 successful gay male artists in the last 10 years. Seemingly proving that he would have no reason to fake his sexual orientation for profit.
"Ya'll love saying I'm being gay for success, but can't name 5 successful gay male artists in the last 10 years to save your life. … i'm not dissing anyone. i'm acknowledging the fact that we aren't usually as successful as our peers. what's not clicking starbucks spellman. … it's a million n*ggas in the industry that make nothing but songs about women and y'all don't complain. but i make my first song about a n*gga and now it's my entire artistry. y'all crack me up man."
Nike + Lil Nas X's Satan Shoes War Ends
Earlier this month, according to reports, Nike settled its lawsuit after a publicized war against Nas X and his sneaker collaborator. Despite things ending peacefully, part of the agreement is for the kicks to never see the light of day.
Nike tells TMZ … it's reached an agreement with MSCHF, the company producing the custom shoes based on Nike's Air Max 97. The so-called Satan Shoes were inspired by Lil Nas' demonic-themed music video for his new song, "MONTERO (Call Me By Your Name)." The footwear giant tells us the settlement calls for MSCHF to launch a voluntary recall to buy back all Satan Shoes it's sold for their original retail prices in order to remove them from circulation. (TMZ)
Lil Nas X Creates His Own MONTERO Video
In early April 2021, X went to YouTube to unload a nearly three-minute visual. The video is a collection of behind-the-scenes moments including studio moments and turning up around his recently purchased new home.
Lil Nas X – MONTERO (Call Me By Your Name) [Official Video except its not the official video at all]
Lil Nas X Gets Emotional After Going No. 1
At the beginning of this month, Lil Nas went to Instagram to geek out over his achievement. X shared a super emotional and motivational message after going No. 1.
"last year i was sitting in my apartment thinking it was all over for me. i was trying so hard to be perfect, to please everyone, and not make any enemies. that stifled me creatively. i felt so sorry for myself. but around this time in 2020 i pulled it together, me, daytrip, omer, & roy, worked for months on end. one day in june i was working on a song and found myself leaving the studio every 10 minutes to cry. but i didn't stop working, a melody came to my mind. "call me when u want na-na-na-na na, and i knew it was something special about it, fast forward a year later it's the biggest song in the world. thank you guys so much. we get to decide OUR own destiny, never let the world decide it for YOU! i love you! 🏹🤍"
X didn't stop there. Lil Nas also shared a throwback video from last year featuring himself talking to the future version of himself.
"made this video in june 2020 to congratulate my future self. we have arrived. 🥲🤍"