Latto teased a new snippet to an unreleased song on her Instagram, which appeared to address rumors that she is dating 21 Savage after denying it. However, the song, which also addresses her new tattoo may leave room to question otherwise.
Updated By: De'Aundre Barnes (3/29/23 at 3:25 pm)
Latto posted a snippet of an unreleased song on her Instagram on March 29, where she insinuated and played into the ongoing rumors of her dating 21 Savage. 
In the snippet, Latto raps:
"If he put you in that Lam' [Lamborghini], then you would get the tattoo."
The Lottery" rapper's reference to a tattoo sparked controversy among fans, as a photo of the name "Sheyaa,"  tattooed behind her ear, surfaced. 
The name allegedly belongs to the Her Loss joint collaborator, whose government name is Shéyaa Bin Abraham-Joseph. The tattoo further fueled speculation about the rumored relationship.
However, Latto denied the dating rumors in the past, stating that she has addressed them "plenty of times." 
While their relationship status remains unclear, Latto's new snippet seems to play into the rumors, leaving fans wondering whether the two rappers are together or not.
Latto Claps Back After Fan Refers To Her As 21 Savage's "Mistress"
Latto clapped back at a fan who attempted to embarrass her on social media. The fan mocked Latto's rank on Billboard for "Lottery" and insinuated she was the mistress of 21 Savage.
Updated By: Journey Green (2/28/23 at 2:51 pm)
Latto's new single "Lottery" debuted at #83 on the Billboard Hot 100 charts. The "Big Energy" rapper tweeted out celebratory emojis of the accomplishment. A fan by the name of @OPDrags, which is a  Nicki Minaj fan page, commented under the celebratory post.
The fan mocked the artist stating "Your first entry in a year." Latto replied, implying the Twitter user has never had an entry and shouldn't be poking fun at her. 
After a few back-and-forths, @OPDrags then claimed Latto was a mistress referring to her rumored relationship with 21 Savage.
Latto sounded off stating the fan had no clue what they were talking about. She also added that she lives with her man and it isn't 21.
"I whole ass LIVE w my man Ion even CUM 2nd! Yall need to get off them tea pages & go touch grass! My privacy is driving u up a wall Mistress to who? Why they don't see the cars, diamonds, etc? Cause yall know Im spoiled 2 DEATH! Uon know me & Uon got it figured out like AT ALL"
The "mistress" comment stems from a rumor that 21 Savage is in an open marriage in order to maintain citizenship in the U.S.
Latto Denies 21 Savage Dating Rumors
In a recent TikTok video, Latto denied she was ever dating fellow Atlanta rapper 21 Savage. The "Lottery" rapper claimed she has attempted to clear the air "plenty times."
Recently, Latto took to her TikTok to share her cooking skills for "Soul Food Sunday," where many fans assumed she was cooking for 21 Savage. The new clip follows after fans believed Nicki Minaj threw shade at the Grammy-nominated rapper when she posted an old clip of 21 singing along to her lyrics.
Although Latto's intention was simply geared towards food, the "Big Energy" rapper had to clear the air on her dating life. Latto confirmed she is not dating 21 Savage after a fan commented under her TikTok video, saying, "Did she actually say she's with 21??" 
The Atlanta rapper responded, "No I've said I'm not plenty times."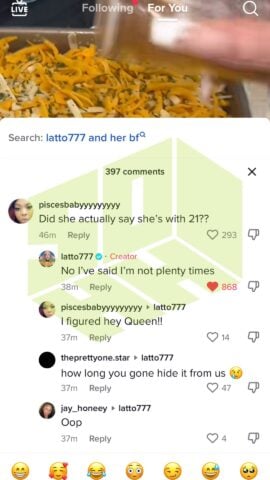 The speculation has been making its rounds on social media, even after the two have denied the rumors. In December 2022, the Her Loss joint collaborator denied having a "celebrity girlfriend."
Still, fans are having difficulty believing their relationship is strictly platonic. One fan on Twitter commented, implying Latto was not speaking the truth since she has 21's name tattooed on her. 
Another fan tweeted, "Latto tattooed 21 Savage name on her neck but saying they aren't together is wild as a forest fire. LMAO!"
Fans refer to Latto's new red ink behind her ear, which recently went viral. It reads "Shéyaa," the "One Mic, One Gun" rapper's legal first name.
Joey Bada$$ & Serayah Spark Dating Rumors
Speaking of dating rumors, fans are also buzzing about a possible new couple alert. Joey Bada$$ and Serayah were looking cozy in a recent photo that has since gone viral on social media, causing many to speculate a possible romance.
Originally Written By: Nicole Bartley (2/27/23 at 5:41 pm)