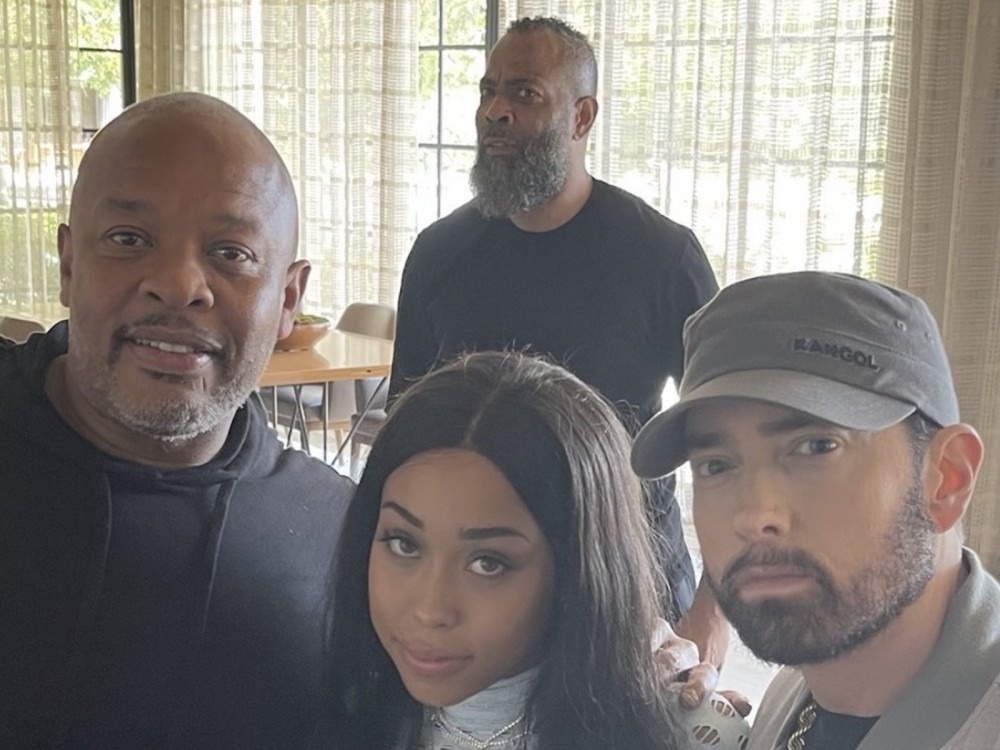 West Coast rap icon Dr. Dre, The D.O.C. and Eminem's greatness combined can't outshine some serious Black Girl Magic. The hip-hop trio play secondary to a stunning group shot featuring D.O.C. and singer Erykah Badu's daughter Puma Sabti Curry.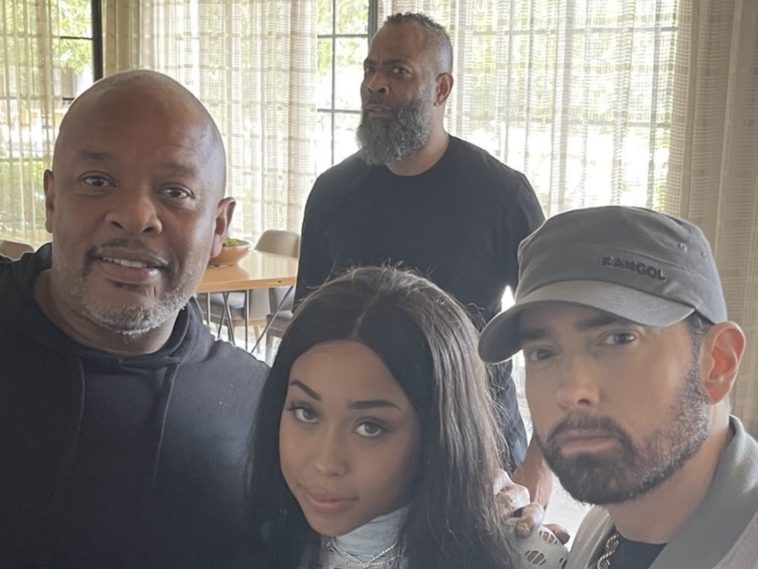 169 Views
Comments Off on Dr. Dre, D.O.C. + Eminem Outshined In Stunning Pic W/ Erykah Badu's Daughter
Dr. Dre, D.O.C. + Eminem Outshined By Puma Sabti Curry
The D.O.C. went to his Instagram page with the mind-blowing shot. Despite having a couple of music legends in the pic, it's the Texas-bred hip-hop artist's 17-year-old mini-me who shines the brightest.
"What in the Aftermathmatics is going on ova here?"
The post ignited a massive ton of co-signs and positive feedback.
"look like lil badu gonna be special ❤️" -Pete Rock
"Love it!! So good talking to you the other day!! 😘😘" -J.J. Fad
"💪🏽💪🏽💪🏽💪🏽💪🏽" -Nelly
"Always good to see lasting friendships ITS THE DIGI DIGI DOC YALL!!!!" -RICKROCK
Dr. Dre Ordered To Help Pay Nicole Young's Legal Fees
Dr. Dre recently took a big L in his divorce case with estranged wife Nicole Young. In April 2021, the super-producer and music mogul was ordered to pay $500,000 to Young's lawyers.
Nicole Young was seeking $5 million total for her attorney fees in the still-ongoing divorce proceedings, in addition to $2 million per month in spousal support. So this half-a-million-dollar hit for Dr. Dre wasn't too bad by comparison. The payment order came with a 10-day deadline.
Dr. Dre – real name Andre Young – is reportedly worth nearly $ 1 billion, and his split with Nicole has become increasingly hostile since she filed for divorce in June.
New Lawyers For Dre In Divorce Case
At the same time Dr. Dre was dropping stacks on Nicole's lawyers, he had to pay his own. The Aftermath Entertainment boss also had to hire new legal counsel after the judge decided Dre's previous team — including celebrity divorce lawyer Laura Wasser — had a conflict of interest. One of them had been Dre and Nicole's family attorney for years.
Young's lawyer, Samantha Spector, had been trying to disqualify King and Wasser from the case, since Young claimed King had acted as she and Dre's family lawyer since the couple was engaged. The move is a major victory for Nicole and Spector — another of Tinsletown's biggest legal names, who often faces off against Wasser. (Page Six)
Dr. Dre + Nicole Young Want To Be Single
The estranged couple requested for a judge to sign off on them legally ending their marriage once and for all. The act of a judge signing off is significant because it will free Dre and Young to re-marry even if their divorce case isn't over.
They have yet to come to an agreement on how to split up Dre's $800 million fortune, but once the judge signs they will be legally "single" and free to re-marry while they hash out the financial issues. (Page Six)