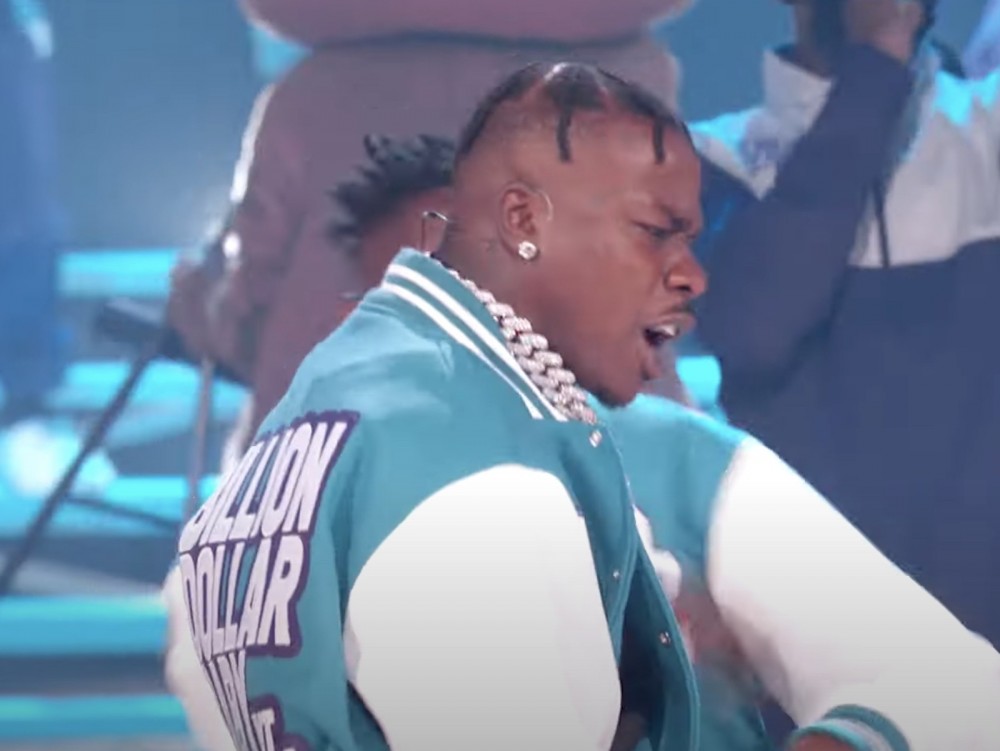 North Carolina rapper DaBaby did much more than perform an anthem at the 2021 BET Awards. The hip-hop star finally came through with his first-ever live set of the newly released "Ball If I Want To" smash.

139 Views
Comments Off on DaBaby Does First-Ever 'Ball If I Want To' Live Set At BET Awards
DaBaby Does First-Ever 'Ball If I Want To' Set
The Southern rap heavyweight blessed the packed crowd and millions of viewers with an unforgettable set. Baby's showcase featured everything from a school setting to non-stop twerking antics with women dressed in cheerleading attire alongside an infant mascot.
BET Awards Nominee DaBaby Cooking Up W/ Game
Hours prior, DaBaby went to his social media pages to share a major teaser to the world. Baby dropped a slideshow of pics showing both himself and West Coast rapper Game in a recording studio together.
"Game Time ⏰. @losangelesconfidential 📸: @thephotofalcon"
DaBaby's JAY-Z Collabo Wish Gets Blasted
Outside of Game, DB recently shared his intent on one-day working with music icon JAY-Z. Baby initially went to his Twitter page to throw up the idea of a Jigga collaboration. DaBaby even jokingly asked his millions of followers about who he should talk to in order to make it happen.
"Who I gotta talk to to get Jay-Z on a song?"
Instead of gaining a ton of support, people went in on his idea of making a fire collaboration with JAY.
"It's levels to the fame , Jay ain't messing with everybody son need a reference to Rap with the 👑"
"When Megan get the feature before you"
"You probably just burnt that… Megan is Roc Nation (mngmnt). They not fckin with you after that recent online back and forth. Them Mfs on that team definitely choose sides, and you sir may have made the wrong play in not choosing sides."
"Meg is managed by roc nation and Beyoncé f*cks with her… certainly ain't happening now buddy."
DaBaby + Meg Thee Stallion Are Clashing
Last weekend, tensions initially stirred up when rap heavyweight and JAY's Roc Nation artist Megan Thee Stallion publicly lashed out at Baby. She questioned his loyalty and tricking her about possibly being on her side in a publicized fallout with her ex-boyfriend Tory Lanez.
"support me in private and publicly do something different…these industry men are very strange. This situation ain't no d*mn "beef" and I really wish people would stop down playing it like it's some internet sh*t for likes and retweets. … ustice is slow … as we've all seen…back to my good day 💙"
DaBaby attempted to clear his name from any type of drama and stepped up to speak out. Baby also tried to end rumors and speculation about 'liking' or even retweeting someone's remarks about both himself and Lanez getting away with shooting someone and not having to do jail time.
"Baby got enough problems of his own my n*gga😂, ion got nooooo reason to inherit the next MF problems.🙅🏾‍♂️ Y'all chasing a story y'all ain't gone get. I'm out niggas bidness while still successfully doing business. … Idk what type of Illuminati sh*t Twitter got goin on😂… I ain't retweet nothing but "Ball If I Want To" promo. I ain't retweet that silly sh*t. Then once ppl start tagging me & I saw it and tried to delete it and undo the retweet Twitter didn't let me.🤔 Type sh*t yall on?"