Finesse2tymes is again facing legal trouble, as an arrest warrant has been issued for him. The Houston Police Department issued the warrant after the rapper failed to return a rental car to an Enterprise location. The Memphis rapper is charged with felony theft, ranging between $30,000 and $150,000. This latest incident adds to the rapper's history of legal issues, including a previous federal weapons charge that led to a five-year prison sentence.
Houston Police Department Charges Finese2Tymes
Finesse2tymes, real name Ricky Hampton, has found himself in legal trouble once more as an arrest warrant was issued by the Houston Police Department. The warrant stems from an incident where Hampton failed to return a $72,000 Infiniti QX80 SUV he rented from an Enterprise location on Braeswood Boulevard on February 28. 
The car was supposed to be returned on March 10, but it remained unreturned for over a month, prompting the rental company to take action.  
Car Rental Dispute
Enterprise contacted the vehicle's renter, Ronald Bell, and learned that Finesse2tymes was driving the car. Hampton assured Enterprise that the matter would be resolved by April 23 and said his funds were "tied up." 
Enterprise listed it as stolen on April 24. Investigators tracked the vehicle's license plate, which was spotted in the Houston area.
Police discovered the car outside the recording studio on April 25, and a woman was seen entering and driving it away. 
When questioned, she said she got the keys from her boss, whom she only knew as "Finese2Tymes." She explained that the rapper had hired her a few days earlier and had been using the car for his errands. 
The woman admitted knowing the vehicle was a rental and was due back a few days prior.
Finese2Tymes' Legal History 
Finesse2tymes has a history of legal issues, including a federal weapons charge that led to a five-year prison sentence. In July 2017, a shootout occurred at one of his concerts in Little Rock, Arkansas, resulting in 28 people being wounded. 
After serving nearly four years behind bars, Hampton was released from custody on July 1, 2022. Now, facing a new arrest warrant for felony theft related to the rental car dispute, he is again amid legal turmoil.
As the legal situation unfolds, it remains unclear if the "Back End" rapper has turned himself into authorities. On his Instagram story, he expressed feeling "outnumbered" while facing legal troubles from both the "feds" and his adversaries. The rapper's fate now hinges on the ongoing legal proceedings, and the charges he faces could have serious implications for his future.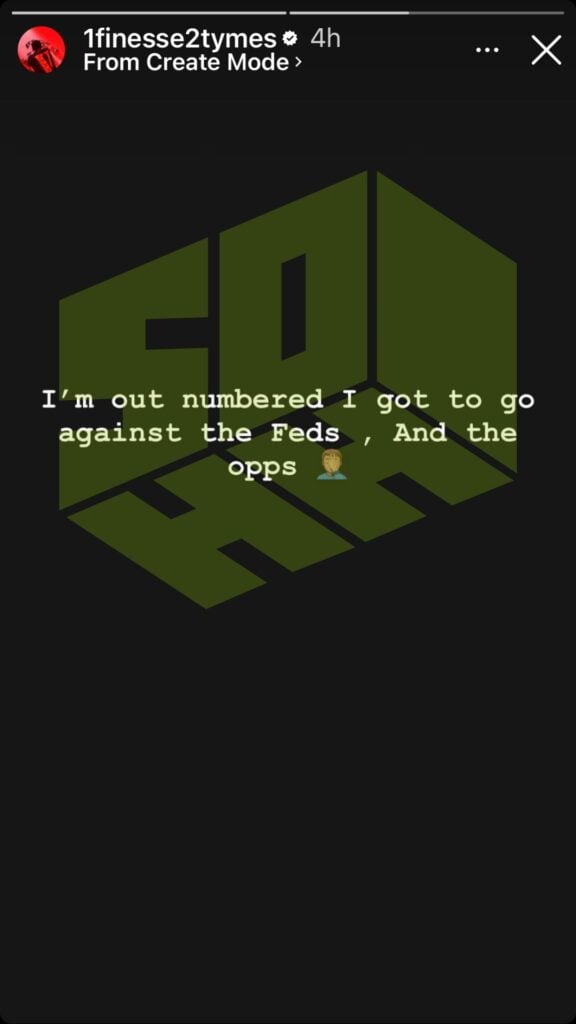 In March 2023, Finese2tymes dealt with multiple lawsuits due to multiple casualties after a stampede at one of his shows alongside Memphis rapper GloRilla in Rochester, N.Y. The families are seeking for compensation since the deaths of multiple bystanders could have been avoided.
G Herbo Faces 20 Years
The same day Finese2tymes was issued an arrest warrant, Chicago-bred drill rapper G Herbo, whose legal name is Herbert Wright III, pled guilty to authorities for wire fraud in a 2020 identity theft case and for lying to government officials. The rapper is facing up to 20 years in prison.