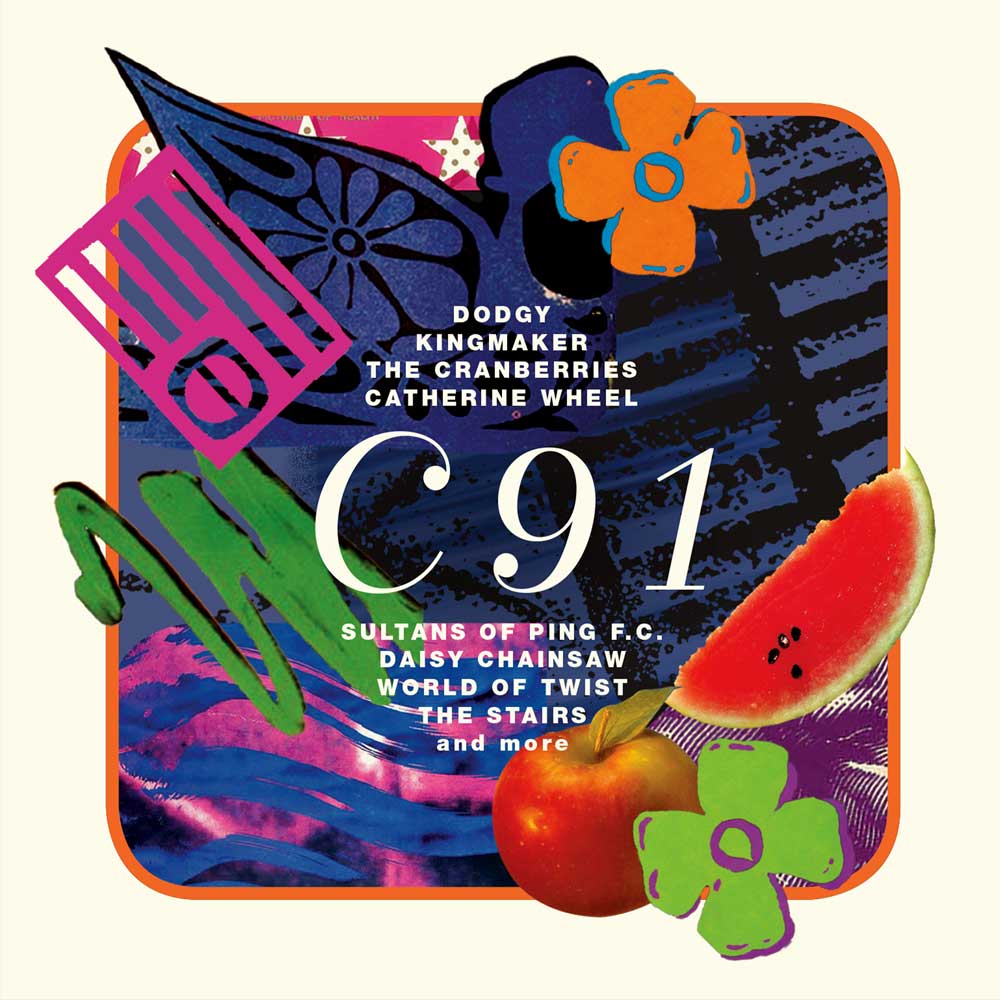 Since Cherry Red Records decided to re-create NME magazine's legendary C86 compilation cassette as a much-expanded 3CD box set in 2014, the label has embarked on a fun series based on 'I wonder what (the never-released) C87 compilation would have looked like', which has since extended to C88, C89, C90 and now C91 (the number being the year the music is taken from, if you hadn't guessed!)
The original C86 premise, i.e. assembling a wide-ranging selection of tracks from the indie artists of the day, is fully respected by C91, drawing its selections from a veritable melting pot of a year that had not quite shaken off baggy nor not quite yet embraced grunge (Nirvana's influential Nevermind had appeared in the Autumn of 1991). To give a little context, 1991 was the year that also gave us My Bloody Valentine's Loveless, Massive Attack's Blue Lines, and Primal Scream's ubiquitous Screamadelica. Not to mention R.E.M.'s enormously successful Out Of Time.
History lesson over then, and to C91 itself. The 59-track set begins with a bona fide Top 40 hit, the agreeable fuzz pop of Daisy Chainsaw's 'Love Your Money' which is a great starting point for sure.  There are early tracks here from bands who went on to have big chart success; Dodgy appear with early single 'Summer Fayre'  (released on the marvellously named Bostin' Records), The Cranberries contribute the wonderfully downbeat 'Them', while over on CD2 we are treated to Saint Etienne's timeless classic 'Nothing Can Stop Us' and Lush's wondrous 'For Love' (the band's first Top 40 hit when it came out as a single early the following year).
Then there are several 'could have / should have been huge' bands, the incredible World Of Twist contribute their sweetest moment, erm, 'Sweets', Poppy Factory, who released a clutch of really excellent singles, throw in hard to find single '7 x 7' and Flowered Up, who had some chart success but didn't seem to quite make the expected impact somehow, contribute the typically charming 'I'll Be Your Dog' – London's answer to Happy Mondays.
Quite honestly there are some bands here that I don't get on with; close friends will know that I am not an appreciator of Manic Street Preachers, but you don't need me to tell you what to think about them or their early single 'Stay Beautiful'. You may also remember the The Wonder Stuff-lite sounds of Kingmaker, who were equally never on my nineties turntable, though even hearing them gives me at least some feelings of warm nostalgia. And in the interests of fairness, I even made it all the way through The Sultans Of Ping F.C.'s none-more-wacky 'Where's Me Jumper?', which blighted many an 'indie night' of its time. However, this compilation is so packed with goodies that it really doesn't matter.
Fans of cult jangle-pop label Sarah Records will be pleased to know that there are no fewer than seven of the label's tracks represented here, my pick of which would be Blueboy's swoonsome 'Clearer' and the beautiful 'Grey Skies' by Secret Shine, all stripped down acoustic guitar-and-organ minimalism. There's the shoegaze Heaven of Slowdive's 'Morningrise' (surely the best song ever to have that label) as well as Chapterhouse's 'Pearl' (surely the jolliest song ever to have that label!) Would we call Catherine Wheel a shoegaze band?  I'm not sure, but their towering epic 'Black Metallic', all seven minutes of it, is here and it still sounds absolutely spellbinding.
There are Byrds-y jangles from briefly-touted The Dylans and their still brilliant debut single 'Godlike' (also still a great title) and Spirea X, a band formed by Primal Scream guitarist Jim Beattie on leaving that band (they contribute the B-side 'Jet Pilot' which is an excellent choice, even given the fact that they had some ace singles that could have featured too). And talking of bands formed by guitarists leaving well-known bands, we have Terry Bickers' (ex-House Of Love) group Levitation, who contribute the collection's craziest track, the 80 restless seconds of 'Nadine'.
We have more hits too: an inspired choice of The Charlatans' non-album single 'Over Rising', which seemed a little subtle to be a single at the time, but has aged very nicely, and Northside's brilliantly catchy 'Take 5'. We also have Top's singalong classic 'She's Got All The World', which I'm staggered to find only reached Number 80 in the charts (if it had appeared a few short years later at the height of Britpop then it may well have fared much better).
In the absence of the like-minded Spacemen 3 or maybe Loop, underrated West Midlands band Drop appear with the self-explanatory 'Drone 1' (taken from their only album, Within and Beyond), while fellow Midlanders Ned's Atomic Dustbin (perhaps somewhat unfairly maligned in my humble opinion) appear with one of their indie disco staples, 'Until You Find Out'.
Factory Records' demise put paid to a promising start from The Wendys, whose wonderfully titled 'Pulling My Fingers Off' makes a welcome appearance, while another short-lived act, Stan are here with their only release, the pleasing house-pop of 'My Delight'.
There's sadly not enough room to go into detail on all of the tracks in this excellent collection – I haven't even mentioned some of my favourite bands' contributions, (hello Moose and The Boo Radleys), but it's hopefully clear that C91 joins its predecessors in being a vital, lovingly curated round-up of  another classic year for indie music. It's brilliant to see these songs collected, whether it be for a new audience or as a most enjoyable time travel exercise for those who remember the tracks first time around.
C91 is released by Cherry Red Records on 21st January 2022.