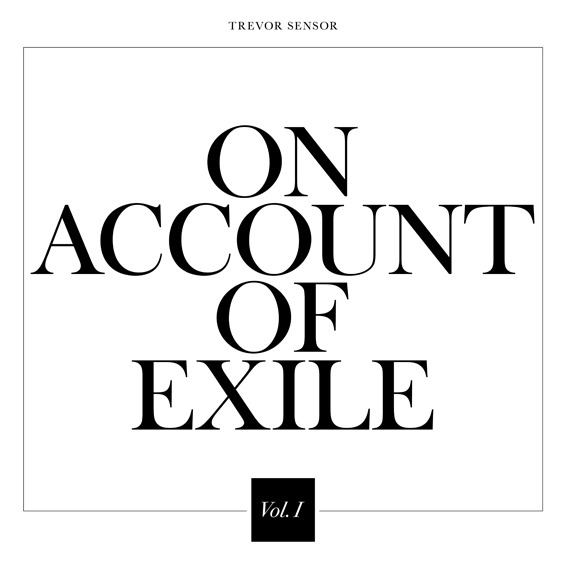 As On Account Of Exile Vol.1 first looms into view like some amalgam of the central theme to the film Taxi Driver and Dennis Wilson's Pacific Ocean Blue you immediately feel that this record is going to be a little bit special. And by the time that Trevor Sensor suggests  "it made me question who I am" on opening track 'Twilight of Idols' – his grizzled, weather-beaten voice already breaking with emotion – you know this much to be true.
Much like Dennis Wilson's 1977 masterpiece, Trevor Sensor's second album is a strong consideration of the complex environment in which he finds himself. Here the Illinois singer-songwriter steps outside any role to which he may have previously been ordained proceeds to see the world through the eyes of an indomitable outsider and chooses to live his life purely in the moment. It all makes for a most honest and convincing realisation on his part.
In marked contrast to the meditative melancholia of 'Twilight of Idols', the ensuing 'Madison Square Garden' is positively chipper, barrelling along with such gay abandon that Sensor is left squealing out loud in faux-delight. Then on 'Chiron, Galactus' he howls like some Midwestern werewolf. Inspired by the 2018 revenge horror film Mandy, and having written the song in less than an hour after watching the movie, Sensor's cries are equal parts shared anguish and cathartic release.
'Days Drag On' mines a rich seam of more conventional pop/rock, albeit one written from the margins of society.'Sawdust Chokes the Wind' and 'Somewhere Like Vietnam' are wistful piano-led ballads, both of which reflect the harsh beauty that he has found in all those past lost moments spent in isolation and survival. 'I's Hads Me Revelations' – a song in which Sensor immerses himself in The River-era Springsteen alongside just a hint of Blonde On Blonde Dylan – brings the album to a most satisfying close. Having created On Account Of Exile Vol.1 you do sense that Trevor Sensor has now reached a place where he feels that he does belong.
On Account Of Exile Vol.1 is released via High Black Desert Records on 18th June 2021.