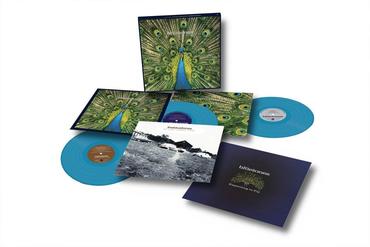 Demon Music Group do not do things by halves. Never has this been more apparent than this beautifully packaged boxset of The Bluetones' 1996 debut album. Clearly, they care. And it's all on eye-catching blue vinyl, so it's a no-brainer really.
It's a long time since I've played Expecting To Fly, to be perfectly honest, but what really struck me about the songs, as I revisited them, was just how much they rock out. I'd remembered it as a rather more restrained affair, especially the likes of 'Things Change'. I'd completely forgotten that it just becomes this glorious cacophony of guitars towards the end and I defy anyone to not get lost in that! Of course, there's also the band's glorious number two hit, 'Slight Return' here and the even better 'Bluetonic', both masterclasses in pop songwriting with entertaining lyrics and an innocent charm delivered with a cheeky smile by their assiduous leader Mark Morriss.
There was more to this group than meets the ear though really. As Steve Lamacq points out on the liner notes of the second disc included here – A- and B-Sides – "(they) were far more complex musically than was often celebrated" and this is undoubtedly true. 'Nae Hair On't' for example, is kind of Laurel Canyon meets Peter Gabriel's 'Solsbury Hill' and 'Castle Rock', which paired with 'Cut Some Rug' as a double a-side, proves that the band were not afraid to look to America for inspiration at a time when most British artists were planting their flags firmly on this side of the Atlantic.
The Early Garage Years gets another outing in this splendid boxset, consisting mostly of demo versions of those tracks that ended up on Expecting To Fly. You can see why there was an almighty clamour to sign them, with a slightly rawer edge than the finished LP versions in many instances, though it's immediately apparent how commercially viable they were going to be. I might even just slightly prefer the rough and ready version over the 'finished version' of 'The Fountainhead', which calls to mind The Smiths in their earliest promise here. Unlike a lot of these 'odds and sods' collections from various bands' early days, this, rather than being one for the purists only, does in fact come across as an essential purchase for anyone who liked or loved The Bluetones. There's not one A & R man (or woman) who wouldn't have wet their pants in excitement upon hearing either version of 'Are You Blue Or Are You Blind?' and unless you had cabbages for ears, you would absolutely have gone out of your way in an attempt to sign them.
But that's not all! Also included in this 'triple' vinyl release is a FOURTH disc (traditional black this time) with 4 track demos of 'Time & Again' and 'Cut Some Rug' on one side, and the nigh-on perfect 'Putting Out Fires' on the other, arguably their finest moment – an ambitious, sweeping epic of a number that might well be the pinnacle of their entire career.
Plus you get a lovely accompanying book of black and white photos documenting this period of the band's existence. The packaging is impeccable, so Demon Records, I salute you for doing such a superb job with this anniversary edition of this still somewhat underrated gem.
The Expecting To Fly boxset is out now on Demon Records.