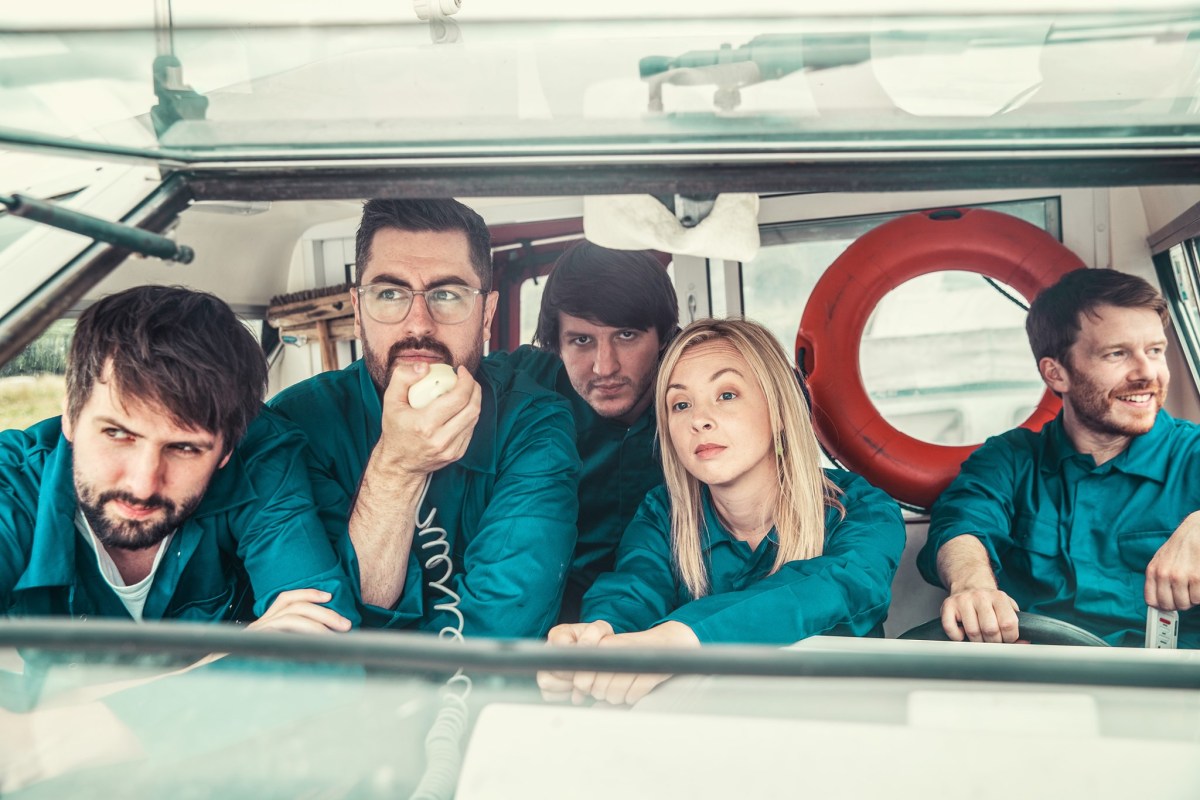 While for some the pandemic is the last experience they want to incorporate into their art, Dublin-based band Silverbacks have used the pandemic and its monotony combined with the creeping disquiet experienced by many of us to inform their second album Archive Material.  It is released on 21 January 2022, the first on new label home Full Time Hobby.  It follows debut album Fad which was released in 2020 amongst the chaos in the music industry created by the pandemic.  Gilla Band's Daniel Fox is the producer and  together they have created an album that shape-shifts through various tempos and soundscapes, entirely appropriate for these most surreal of times.
Archive Material opens with the title track and its jerky offbeat tempo is reminiscent of the likes of Shame.  With its sprinkling of French lyrics it is enticing to know this album is going to be unpredictable and full of unexpected surprises.  Indeed Silverbacks seem to have been created in a slightly different mould to most of their Irish contemporaries.
Tracks such as current single 'A Job Worth Something' and 'Different Kind of Holiday' directly speak to the impact of the pandemic.  The former reflects on different jobs and how singer Daniel felt working in insurance while his sister treated patients on a COVID ward.  Front line workers are exactly that and for others there is a feeling of guilt and uselessness while others struggled to save lives.  The latter song draws its inspiration from the bonding of neighbours due to long periods of enforced confinement, and that strength of support through community.
The quintet have the luxury of switching between male and female lead singers.  On 'Wear My Medals' bassist Emma Hanlon takes up lead singer duties and her vocal adds a lightness and deftness to this track which references Bradford Cox and Cate Le Bon's collaborative record Myths 004, as well as swimmer Michael Phelps!
'They Were Never Our People 'and previous single 'Rolodex City' provide a Talking Heads-style quirky, art-punk, angular music with a vocal which gives little away of the bands Irish roots.  The inspiration for Archive Material are not just found in the pandemic.  In 'They Were Never Our People'  a YouTube comment portraying the decline of a town that has lost its footfall as the result of a bypass, demonstrates Silverbacks ability to look at our world and the impact on community of so-called improvements due to modernity.
And now for something completely different.  'Carshade' is a 2min instrumental which injects a sense of peace into the mayhem.  We have needed to find solace and calm in order to build resilience against the pandemic and this track lives and breathes nature with its rich instrumentation and birdsong quality.
One of the highlights of the album is 'Central Tones'.  As if re-energised the passion is ramped up with wild and screeching reverb riffs in the guitars.  Musically it canters along at pace and the vocal combinations are playful.  The longest track on the album, it reminds of the rhythm of a train.  'Recycle Culture'  brings us to considerations of the future and the theme of our attempts to recycle and be more mindful of taking care of our planet, but with a huge dollop of humour as what does that mean for us as individuals?
"You've bought an old book
That makes you feel good"
Silverbacks have produced an album of depth full of twists and turns, shifting textures and sounds and all skill-fully woven together into a whole.  Thought-provoking and current it is not melancholy but full of the surprising, unpredictable and quirky – which of course can all be used to describe the human condition.
Silverbacks release their second album Archive Material on the Full Time Hobby label.
For more information on the band please check out their facebook and bandcamp