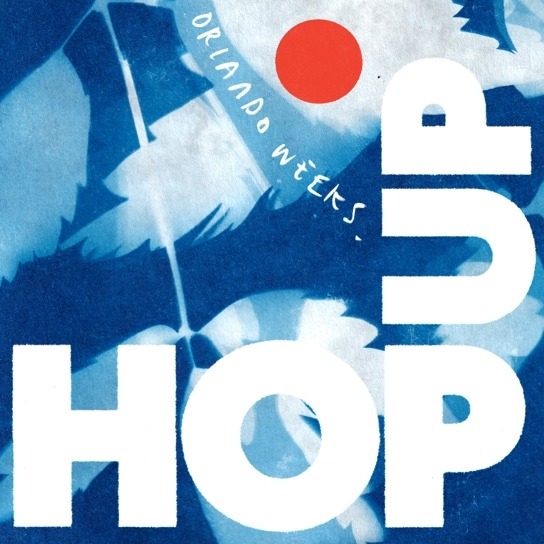 Embracing the joyful things. With all the negativity and social panic that encircles a pandemic-stricken world, it's hard to pause, lie down on some grass, put your head up and view the world with jubilation and positivity. Musician and accomplished illustrator Orlando Weeks, who has developed greatly as an artist since being the lead singer of The Maccabees – does just that on his third solo record Hop Up. The new album could be described as "A Quickening Part 2", as Weeks continues the recent journey into parenthood that he commented on in his previous effort. However, this time he has a different outlook. Looking at the wonder shown in the eyes of his child, as they touch and discover everything as brand new, the understandable parental anxiety that was expressed in 2020's 'A Quickening' has been replaced with an appreciation for the enriching parts to being a parent and life as a whole.
Everything from the lyrics, to the promos and the music itself consistently convey this new found ebullience. Hey, there's even a track calling 'Look Who's Talking Now', which reminds us of the trilogy of films which took us into the minds of babies, one voiced by Bruce Willis. The lyrics might often take a simplistic child-like perspective but the music is just as detailed as 'A Quickening' and his storybook soundtrack 'The Gritterman'. When Orlando Weeks sings from an innocent angle: "Look at the stars. Sitting all pretty," on the opening track 'Deep Down Way Out', it's accompanied by intricately layered ethereal tones – much like a lot of Hop Up – and also contains whistling, New Wave melodic guitars and a buzzing synths.
On the jolly 'Hey You Hop Up' you can imagine the close connection he has with child and how he plans to guide them through life. The inclusion of pan pipes makes one imagines a parental-child journey that takes place through an African jungle as Weeks sings: "Hop on up, Carry you off on shoulders Hop on up and I've got such high hopes. For you"/Have you got enough there? Because there's more where that came from."
On 'Bigger' – a track that spins parental apprehension by saying that it's a positive thing that your own world balloons with your children's interests and discoveries – Orlando Weeks sings "Another clear blue sky. I see it. I take a bite. Right there, out of it all.". It makes one think of  an arty children's TV show. The track has a harmonica as one of its distinctive hooks and there's something very ABC about its snappy 80s production.
Musician Katy J Pearson adds her vocals to the track and furthermore appears on 'Big Skies Silly Faces'. A single that's title is perhaps the most obvious indication of Weeks' giddy observations. Yet it's actually inspired by a 1976 television film directed by Mike Leigh called Nuts in May, in which the protagonists go on a camping trip and comically try to make the most of a situation. This in line with Orlando Weeks's examination of parenthood and how he can overthink a situation, rather just simply enjoy it: "No stopping that sky high as its wide. My mind against my better thinking. Know the feeling but wonder why." Weeks wants listeners to experience a cloud 9 feeling and his method of using celestial symbolism to express optimism continues with 'Silver'. In which he sings: "You come along and put a shine on a grey sky. Make it silver." The track has the atmosphere of a slower Tears for Fears track, in particular 'Ideas of Opiates'.
'Way To GO 'channels traditional folk rock music with hints of organ but more importantly expresses Orlando Weeks's exuberant curiosity, in which he seems to be staring out a window listing things he sees that we would usually take for granted: "Red lights are the tops of the cranes and the weather screams at the window pane/The white lights of the moving train
And the blue glow of the late night TV frames." 'No End to Life' has the peaceful shade of a Patrick Watson lullaby and is the best demonstration of how Orlando Weeks's voice blends beautifully with the composition within. But is also another example of where the singer asks us to live in the moment. "Celebrate it. Blink and miss it. All that is contained in a whole life time. No time limit
No ceiling on it."
The most enjoyable track musically on 'Hop Up' is arguably the quirky and shape-shifting 'Yup Yup Yup Yup'. The former sounds like the combined offspring of Django Django and Arcade Fire, with its hiccupping filter, whips and urgent piano (think 'We Used To Wait'). Then in the last half we hear calming jazz piano and Weeks' voice duplicate into serene talking and warbled falsetto. It really is mesmerizing.
In the midst of winter Hop Up is an album that's welcomingly warm and brings a smile when listened. Sung by an irresistibly likeable and mellow personality, and one that has a unique idiosyncratic voice. The perfect person to spread a much needed feeling of joy.