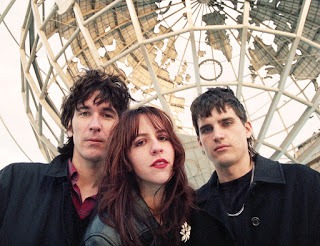 UV-TV delighted us with their brilliantly soaring recent fuzz pop debut 'Distant Lullaby',  and today we exclusively share the second single 'Back To Nowhere'. It's taken from upcoming third album 'Always Something' out 28 May via PaperCup Music,
The New York trio put their foot on the gas with 'Back to Nowhere' – a cut of brisk percussion and guitars that echo the spiralling riffs of 'She Sells Sanctuary' by The Cult and infuses them with infectious vocals and melodic hooks of lead-singer Rose Vastola, who coolly commands the course in a track that invites the listener to disconnect, take a backseat and just enjoy the ride.
It finds UV-TV railing against the world of constant productivity we find ourselves living in, the band charting an alternative route of their own leisure. Cutting-loose from the societal pressures of the modern age and all its associated anxieties, it's a track that proudly flies the flag for what the band call: "the art of doing nothing".
A cornerstone in the continuation of the DIY and post-punk crossover scene in the US, UV-TV are founding members Rose Vastola (guitars / vox), Ian Bernacett (guitars), plus latest recruit Ian Rose (drums). Releasing their debut demo in 2015, the band have released a series of electrifying releases including two albums, 2017's debut full length 'Glass', and 2019's follow-up 'Happy', with their sound evolving with each record they stamp their name to.
Supporting like-minded souls on the East Coast scene like Parquet Courts, Screaming Females, and B Boys, word about UV-TV is reaching ever greater audiences.
Written during the intense isolation of early 2020, 'Always Something' is the first album to be completely written and recorded since the band's relocation to New York (from Florida) and with new drummer Ian Rose as a full-time member. An album that finds a band grappling with the overwhelming darkness of the time it was made in, while embracing the feeling of the world falling apart all around them, the resultant record is one that walks a fine line between beauty and chaos with remarkable results.
Signing a new deal with New York-based imprint PaperCup Music, UV-TV will release 'Always Something', their first full-length album for the label on 28th May 2021. Available digitally, a run of 500 limited edition LPs will also be available in the US and for import in the UK & EU.