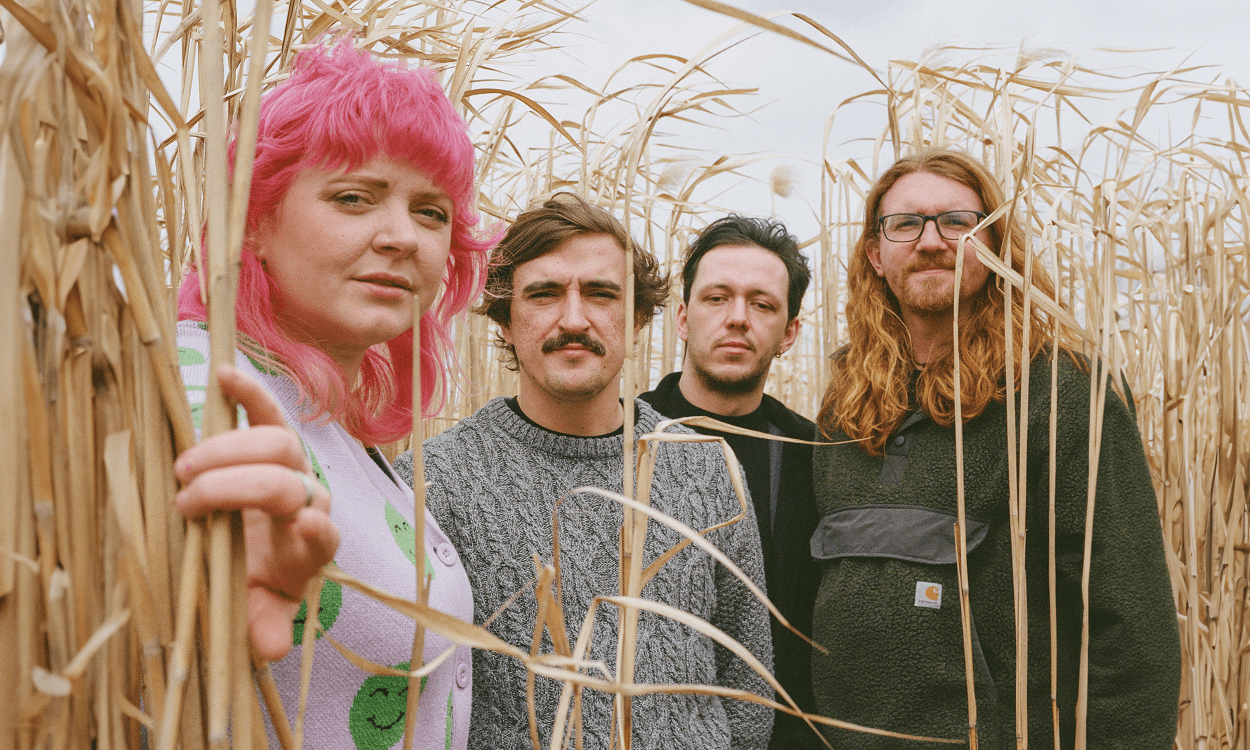 Sprints today share their new single 'Adore Adore Adore', released via City Slang. The Irish band also confirm details of their biggest headline shows to date, including at London's Scala and Dublin's Button Factory. Sprints also have a staggering number of festival appearances this summer. Full live date details are below.
New single 'Adore Adore Adore' finds lead singer and guitarist Karla Chubb reflecting on her experience as the frontperson of Sprints; a woman fronting a punk band being held to patriarchal standards of acceptability.  Karla further expands:
"There is still a different standard of behaviour expected from me vs even the other members in Sprints. There is a different set of invisible rules I am supposed to abide by – I am supposed to fit their mould and give them what they want – and not deliver what it is I am here to do.
So at a time when trans rights are under attack, people are trying to force upon us what they think a woman is or should be, this is the outward expression of my own frustration, struggle and rage."
Sadly, it's an all too common theme, and Sprints are a band who are not afraid to confront head-on the harsh realities of society and the music industry. 'Adore Adore Adore' sees them pouring their heart and soul into the track, and for anyone who knows their music, this is no surprise. From a band who are yet to release their debut album, although it is recorded, they have come on leaps and bounds in the last couple of years. The frenetic energy of their music is reproduced ten-fold in their phenomenal live performances.
As Karla explains:
"Our only ethos in music is to write something that matters and that means something. It's all about expressing our identities, and injecting our personalities into it."
Sprints Headline Dates
October
4th – Scala, London, UK 
6th – Button Factory, Dublin, Ireland 
November
15th- Baby's All Right, New York, USA
Sprints Other Live Dates
June
16th – Festsaal, Berlin, Germany
18th – Beyond The Pale. Dublin, Ireland 
24th – Siren's Festival, Luxembourg
July
7th – Stendhal Festival, Limavady, Northern Ireland 
8th – 2000Trees, Cheltenham, UK
14th – TVSpenta dal vivo, Rapolano Terme, Italy
21st – Standon Calling Festival, UK
22nd – Leopallooza. Cornwall, UK
23rd – Truck Festival, Oxfordshire, UK
28th – Deer Shed, Thirsk, UK
30th – Y Not Festival, Derbyshire, UK
August
5th –  All Together Now, Curraghmore Estate, UK
11th – Open Flair Festival, Eschwege, Germany 
September
22nd – Reeperbahn, Hamburg, Germany
November 
4th – Iceland Airwaves, Reykjavik, Iceland 
December
16th – Brixton o2 Academy, London (supporting Suede)
For more information on tour dates please check here.
For more information on Sprints please check out their facebook and instagram.