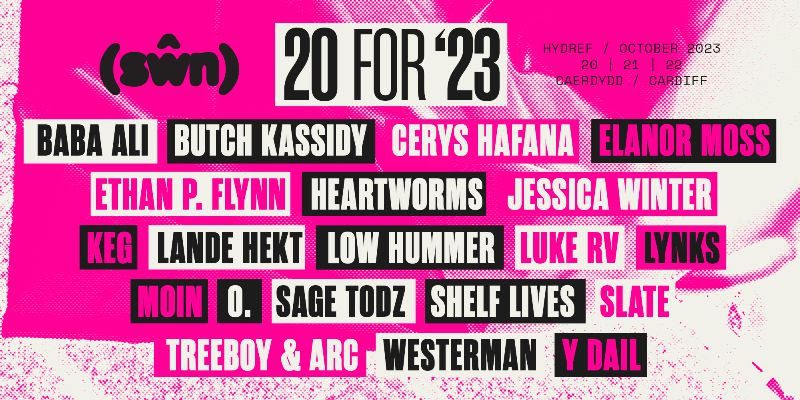 Sŵn Festival have announced '20 for '23 – twenty of the artists making their way down to the heart of Cardiff from October 20th-22nd.
The announcement includes pop disrupter Jessica Winter, the near-mythical Lynks, dystopic auteur Heartworms, Westerman, Ethan P. Flynn and Treeboy & Arc. On the grassroots level, there will be performances from post-punk poets Slate, Welsh-language drill pioneer Sage Todz and rapper Luke RV.
With one foot firmly on the dancefloor, and the other in a state of frenzy, one of the most electrifying emerging UK acts Baba Ali will be bringing their electro-punk disco energy to Wales. Having worked with producers responsible for LCD Soundsystem, Hot Chip and M.I.A, theirs is a sound with an infectious, raw energy that makes standing still impossible.
Bringing their art-punk teen angst from the red brick abodes of North Leeds to the streets of Cardiff is Treeboy & Arc. The latest signees to Clue Records (Bored At My Grandmas House, The Wedding Present, YOWL). Gearing up for the release of their debut album Natural Habitat this summer, expect to see Treeboy & Arc sounding darker, harsher and more brutal than ever.
Adding to a line-up already bursting at the seams, you'll find the explosive post-rock compositions of Butch Kassidy, KEG's unrelenting abrasion and the punchy yet tender works of Lande Hekt. Joining them in Cardiff will be riotous Peckham duo O., the otherworldly singer-songwriter Elanor Moss, the synth-heavy, post-punk hybrid sound of Hull-hailing band Low Hummer, art-rockers Moin and frenetic electro-punks Shelf Lives.
On a grassroots level, we will also be treated to performances from Y Dail, the transportive pop project of 19-year-old Huw Griffiths and composer and multi-instrumentalist Cerys Hafana who is transforming traditional Welsh sounds into thrilling new contexts.
Sŵn Festival will be shining a particular spotlight on Wales' burgeoning hip-hop scene, too, with a performance from rapper Luke RV who, while being completely independent, has earned 57k monthly listeners with accolades from Lady Leshurr as her 1Xtra Introducing Track of The Week and an invitation to Maida Vale for their BBC Introducing x 1Xtra Rap Cypher. Joining him will be pioneer Sage Todz who is at the fore of the Welsh-language drill scene. His track 'Rownd a Rownd' proved to be a viral hit, being viewed on Twitter 200,000 times a month after its release.
Speaking on the wonders Sŵn Festival has in store this year, live manager Adam Williams shares: "Sŵn books artists at various stages in their career, but with a focus on emerging talent. Some are more established touring internationally, others are gearing up to release their debut album and there are artists nobody knows exist yet. It's most often those lesser known artists who excite us the most!"
The festival welcomes around 140 artists each year and we normally announce around 70 in our first wave. What we wanted to achieve in 2023 was to announce just 20 up and comers who we believe should be on every music listeners' radar. An opportunity to focus on those artists who are breaking through or those finally getting their time in the sun. We believe our audience trusts and wants to know who we are listening to. And that simply is what Swn 20 for 23 is all about.
We'll be working with this years 20 for 23 artists to deliver some pretty special moments across that weekend in October and we can't wait to share that with you."
Keep your eyes peeled for more from Sŵn Festival as October approaches, but for now head to swnfest.com for more information and ticket pricing options (early bird and tier one sold out before a single artist was announced).