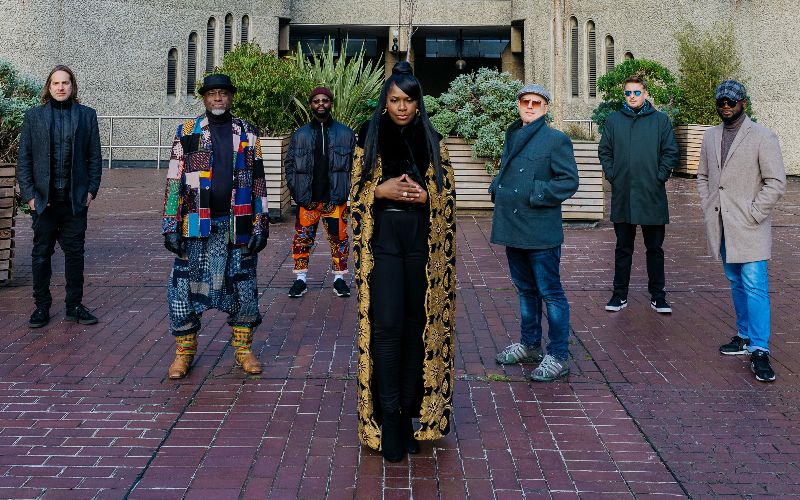 Out March 25th, Electricity is the fourth album from London's Ibibio Sound Machine. Produced by Hot Chip, Lead single 'All That You Want' is out everywhere after a premiere on BBC 6Music.
 
Ibibio Sound Machine's collaboration with Hot Chip was born out of mutual admiration watching each other on festival stages, as well as a shared love of Francis Bebey and Giorgio Moroder. It is the first album Ibibio Sound Machine have made with external producers since the group's formation in London in 2013 by singer Eno Williams and saxophonist Max Grunhard. True, 2017's Uyai featured mixdown guests including Dan Leavers, aka Danalogue, the keyboard jedi in future-jazz trio The Comet Is Coming, but Hot Chip and Ibibio Sound Machine worked together more deeply throughout the process, collaborating fully. Along the way, the team conjured a kaleidoscope of delights that include resonances of Jonzun Crew, Grace Jones, William Onyeabor, Tom Tom Club, Kae Tempest, Keith LeBlanc, The J.B.'s, Jon Hassell's "Fourth World," and Bootsy Collins.
 
Hot Chip had this to say about producing Ibibio Sound Machine's new album:
 
"Prior to the sessions, we had run into Ibibio Sound Machine at festivals and loved watching them perform. There are very talented musicians throughout the band, and Eno is a massively charismatic, skilled singer. The sessions were hugely rewarding as Ibibio brought in friends and collaborators to add a wide array of different instruments—some of which were unfamiliar to us. The songs on this record are uniformly great, and we were really happy to be a part of making it."
 
Ibibio Sound Machine hit the road immediately following the release of Electricity, touring extensively throughout the United Kingdom. There will be more shows to be announced.
UK Tour Dates:
Mar 30th | Bath – Komedia 
Mar 31st | Worthing – The Venue 
Apr 1st | Manchester – Band on the Wall 
Apr 3rd | Birmingham – The Castle & Falcon 
Apr 7th | Newcastle – Wylam Brewery 
Apr 8th | Glasgow – St. Luke's 
Apr 9th | Leeds – Belgrave Music Hall
Apr 14th | London – Electric Ballroom
Photo credit: Jeremy DeLuna