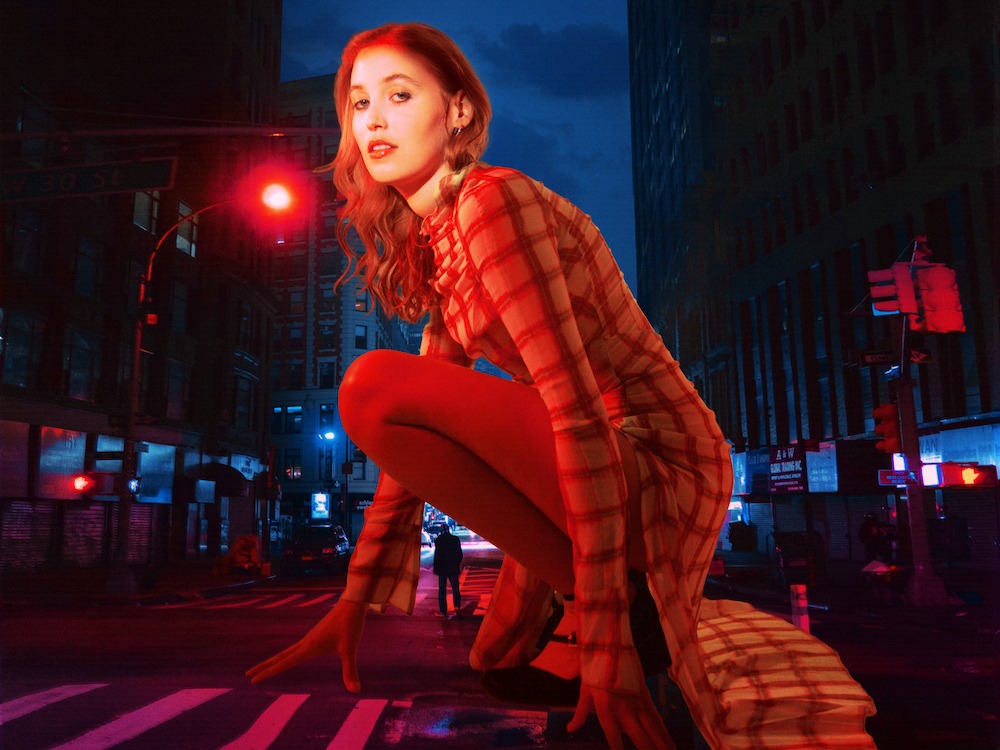 Hatchie has announced details of her new album, Giving The World Away, set for release on April 22nd through Secretly Canadian, and has shared the infectious and captivating lead single 'Quicksand'.
The evocative and hook laden 'Quicksand,' is a majestic slice of cinematic pop riven with cascading waves of synths, bubbling beats and melodies that explore that feeling of never being satisfied despite everything on the surface appearing to be going well! Wriitten with GRAMMY-nominated Olivia Rodrigo collaborator Dan Nigro, it harks to the work of William Orbit with Madonna and All Saints. "I used to think that this was something I could die for / I hate admitting to myself that I was never sure," she sings, inverting the thesis of one of her early break-out singles 'Sure.'  Then, a few lines later, she regains her footing — in her musicality, and in herself: "It's all I know, and I'm taking it back."
 
"Quicksand is about dealing with the realisation that you'll never be satisfied" Pilbeam comments. "I started writing it when I was home between tours in 2019 before finishing it with Joe Agius and Dan Nigro the next year. I was feeling guilty and ungrateful for not being happy about a few different things in my life that were technically going well. I had to work through some tough learned thought processes and emotions that had been working away for years to try to understand how to be happy with my present, and stop fixating on my past and future. The video digs deeper into showing this juxtaposition of such sadness and anger despite being surrounded by glamour and grandeur."
 
The second album from Hatchie, 'Giving The World Away' is the truest introduction to the songwriter at the helm of the project, Harriette Pilbeam. Although her sound arrived fully-formed, a dazzling dream-pop and shoegaze tangle, it's here that she distills the core of herself into a record.
 
"There's more to me than just writing songs about being in love or being heartbroken — there's a bigger picture than that," Pilbeam explains. "This album really just feels like the beginning to me, and scratching the surface – and even though it's my third release as Hatchie, I feel like I'm rebooting from scratch."
 
"For Pilbeam, that bigger picture explored here includes confronting her anxieties after decades of compartmentalisation; realising her own self-confidence and self-esteem; taking control of her own narrative, and her place in both her professional and personal life."
 On 'Giving the World Away,' she held herself to higher standards, especially with personal lyrical precision. At the time she started working on it, she was caught in a strange headspace. When 2018 EP Sugar & Spice and subsequent debut LP Keepsake both catapulted Hatchie into the spotlight, she felt both unsure of herself and an intense, self-imposed pressure to keep going forward. Trapped in constant motion, Pilbeam was unable to be present or appreciative of herself, both professionally and personally. 
 
 
Other streaming options: https://hatchie.secretlyca.co/quicksand
'Giving The World Away' album pre-order links: https://hatchie.secretlyca.co/giving-the-world-away
 
Produced by Jorge Elbrecht, also recently GRAMMY-nominated and known for his work with Sky Ferreira, Japanese Breakfast, and Wild Nothing, 'Giving the World Away' is Hatchie's most sprawling work yet. Featuring extensive input from longtime Hatchie collaborator Joe Agius.
'Giving The World Away' will be released on April 22nd on Secretly Canadian. Pre-order & pre-sale links here.
 
'Giving The World Away' tracklist:
Lights On
This Enchanted
Twin
Take My Hand
The Rhythm
Quicksand
Thinking Of
Giving The World Away
The Key
Don't Leave Me In The Rain
Sunday Song
Til We Run Out of Air
  
North American tour dates (tickets available via hatchie.net):
05/04/22 – Washington, DC – Songbyrd Record Cafe
05/05/22 – Philadelphia, PA – The Foundry
05/06/22 – Boston, MA – Crystal Ballroom at Somerville Theatre
05/07/22 – Brooklyn, NY – Music Hall of Williamsburg
05/09/22 – Montreal, QC – Bar Le Ritz PDB
05/10/22 – Toronto, ON – The Garrison
05/12/22 – Pittsburgh, PA – Club Cafe
05/13/22 – Columbus, OH – Ace of Cups
05/14/22 – Chicago, IL – Sleeping Village
05/15/22 – Minneapolis, MN – Turf Club
05/19/22 – Vancouver, BC – Fortune Sound Club
05/20/22 – Portland, OR – Mississippi Studios
05/21/22 – Seattle, WA – Neumos
05/23/22 – San Francisco, CA – Rickshaw Stop
05/25/22 – San Diego, CA – Casbah
05/26/22 – Los Angeles, CA – Lodge Room