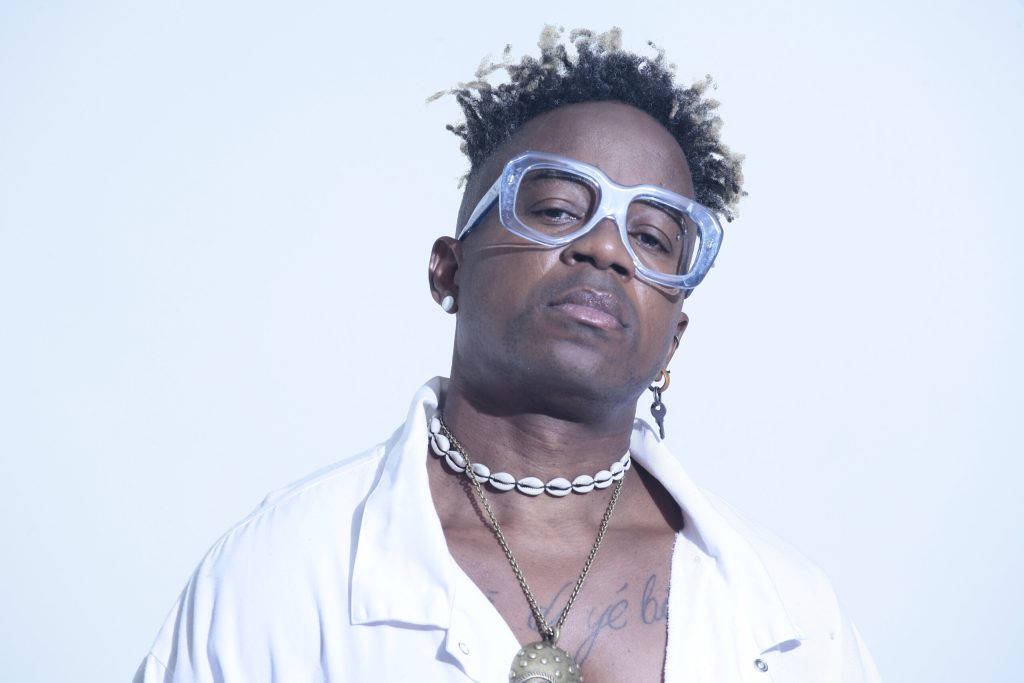 Blick Bassy today releases his new album, Madíbá via InFiné, sung in the Baasa language of his native Cameroon. Based in France, his fifth album Madíbá follows Bassy's multi-award-winning 2019 album '1958,' a collaboration with Disclosure and the publication of Blick's prize-winning debut novel.
Madíbá, meaning 'water,' brings together twelve songs in the form of fables, dedicated to the theme of water, in which Bassy's soaring voice dominates, carried by delicate guitar, synthesiser and brass arrangements. The cuts are diaphanous but modernist, with a contemporary Africanity at the crossroads of soul, folk, and electro. Madíbá is available to stream across all platforms from here, alongside a live video for lead single 'Hola Mè.' Watch here:
Bassy's albums have always been characterised by a humanist, universal dimension, and Madíbá considers global climate crisis and issues surrounding access to water, without issuing didactic or moralising speeches.
Blick says, "It is a question here of showing a form of respect, of connecting with the living, of imagining through these songs a world in which we could live in coherence with our environment". Lead single 'Hola Mè' was released on World Water Day, with Blick also supporting NGO water.org, using his platforms to raise awareness of the global water crisis, and their work to provide access to safe water.
Musically, Madíbá captures Blick pursuing a new direction, spurred by James Blake and Bon Iver influences to relocate his voice in electronic textures with more spare instrumentation. Speaking of the album Blick says,
"By small touches, we have brought a certain electro modernity to this new album, a more futuristic side. I have always claimed my status as an African musician, but also the contemporary aspect of my approach. In African musical culture, there is unfortunately little of this type of work which focuses on the sound itself, on the exploration of new techniques. I would like to position myself as an African avant-garde artist who, with each project, offers new ideas on the treatment of sound and melody."
The album explores water's rarity, its necessity as a source of life, its energy and its vital power. It brings together a series of figures, animals and various characters, embodied in turn by Bassy.
He said, "I am neither a colour nor a nationality, but one of the different water-based forms. My last album, '1958', led me to question the feelings that can lead us to the point of sometimes committing the worst: the relationship of subordination and exploitation that we have established between ourselves, humans and other living beings. From this unhealthy relationship comes the destruction of the living elements essential to our survival. How can we display our role as contributors while ignoring the living? I said to myself that in order to live in osmosis with my surroundings, I should perhaps start by discovering and loving all living things, whatever their form and matter. This quest for love is the reason for this album."
Whilst Bassy sings for the entirety of Madíbá in Baasa, he intends to transcend to a wider audience. "I don't think I belong to a particular African tradition," he says. "Usually, when the Baasa language is sung, it comes close to a spoken form, it is a language loaded with information, which evokes poetry and the long stories told by griots (West African travelling historians, musicians poets and storytellers.) My way of writing my native language, and singing it, is very different and has often surprised members of my ethnic group. My desire has always been to get out of my community to reach a wider audience."
Madíbá is available to stream across all platforms from here: Blick Bassy – Mádibá (idol-io.link)
Follow Blick Bassy here: