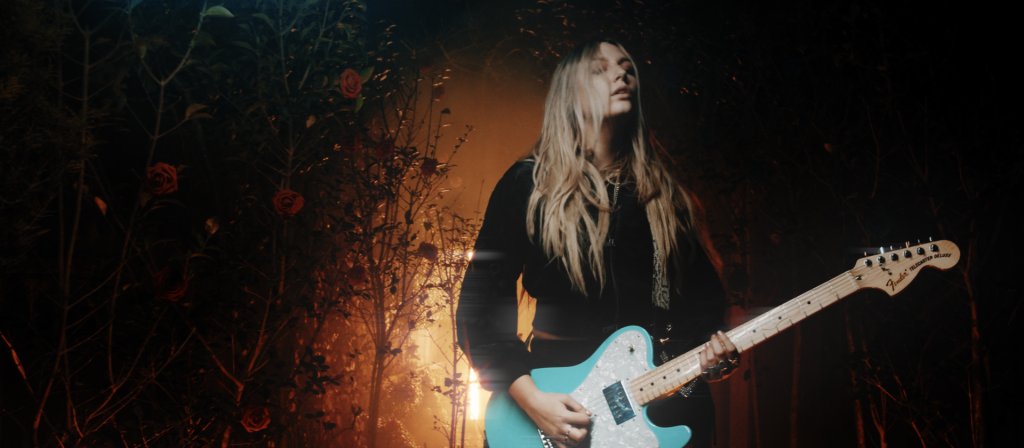 Multi-instrumentalist Ailis (pronounced Ay-Lish) has shared her smart new single '(give me) Just a Little Bit'. Packed with relentless electro-pop rhythms and stinging guitars, and enlivened by her brilliant vocals that ripple with melodic hooks and a self-empowered fist in a velvet glove.
Ailis wrote '(give me) Just a Little Bit' to call out how self idealisation has made us fully divorced from reality. When asked about what inspired her to write the track, Ailis said: "We use social media to showcase an alter ego, which in some ways is great but we're also slowly losing our authenticity. I think through the façade we're all secretly hoping that people can see us for the 'real' person. At what point do we become so detached from who we really are that we are just a commodity being used as some form of social currency?".
Commenting on the video, Ailis said "I produced the song myself so I wanted the video to tell a story of the creative process. A lot of people find it surprising that I'm a woman and that I play so many instruments but I like that it surprises people."
Having been a session guitarist, vocalist, drummer, and percussionist, Ailis started her solo artist career whilst writing music for adverts and TV when touring was put on hold during COVID. "I always loved writing and producing so when my collaborations started getting picked up by publishers it pushed me to start writing music I wanted to release under my own name."
Ailis believes that pop music doesn't always have to sound perfect and mechanical. She uses her experience as a session drummer and her sensitivity to vibration after overcoming hearing loss to sculpt her Alternative 'grit pop' sound.
"My journey in music unconventionally started when meningitis lead to single sided deafness because it changed the way that I heard and felt music forever. As a deaf, female musician I am proud to be releasing my music and representing my communities"
As part of the release and to exemplify the lyrics, Ailis collaborated with Manchester Photographer, Debbie Ellis, to create a 'tongue-in-cheek' visual project where Ailis became abstract pieces of furniture. Debbie said "We were particularly excited about shooting the lamp piece because it's that idea that society's expectation is we're meant to look great and light up a room, but at the same time, stand in the corner and be quiet".