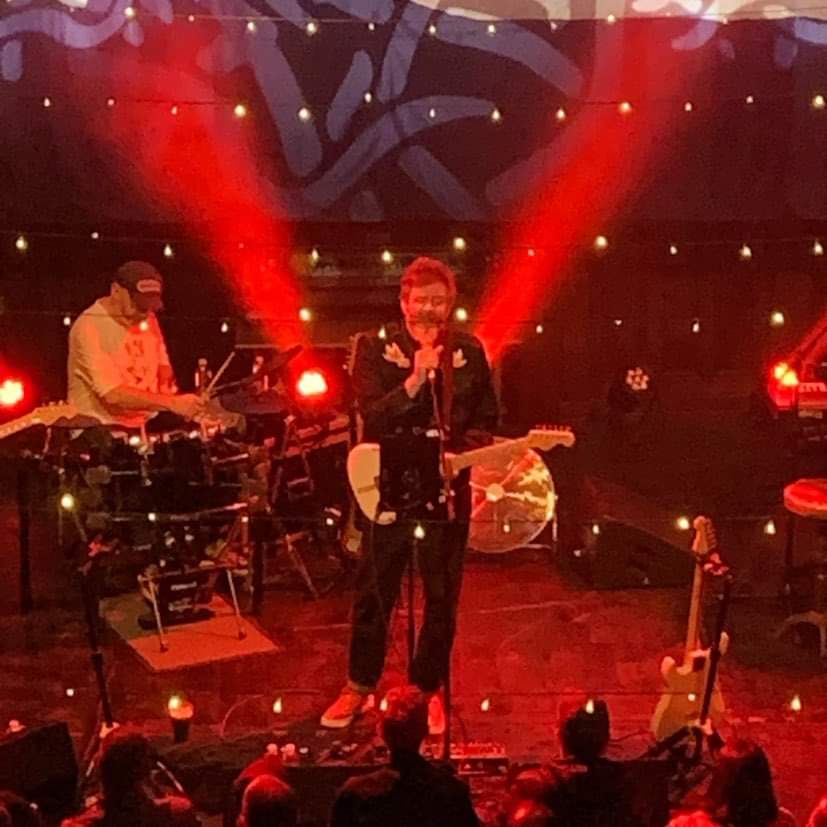 Live music still feels like such a major treat after lockdowns. It's understandable that it couldn't happen, and I saw some excellent live-streamed gigs – but to be able to go and experience live music in the flesh, as it were, is still something special. Even if it is my fifth – count 'em! – gig of the year so far. Of course, there's still checks to be gone through, which is why before we even get in, I find myself being helped by the lovely Duglas T. Stewart of the legendary BMX Bandits on how to download what I need to be able to get in, in terms of certification.
It's a busy show, many having their first live experience in many months, and added to which is the reality that Scritti Politti haven't played much live over the forty plus years the group has been in existence. Lead singer Green Gartside, the only continuous member had notoriously bad stage fright, not really playing live much at all between 1980 and about 2005, which is why this gig is not a simple exercise in nostalgia. There was no Cupid and Psyche 85 tour when the album was released back in, er, 1985, so it's something new for all.
Tonight's support comes from Alexis Taylor. Best known as the founder and frontman of Hot Chip, he has just released his sixth solo album Silence. Mostly solo on either guitar or keyboards, he plays a well-received set, which will hopefully send many of those present in search of the back catalogue. A particular highlight is 'House Of The Truth' from the new record. He also plays two cover versions of 'Wild Horses' back to back. The first is the Rolling Stones number from Sticky Fingers (now fifty years old…how?), and it's a quite radical synth reworking. In less skilled hands it could have ended up like John Shuttleworth, but he makes it his own. Then he plays the (totally different) song of the same name by Prefab Sprout. Well played, sir, well played.
There's so much goodwill in the room tonight for Green Gartside and his merry men, that despite his (admitted) nerves the crowd are completely onside from the word go. They open with 'The 'Sweetest Girl' ' (punctuation intended) the band's fourth single from 1981, which opened the famous NME C81 compilation and bridges the gap between their more experimental post-punk beginnings and the 'new pop' they became most famous for. It's still absolutely glorious.
The evening is devoted to their second album, but pretty much the whole Scritti canon of over forty years, with the exception of the love letter to hip-hop that is their brilliant and highly underrated Anomie & Bonhomie. So we get 'A Day Late And a Dollar Short' that appeared on the Absolute-best of, as well as a selection of other singles. 2006's ode to his love of beer and hip-hop 'The Boom Boom Bap,' 1988's 'Oh Patti' (he admits he's never actually known a woman called Patti), 2006's ode to his love of beer and hip-hop 'The Boom Boom Bap' and even the band's very first single from 1978 'Skank Bloc Bologna.' Despite the very different feel of all of these on record, amazingly they manage to flow live on stage. There's also an as yet unreleased song 'Trentavious White' about deceased rapper Bankroll Fresh.
And then we're onto the main course, the Cupid and Psyche part of the show. The band play the nine tracks in order, managing to sound faithful to the record, but also keeping the sound fresh. So we start with 'The Word Girl,' one of the most lyrically angry songs in their catalogue, but sugar-coated in the way that Gartside and his many helpers specialised in. It remains their biggest hit (no.6 in 1985, fact fans). It's still an awesome record, and was at the time-ground breaking. Simon Reynolds in his excellent Rip It Up and Start Again posits the idea that it was so far ahead of the game that it influenced the next wave of mid-1980s black pop, such as Janet Jackson's Control. The theories underlying the album, and the influence of philosophy might have been dismissed as pretentious by some, but the reality is that Gartside had the intellectual nous and the ability to write perfect pop songs. So hit songs from the record like 'Absolute' and 'Wood Beez' were in the charts amongst the big pop acts of the day, but with a gravitas that meant they were just as likely to appeal to the inkies as the glossies. Green suggests that 'Lover To Fall' might be the most '80s sounding one of them all, which is probably true, but no bad thing. 'Perfect Way' which was the big American hit from the album was covered by no less an artist than Miles Davis (who would later play on 'Oh Patti.')
The encore sees the band joined by Alexis Taylor for a very special encore of 'At Last I Am Free.' Written by Chic, it was also recorded by Robert Wyatt who has collaborated with both Hot Chip and and Scritti and makes for a wonderful end to a very special night. I hope it's released; for now, there are versions from several gigs doing the rounds on YouTube.
Lord knows when we'll get more music, live or on record, from Gartside but I hope it's soon.