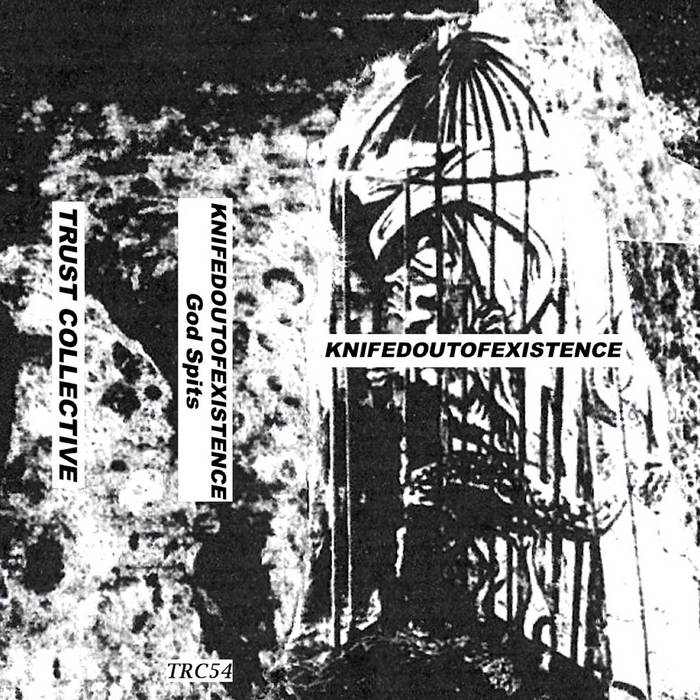 What makes a Knifedoutofexistence new release so exciting is you never quite know what you are going to get. Will it be a full-on face melter, or something more sedate and tranquil? Or maybe it'll be something else entirely. We're never quite sure until we press play, however it always sounds like Knifedoutofexisternce. After a few moments trepidation it turns out God Spits is an absolute rager.
It was recorded during a period of intense creativity where Knifedoutofexistence was recording daily at the start of 2021. These recordings act like audio diary entries. Instead of writing down his feelings, and activities, we get these sonic interpretations instead. God Spits was largely improvised but only a couple of takes were recorded straight to a 4-track recorder. This gives the music, and it is music, a sense of immediacy that is sometimes missing from Kinfedoutofexistence releases. 'Caged' lives up to its name. It's the sound of frustration personified. It's so relatable. For the first time in a generation, we were told when we could, and couldn't go out. Who we could and couldn't see and, more importantly, where we could and couldn't work. For some it meant a period of extended holiday. Others it meant months of worry and stress they didn't need or deserve. You can feel the worry and excitement. "What do you mean I'm getting paid to stay at home?" you can almost hear "I can just work on music and do those jobs I never have the time for? This isn't going to be so bad" It's all there on 'Caged.' This is probably one of the most intricate sounding pieces of music Knifedoutofexistence has ever crafted. There is beauty in its grotesqueness. Opening with maelstroms of tightly wound noise, that slowly gives way to guttural bellows and you can sense Knifedoutofexistence pacing the room. Mic in hand. Other arm dropped to his side. Listless, but filled with the explosive energy of a coiled spring. Ready to explode when the music needs him to. It's awe-inspiring and a little bit terrifying.
This is why we listen to this music though. We want the danger and excitement that other genres don't quite deliver. Yes, pop music is ace, but when the songs finish, you aren't left questioning what it all means. Yes, metal/hard rock is fun, but where are the existential questions after that last solo has been drained from the guitar? Yes, classical/composed music is beautiful with massive pangs of regret, but where is the self-loathing and inner dialogue? Arguably I might be listening to the wrong stuff if these questions aren't being answered, but maybe they weren't asking the right questions to begin with.
God Spits is about as abrasive as they come. It punishes you from the opening moments, until its final breath. Yes, there are respites, but they are fleeting. After it ends you feel a sense of relief and regret. Like after you've told a dark secret to a friend. And in a way this is what God Spits is. Knifedoutofexistence has got something off his chest. He's vented some rage and ultimately feels better for it. As do we. Now if we could only work out what we've been told we'd really be on to something.