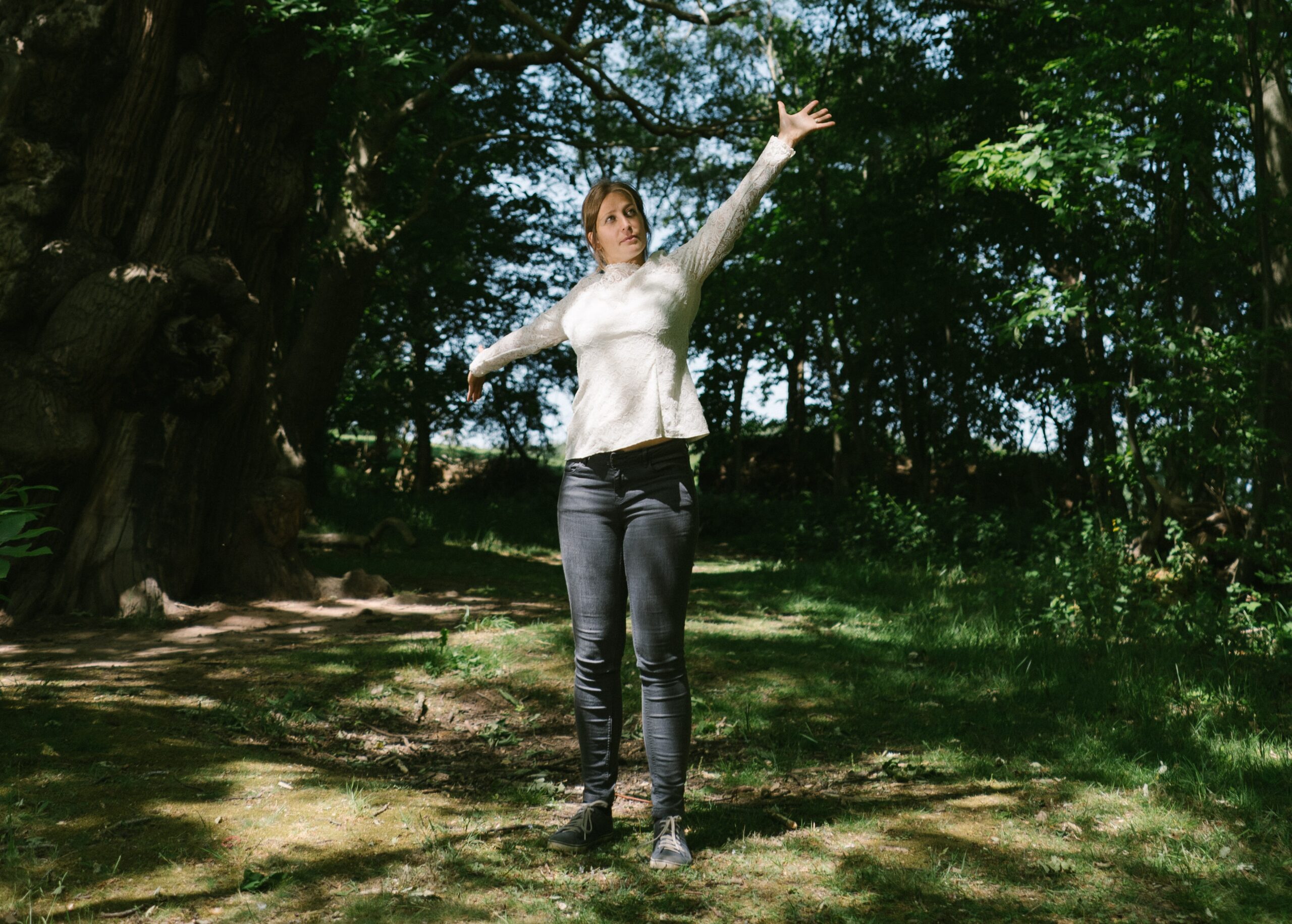 While there is light at the end of the Covid tunnel. Feeling uplifted and aroused is all part of the panacea of sorts. Spring is now omnipresent after a long Narnia-like winter. But maintaining good mental health stakes is a key part of the healing process, along with, of course, plenty of music.
Suitably hailing from rural Herefordshire, the debut EP Inside Out by Nicky Jaques could not have come out at a more suitable time. Combining canny songwriting and zesty vocals redolent of both Joni Mitchell's Court And Spark and late-career Laura Nyro; she resounds on piano and synth. She is backed by Tom Collins on drums; Stevie Callender on bass, and Josh Lamdin on electric guitar.
She recently became a proud new mum of a baby girl. Amid such a life-changing experience, she still found the time to talk to me about her career to date.

What was your first gig as a punter?
 I don't remember going to many gigs growing up. I lived in a rural area and there weren't many venues in Hereford. I grew up listening to a lot of music though, and my parents took us to a few folk gigs. I started going to gigs and festivals when I moved to Nottingham for uni. The first festival I went to was the Big Chill Festival, where I remember seeing The Cinematic Orchestra and Bonobo.  

For those who aren't aware. What is your musical background/CV?
I went to Nottingham Uni and studied a degree in music, focussing on jazz performance and composition. I then went on to Birmingham Conservatoire to study a graduate diploma in jazz. In particular, I played a lot of Latin and Brazilian, world/jazz music. After studying I taught instrumental lessons in schools for a while, and then got a job working for a community music charity where I ran inclusive songwriting and music production projects for teenagers. I play/sing in an acoustic duo with my brother called Keygreen, and I have cut my teeth in function bands playing funk and soul. In 2016-2017 I completed a couple of residencies playing abroad in Israel with a band, and I currently play in an 8-piece group called Sundown Jazz Society alongside my own projects.  

Your folk, jazz, classical and leftfield influences? Any specific artistes who you are a fan of?
 I listen to a really broad range of artists, bands and songwriters and a lot of the artists I am interested in are stylistically varied. Some of the artists I have been influenced by include: Alt-J, Ane Brun, Bjork, Bon Iver, Bonobo, Portishead, Daughter, Eva Cassidy, Feist, Fourtet, Kings of Convenience, Michael Kiwanuka, Quantic Soul Orchestra, Alice Russel, Tune Yards, Bombay Bicycle Club, Jessca Hoop, Nerija, Esperanza Spelding, This Is The Kit, Sampha, Lianne Le Havas, James Vincent McMorrow, Poppy Ajudha, Thundercat, and Nubian Twist.

A predictable question. But how has lockdown been? Has it enhanced your creativity?
Lockdown has been a time of big transition and change for me, which I find often goes hand in hand with feeling inspired and more creative. Whilst I have really missed playing with other musicians; I have spent a lot more time listening to music and experimenting with some lyrical ideas which I aim to develop further in the next few months. At the start of lockdown I was a self-employed musician and yoga teacher, but when the pandemic hit I was fortunate to draw on my experience working with young people, and got a job working  with homeless 16-25 year olds for a sheltered housing scheme. I was really moved by the stories the young people shared with me and I feel like I have a lot to process and express musically from this experience. I also became pregnant during lockdown with my first child and have recently given birth to a lovely little girl; so I'm sort of the most inspired I've ever been and riding on the wave of becoming a new mum at the moment. 
Overcoming mental health obstacles. Is that the main thing that you are adamant in emphasising in your music?
Overcoming mental health obstacles were a part of what I was exploring lyrically with the project, but I was also trying to explore the idea of space and in a general sense how we can be more immersed/present in our surroundings. I wanted to express my affinity with the outdoors and the natural world, and explore what I could do with my voice by embracing the production side of things.
You come from Herefordshire- also where The Pretenders and Mott the Hoople hail from. Any affinity with these musicians, or it is just with the rural landscape as depicted in your videos?
Not particularly. My inspiration is largely drawn from being in open spaces, I love walking and running and find most of my ideas come to me when I am on the move.   

Tell me more about your young people project 'Livewire'.
Livewire is a project which I set up 10 years ago, and have been involved in different roles ever since. I am part of a tight-knit team of community musicians who run workshops, gigs and music development weeks for teenagers in Herefordshire who want to write their own music. It's a really diverse project, and very much driven by what the young people want to do creatively. We've worked with rappers, songwriters, classical violinists, brass players, bands, producers and always encourage collaborations and innovation. The project is funded by youth music and one of the biggest aims is inclusivity. We run workshops in Pupil Referral Units and offer 1:1 provision and group sessions for young people who have had a challenging start in life. It's amazing to see how the opportunity to write music and express themselves can really enhance their confidence and self esteem, and enable them to make friends with people who they wouldn't have met otherwise. It's really rewarding to see how music can bring people together and I've always been really inspired creatively by what the young people on this project manage to achieve.  

When you start getting back to gigging, what will an audience expect?
When I get back to gigging, I am really excited about taking the EP out with a live band. I had a few rehearsals with the musicians who were involved in the recording as we were putting the EP together and it was sounding really fresh. I hope it will appeal to a diverse audience. 

Finally, what has been the reaction to the EP?
This is the first time I have released anything vocally as a soloist so I was a bit nervous, but the reactions I have had so far have been really positive and supportive.  I've had some radio coverage on BBC introducing and lots of positive feedback on social media.
The Inside Out EP (self-released) is out now.