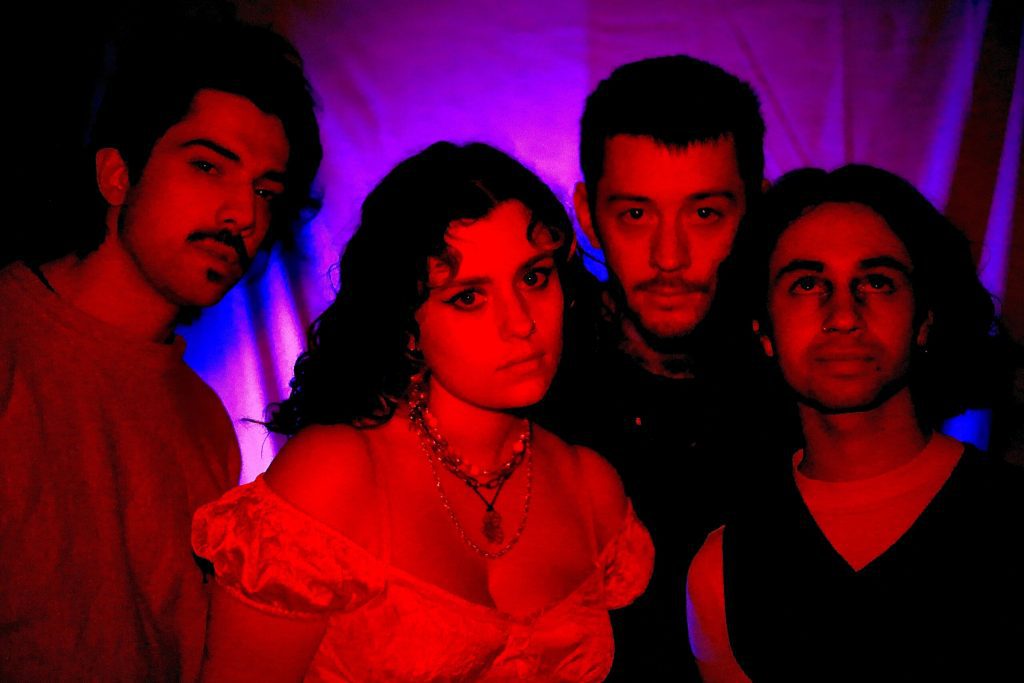 Cruush are carving themselves a reputation for fascinating noise pop, and today they release their brilliant new EP Wishful Thinker on Heist or Hit responsible for launching the careers of Her's, pizzagirl, Eades, and more.  Meeting at a Freshers event, vocalist Amber Warren and guitarist Arthur Boyd formed a connection and began to jam the early tunes that would serve as a helix for the band's genetic information. Joined by drummer Fotis Kalantzis and later by bassist Ru Cowl.
"I guess you can say our music has the sweet elements of having a crush on someone but the screeching of an industrial car crusher," says Warren when asked to describe their sound and it's apt. Their new EP's title track has a wistful atmosphere matched by swirling and smouldering guitars, 'Stick In The Mud' has a swaying gaze pop vibe, and is infused with Amber Warren's introspective longing. While lead track 'Sombre by the Weekend', is kick-ass sailing through shoegaze guitars, punchy percussion and basslines. Crushing into an infectious crescendo where singer Amber Warren bittersweetly meditates on the themes of toxic friends who knock you and affect your self-esteem.  While the recently shared 'Features' is more brittle and haunting.
The previous single 'False Start' embodied the tumult of our times with a squall of weaving guitars that hurtled through the atmosphere, underpinned by a propelling foundation that shifted into overdrive. The Manchester outfit's sound smoulders with the embers of the cavernous gaze-pop of early My Bloody Valentine and the noise-pop emotional intelligence of Sonic Youth and the percussive forward motion of Curve, their waves of guitars are met by mournful thoughts on toxicity, physiological decline, Narcissistic behaviours and pessimistic tendencies,   it just endearingly sounds like Cruush. We caught up with the Manchester group to find out more.
Hey Cruush, how are you?
Amber: we're good thanks!
How did you meet?
Amber: Me and Arthur met at a BIMM open day, although he doesn't actually remember that. We went to Maccies on the lunch break. Our "official" first meeting (that we both remember) was at a fresher's event and I asked if he fancied playing guitar for some tunes. He disappeared into the night shortly after but then popped up a few days later and we learned one of my tunes called 'Paper Towns' which was awfully cringeworthy and we don't play that anymore.
Arthur: Then I knew Fotis from a class at uni. Amber wanted drums like Bon Iver or Ben Howard for our project so I was like look, I know a Greek guy with long hair who wears Led Zeppelin t-shirts and smashes the shit out of his kit, he'll have to do. Every other drummer at BIMM either only listened to metal or was already in 17 other bands.
Ru: I've known Amber for a little while now, we both went to college together and socialised a little from time to time. Me and Arthur have other projects together and I think their old bassist dropped out and I said I would step in for a few shows then was like yeah sure and then it just stuck I guess.
Were there any records you shared a love of when you started to form a band?
Fotis: Not much to start with, but have since of course listened to a lot more music together and we have bands like DIIV, Ringo Deathstarr and most importantly of all Luke Brian blasting in the car at all times.
Arthur: Funnily, I don't think there were many. Wolf Alice and Radiohead maybe, the Grease soundtrack. We probably tried to force each other to like a lot of stuff that no one was interested in.
Amber: I think at first, we all had quite different music tastes!
Ru: I'm not sure. I think me and Arthur kind of crossover in terms of some riffy stuff like Queens of the Stone Age (before finding out Josh Homme was a tosser). I can relate to Fotis when it comes to some of his instrumental things and traditional Greek hymns. I think we all agree that DIIV suck but that's about it.
What's the Manchester music scene like?
Arthur: Very eclectic. On the guitar side of things, it seemed really indie-dominated for ages but there are lots of interesting bands shunning the sunglasses and cigarettes vibe and weirding things up at the moment which is lovely.
Amber: Yes, I agree with Arthur! It's becoming more and more buzzy recently which is exciting
Ru: I think the other guys are probably better placed to answer this one I'm not really sure I'm all that clued up on the Manc scene.
You're now signed to Heist or Hit. How did that happen?
Ru: There was a night a while ago, I'm pretty sure me and Fotis were at the Royal Theatre in town watching some Grease prequel, we were walking down a dark alley on the way back from the show and all of a sudden this dude just kind of came out of nowhere and said: "Hey just gimme the wallet nobody has to get hurt." Before I could even reply, Fotis stepped forward and said "Look I'll give you whatever you want just don't hurt my wife and kid," (we had a kid with us, too. I just didn't mention that before). But I guess the guy kind of panicked because we were well-known philanthropists, he popped a cap in me and Fotis before we could say anything. As I lay there slowly bleeding out, my pearls incandescently glimmering with that unmistakable shade of red, my child lay next to me, unharmed, tears bustling through his cheeks. "I'll never forget you, I'll get him back, I'll grow up big and strong and get him back." That child grew up to be heist or hit and that's how we got signed.
Amber: The above also handing out cringe flyers at indie record fairs and insisting we have a million songs ready to record but no money.
Arthur: Plenty of flirting on Instagram is what I remember.
Fotis: It was all down to my devilish charm
What can we expect from your new EP?
Fotis: Our oldest and most beloved track 'Features' makes an appearance finally. And we can promise a heavy amount of ethereal punchy shoegaze.
Ru: It's a like that trip in the night to let out a hearty stream, you'll never know you needed it, but it feels so right.
Amber: Fuzzy, dreamy guitars with miserable lyrics.
Arthur: Or miserable guitars with dreamy lyrics.
Songs like 'Sombre by the Weekend', and 'Stick in the Mud' are about trying to process difficult feelings do you find songwriting cathartic?
Amber: Absolutely. I have a big long note page on my phone full of lyrics and thoughts. Hearing everything come together in a rehearsal, from a muffled hum on my iPhone voice recorder is so exciting too.
Arthur: A lot of the time for me, only in hindsight there's a whole song sat in front of you and it's like 'Oh, is that what it's about?' It's always easier for me to relate a new song to how I was feeling a few weeks down the line.
I really loved your track 'False Start'. How did it start? Was it lyrical or the wall of noise? I get a sense of frustration and confusion at the world from that song.
Arthur: I think that was the first thing I wrote in lockdown – so frustration and confusion are bang on. It was a bit of a weird instrumental and very different to other songs we had but I remember it coming together really quickly. I ripped off the 5/4 idea at the start of 'Let Down' by Radiohead and suddenly had a song written.
Amber: Arthur was the main guy behind this tune; I added lyrics quite a while after he had done the Logic demo. Tried to channel the frustrations and tension heard in the music into the lyrics.
"I guess you can say our music has the sweet elements of having a crush on someone but the screeching of an industrial car crusher" I love that description of your music. Is that where the name Cruush comes from?
Fotis: Sadly no, the name just came about at random, we were going to call the band soap at one point but it was taken.
Arthur: It would have been trickier comparing our music to soap as well.
Amber: We knew we wanted one word for some reason, I'm not sure why we chose crush. I think we had a gig in a week and had to pick something real fast.
How did you cope with the lockdown?
Arthur: It was weirdly beneficial for us. We got a lot of writing done sending each other demos, which gave us the chance to write a whole new set of songs that I think finally sounded how we wanted to (robbed off of new bands I found with all my spare time). Like when you go to Thailand to find yourself with nothing but the clothes on your back and your trust fund from Daddy.
Fotis: Frustrating not being able to play live and see each other but we ended up with such a better catalogue of songs after the lockdown was done. I guess we wouldn't have had the heavier shoegaze sound we have now if it was not for the lockdown.
Amber: I agree with Fotis and Arthur. Would love to have that much time to spend on writing music again, under different circumstances of course.
Ru: I loved it to be fair, I think that element of solitude was really nice, especially in Manchester. There are usually so many people around so it was nice to kind of freely walk around without having to worry about people. A lot of reading and stuff like that. It was good. I think I kind of miss that life.
How important do you think social media and TikTok and YouTube are for band promotion in this era?
Ru: Yeah I kind of flip a bit with TikTok, I love posting total crap on it for a laugh, and I think it's fun to make that content with your friends. I'm not a huge social media person though, but I guess it's super important nowadays.
Arthur: I love TikTok. It convinced me gnomes are real and then taught me how to make an authentic carbonara.
Amber: TikTok is a black hole for me, I have to stay away or I just look at kittens for hours and hours. I kind of hate that we have to do so much social media stuff; it's so numbing.
Fotis: I think it is very important in an age where a digital presence is becoming the way in which people consume culture, however personally I am so bad at the social media game and I am very happy Amber and Arthur and amazing at it.
What's on your playlist?
Fotis: Luke Bryan Arthur – plenty of songs about big trucks and cold beers
Ru: A nice mix I think, funky mackerels and gnarly adventure always get a shout for me.
Amber: And Momma (their song about speeding at 72 is fun on the motorway when the limit is 50 amongst a load of roadworks) Wednesday, Alvvays at the moment. Also, Daughter because they're releasing an album soon which I'm very excited about.
Arthur: Yeah, Wednesday are amazing, '90s rock with a lap steel guitar in, what's not to love? Really interesting vocals as well.
You mention a love of My Bloody Valentine which songs in particular?
Fotis: When you sleep is definitely at the top with loomer and soon next in line.
Arthur: And soon next in line sounds like a MBV song title. 'Only Tomorrow' is probably mine, the guitars in the instrumental sections are delicious
Amber: 'Sometimes' is my fave MBV song because it's so miserable. I love it.
Ru: I think the only one I know is 'Only Shallow' or 'Shallow' something. I'm gonna go with that one.
Are there any new bands you have discovered recently?
Fotis: Kraus have been non-stop on my headphones, I love their sound and think they deserve more attention.
Ru: Fotis showed me Maruja who I really like. Not really a new band but ADHD are cool too.
Arthur: No Sun are a great Deftones-like shoegaze band I've had on repeat recently. Nia Archives is also really cool, she does a bit of everything, perfect now the sun's (barely) coming out. Enola Gay are sick. Nara and Slowhand Clap are two bands we've played with recently who have blown us away; well worth checking out.
Amber: They've taken the words out of my mouth, shout out to Pleasure Centre, too
What do you think about some of the male-dominated festival lineups that have been announced lately?
Arthur: You can play festival lineup bingo with Kasabian, Blossoms, Wombats, etc, who are on every lineup every year, so boring when there's a huge amount of talent about that isn't white dudes playing songs from 2010. Shout out to Manchester Psych Fest for smashing a varied lineup; that's one to look out for.
Amber: Aye, it's extremely annoying. Girls can play the guitar! And there's such a huge pool of amazing non-male artists, festival bookers need to be more conscious when booking the festivals instead of recycling the same lineup year after year.
Ru: Yeah, I'm kind of with the other guys on this one. I think recycling lineups are super lame, but I guess it needs to be approached with caution because tokenism has its downsides too.
What's in your fridge?
Fotis: I'm keeping a manuscript of the musical 'Hairspray' in mine at the moment for school.
Amber: cat food, sriracha, hummus.
Arthur: Fanta in a can and parsley.
Ru: Blarn.
Do you have any shows lined up?
Still figuring out a Manchester headline – something is coming, we promise. And we are playing Manchester Psych Fest in September! We've got lots of exciting things piling up for summer which we can't share yet but keep an eye out.
Future plans?
More music and more shows we hope! We all kind of want to move abroad and escape this joke of an island so if anyone has a beach hut in Portugal or something they can rent us for cheap, so please get in touch!