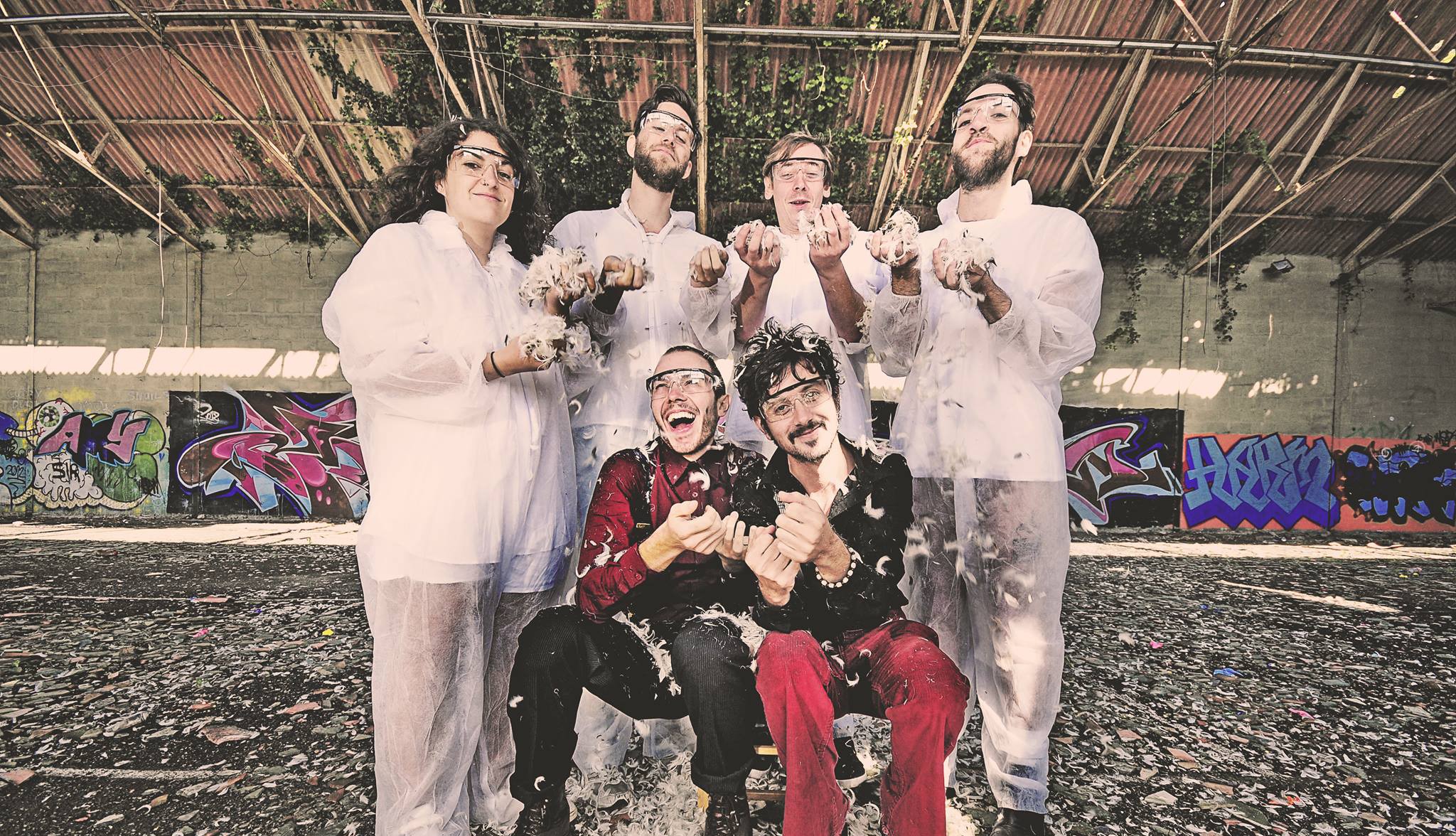 Quiet Marauder follow up 2020's 'Tiny Men Parts' EP with new album 'The Gift', out on Friday, through Bubblewrap Collective.
In an unexpected yet fruitful turn of events, the record sees the band's backing vocalist Kadesha Drija take on lead vocal duties for most of the multi-instrumental acoustic-folk songs on it.
Recorded t the very beginning of last year in The Burning Hell's (Canada) pop-up Snowbird Studios, aka an art deco villa in Riofreddo, near Rome (Italy), this release marks a further exercise in collaboration. On The Gift, Quiet Marauder's (Wales) contributions of acoustic guitar, bass, trumpet and layered lead and backing vocals are granted further textural depth from their Canadian counterparts. These include minimalist harmonic splashes of flute, piano, organ (Jake Nicoll), electric guitar, bouzouki (Darren Browne) and bass clarinet (Ariel Sharratt).
Returning to the conceptual songwriting approach of previous releases 'MEN' and 'The Crack and What It Meant', The Gift charts the narrative of a troubled teenage girl (Willow) haunted by visions of a mysterious house fire.
Quiet Marauder's Simon M. Read tells us about creating the record, and troublesome domestic appliances.
You've moved into a different sphere with The Gift, more acoustic and folky. How did that come about? Was it an epiphany of some sort?
We've always flitted around musical styles to some degree, but this is our first album to embrace such a singular approach throughout it, I think. There were a few inputs into the decision-making there – but the main one was that the concept of the album suited that tone more than any other.
For me, it's an incredibly sad album and story, so I was keen not to overpower it with our full-on indie-pop or rock incarnation as it would have been quite jarring. Plus, the villa in Italy where we were recording was pretty remote and, as it was a pop-up, drums were harder to factor in.
Also, because the guys from The Burning Hell were all set to play on it (and that they are supreme multi-instrumentalist musicians), I felt a lot more comfortable that we would be able to add enough sonic flesh to the bones without needing to go down the bombastic path anyway. 
So, in the end, I think it was a combination of all of these things that led to the album being the way it is rather than an aesthetic epiphany that will guide us going forwards. We're already planning a synth-based album about a man called Malcolm Del Monte that I imagined coming out of my internal lounge wall during the darker days of the pandemic, so I'd expect us to continue flitting about project to project based on what approach makes most sense.
Did you set out to make a 'nice' album?
That's an interesting question. I think the album morphed quite considerably from conception to completion. In terms of the writing process, it was very similar to our previous album The Crack And What It Meant in that there was a narrative storyline lying beneath the songs. The main motivation in both instances was to convey the story the best way that we could. Both albums have a sense of dystopia about them, too.
Though The Crack is more formally futuristic, there are flights of fancy in The Gift, too, such as allusions to time travel, the darker mechanisms of technology that grow around us, and how our human brains remember things. I think the key difference is that The Gift, while still charting the paths of characters within the narrative, is more focussed on the experiences of one person and less abstracted and social, so maybe more relatable.
The storyline, to me, is pretty melancholic and covers themes that haunt and disturb me, like the fallibility of memory and identity, so I don't think it's a nice album in that sense. But the beautiful sounds of our players and singers, alongside the contributions from The Burning Hell, certainly help to make the album feel 'nice' even if the story and themes underlying it are drawn from a darker pool of thinking. How intentional all of that was, though, is hard to pick out.
How does the collaborative approach across the different countries work? Loving imagining and picturing the journey this album has taken across the globe whilst being made, Canada, Italy, Wales, through people and places.
It still touches me to think about the convergence of the eight people involved, all separated across continents, into one art deco villa in the hills of Riofreddo an hour outside of Rome. We honestly had such a good time out there, just before the pandemic took grip, drinking, hugging and recording in close quarters. The whole process started with Mathias (The Burning Hell's lead singer) getting in touch towards the end of 2019 asking if we wanted to pay a visit to them out in Italy for a few days to do some recording in January or February 2020; they were very keen to escape another Canadian winter, I think, so the studio was a way of them all relocating for the worst of that.
Funnily enough, the genesis of the album came in their company a few months earlier in the patio of the place we were staying together on tour in Manchester with a wonderful lady called Bernie. During a drunken chat about the TV shows we'd watched as children, my contribution was to remember a show called The Gift about a teenage boy who had visions of a house fire, which I was certain was airing in the early to mid 1990s. I was quite shocked that when looking for evidence online that it didn't appear to have ever existed; I remembered it vividly, so what was going on?
The themes of memory fallibility that are laced through the album were based on my own concerns in that particular moment, I think, though I only really recognised that sometime afterwards. In any case, the group of us all made suggestions of what this TV show that never existed could or should have been about, and those fragments of conversation were ultimately the basis of the album. So, it started in Manchester in England, was funnelled via Cardiff in Wales and Prince Edward Island in Canada, before ultimately taking its final form in Riofreddo in Italy.
It's been a hell of a journey!
How did Kadesha's promotion to lead vocalist on the bulk of the songs come about?
Kadesha has long been one of our secret weapons in Quiet Marauder! But the thought to 'promote' her to lead vocals was again driven mainly by the story of the album and the characters involved more than anything else. Following our drunken chat in Manchester, the main character had been determined as a teenage girl called Willow, and I wanted to remain true to that, rather than crowbar myself egotistically into the lead role. In the old days, where we weren't so resplendent with gifted vocalists, I may well have attempted it all via myself and a vocal transformer, but I knew Kadesha would do an incredible and much, much less distracting job. The initial demos had me singing all of the songs and those were the ones sent around for everyone to prep towards ahead of our Italian odyssey; the ultimate plan, though, was always for Kadesha to play the part of Willow and be the central role on the main recording.
Where did the idea for Willow come from?
It was a combination of things really. From the initial conception of the idea in Manchester, as I say, a lot of the story and characters were outlined, but there were still considerable gaps in what happened to her and what the ultimate outcome of the story would be. My (false) recollection of the (non-existent) TV show that inspired the album was that the main protagonist was troubled and that their visions of the house fire were a symptom of this. So aspects of the character such as them being in the social care system and having foster parents were incorporated to reflect those issues, and also to loosely draw on my experiences of researching with people in these kinds of situations which I had been doing around the same time in my guise as a daytime sociologist.
How did you as a man approach writing from the pov of a teenage girl, or charting a female narrative?
It's something I was very conscious and wary of, to be honest. I was quite keen not to deviate too far from the storyline in the writing and, I think, by doing that, the experiences being outlined are fairly free from specificity in terms of gender. I hope that the themes of the album are kind of universally shared, albeit through a range of different experiential filters: love, loss, family, trauma, identity and memory. I wouldn't be comfortable writing an album where the central focus was the lived experiences of being a woman, plus I think it would be terribly informed on the matter.
But where the character events within the narrative are less specific to one gender or another, it didn't feel quite as uncomfortable. And one aspect which did alleviate most of those concerns was that Kadesha was going to be singing the words, as well as adapting them where she felt necessary, and so there was always the view that there would be some validation of the writing from a female perspective before anything went on record.
How did you approach writing / arranging Her Love Interest / His Love Interest in relation to that?
It's funny that you picked that duo of songs as we worked together more so on those than some of the others. We knew that they were set to follow one another and would be charting this quasi-imaginary, romanticised relationship that may or may not really exist, but either way feels very real to its protagonists. So, in a sense, there was already an in-built idealisation of the flourishings of love from either side in the backstory to the songs, partly from the fact that Willow's is so painful that she takes whatever comfort she can find, and partly because the origins of the album was a TV show where these kinds of idealised relationships are fairly common and relentless.
So, while we were keen to keep everything fairly subdued lyrically, and not too ridiculous, we were also conscious that if the 'girl meets boy' plotting did feel a little bit cliche, then that was almost part of the aim, really.
Writing from the pov of a robot must have been a different experience again, though?
Ha, yes. Though it was really writing from the perspective of a robot who had only just worked out they were a robot, which is another layer of meta. Recording I, Robot? was one of the more challenging aspects of the whole process, simply because it's difficult to sensitively get across the gradual deterioration of a freshly uncovered robot's soul. Plus, singing different words over yourself multiple times can be maddening to say the least, until things get mixed. I started getting a twitch towards the end, such was the power of the voices inside my head.
Why is the future orange, of all the colours?
That song title, The Future Is Bright, The Future Is Orange, comes from an old advert for a UK mobile network called Orange. Fingers crossed they don't mind us nabbing it, but I think they are now defunct anyway so it may be a moot point. It was an initial hint at the commercial technology themes that enter the fray later on in the album. But, also, Ogany's 'future' is literally orange in the sense that he is, at that moment, in front of the glowing flames of Willow's house fire which will soon engulf him. So it was a two birds, one stone song title!
The distrust of domestic appliances is a very real struggle. I bought a toaster once because it was pink. But it was functionally useless, I kept hoping it would break but it lasted for years out of spite I think. What's the most rubbish one you've ever had and what happened to it?
Haha. I did something similar with a purple DAB radio recently. It looks fantastic but crackles like a stale cereal. But I think my least satisfying domestic appliances have always been hoovers, simply because the gradient from top suction to meandering ineffectiveness is very steep and fast-moving. It feels like I buy a new one every year and suffer the same tragic arc of the honeymoon period very swiftly to betrayal / disappointment. I hope you manage to find a functional pink toaster, there's got to be one out there!
Listen to The Gift streamed exclusively for God Is In The TV here: