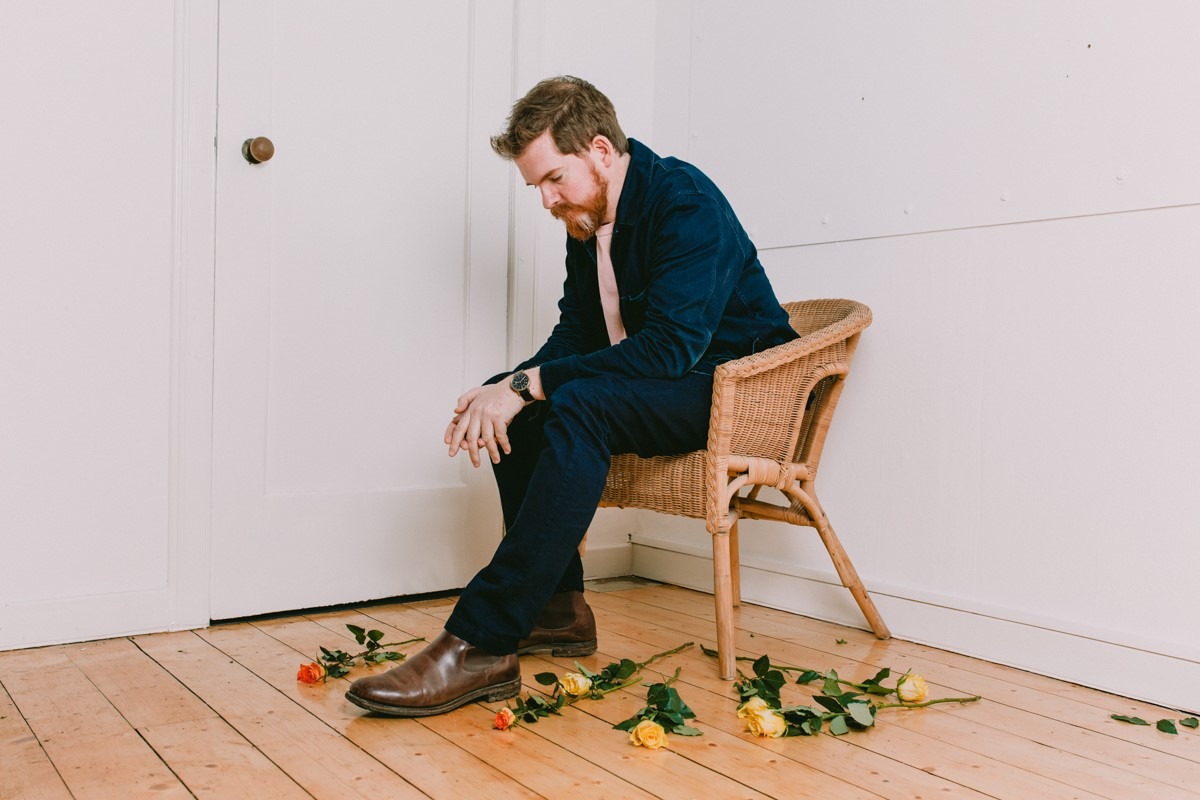 Singer songwriter John Smith releases his sixth studio album, The Fray, on 26th March via Thirty Tigers. The album arrives after a difficult year for Smith. In the spring of 2020, Smith and his wife lost a pregnancy, and his mother was diagnosed with cancer. His usual schedule of two hundred days a year on the road touring was paused for the first time in over a decade. During this time, Smith turned to songwriting to help him process the events he was going through, resulting in the new album. Smith co-produced 'The Fray' with friend and producer Sam Lakeman, at Peter Gabriel's Real World Studio.
The Fray is such a beautiful collection of songs. I've been playing it across the past weeks and with every listen, the songs reveal themselves more. The sonic textures of the tracks are remarkably engaging – Smith is such an impressive guitarist and his vocals fold beautifully with the guest vocalists. The songs on The Fray lead a dance between hope and melancholia – each winding into each other and providing much solace and warmth for the listener. For example, the song 'Hold On', featuring guest vocals from Jessica Staveley-Taylor (The Staves), offers sentiments such as "Took me a minute to see with open eyes / Whatever happens will be fine / Hold on / Take my hand and take it easy." I loved this. The Fray is an album that underscores the power of music to offer so much to the listener. Smith is a skilled songwriter that shows vulnerability in his songs – just as many of us have felt this same emotion the past year, and this album shows beautifully how a songwriter and listener can help to try and steady each other through the music.
I interviewed Smith about the new album, how he has been coping the past year, the music that has influenced him recently, and his favourite biscuit (he now has me hooked too on caramel wafers).
What are your earliest memories of playing music? And when did you realise you wanted to be a musician?
I start on the piano when I was about six. I hated the lessons. I moved on to drums and then discovered the guitar when I was twelve. That was it for me. I stayed in my room for the next seven years and emerged knowing what I was about.
What music had a particular influence on you growing up?
I was fortunate to have a family with a huge record collection. Ry Cooder, Paul Simon, Bob Dylan, Joni Mitchell, Nick Drake, Bert Jansch & John Renbourn. We always had blues record on too – Muddy Waters, Clapton, John Lee Hooker. My brother got me into A Tribe Called Quest and Ninjatune.
I have really been enjoying your new album, The Fray. Can you tell us how the album developed as an idea, and why you gave it that title?
Thanks very much. Last year felt like a struggle, I was aware of moving through a hard time. I was in the thick of it, in the fray looking for a clear path forward.
The artwork for the album is very striking. Why did you select this image for the cover?
So much of the record is concerned with the passing of time. I saw Elly Lucas's photograph of a rose, just a little past its prime, and felt it summed things up.
I love the song 'Hold On' – it has such a beautiful sense of hope within it. Can you please tell us about the inspiration behind this track?
It's about that exactly. Hope. I believe that the only real way to cope with life's problems is to dig the heels in, keep your chin up. It's about holding on tight in the hope that you'll get through it somehow.
'Eye to Eye' is also so brilliant. I loved this track. It features Sarah Jarosz and your voices go so well together. What was it like working on this song?  
It was a lovely experience. This was the first song I wrote with Sarah Siskind; we both felt that Sarah Jarosz should sing it. We had worked together once before, earlier in lockdown for a BBC collaboration; I was so pleased to have her appear on the record as well. Her sense of musicality is so highly evolved, she's just a monster player and singer. When she sent her parts over, they elevated the whole track.
I know you've sadly had a very difficult year. Overall, what role and importance did songwriting play for you in your life during this time?
It was significant. As soon as I picked up the pen, songs started to happen. There is catharsis in writing what you need to and hearing it back on tape. I would have been lost without songwriting. It felt like a choice between turning it all into songs or having some kind of collapse.
The title track of the album also really captivated me – what was the inspiration behind this song?
Last year was a struggle for me and for almost everyone I know. It's about hope, with the acknowledgment that we're all having a hard time, and it's not good, but if things go well then we might see better times. Dig in, chin up.
You are living in North Wales now – how are you finding it there? I'm in South Wales, near Cardiff, but I've been to North Wales a few times, and it is so beautiful there. In addition, do you think that the location you are in affects the music that you write?
I haven't written anything here yet, but we haven't lived here long. I've been renovating the house and preparing to launch this record. I think when it's time to write, a lot will come out. We live up in the mountains, where the drama of the landscape is a very real participant in the daily routine. I'm looking forward to getting the pen out again and seeing what happens now that I'm in the wilderness.
I know you like a biscuit – as do I. if we were having a cup of tea together now, what would you have? (I'd go for a Tunnock's Tea Cake).
My last three records were made on a bedrock of Tunnock's Caramel Wafers. Sam Lakeman got me hooked on them.
What music has made an impact on you during the past year?
John Coltrane. I knew his music of course, but I never really got it until recently. He blows my mind completely. I've listened to Ballads non-stop lately. I've really found my way into Hejira by Joni Mitchell. I never liked it much because I couldn't get behind Jaco Pastorius and Pat Metheny. Somewhere in the last year it clicked and now I'm obsessed with that record. I've been playing 'Amelia' but I can't sing it.
I was late to the Leif Vollebekk party, but I really like what he's doing. I also went down a deep Justin Townes Earle rabbit-hole after he passed away. I've listened to Harlem River Blues almost every day for the last six months. What a record that is.
Touring and performing has been very important for you – you have a fantastic reputation as a live performer and you have a tour announced for September. What have you missed most about performing live?
Adrenalin, travel, community. I haven't been myself without gigs.
What track from the new album do you most look forward to playing live, when concerts resume?
'Deserving' is a fun one to play. I like beating up an acoustic guitar for the sake of a song.
What is the best live concert you've ever been to, and why?
Kelly Joe Phelps at the Jazz Café in Camden, 2004. He is a total master. I've seen Allen Toussaint, Nina Simone, Dave Brubeck… this was different. It was as though he bent time and space to his will, like some shaolin monk. I lost myself and suddenly the gig was over. He was doing something very weird to reality, with a guitar, that I haven't witnessed since. I've met people since who were at that gig, who described feeling exactly the same. I was completely sober too. Never seen anything like it.
How have you been coping during lockdown? And how has it impacted the music you are making?
It's been up and down. The new album came directly as a result of this new experience.
What are your tentative plans for the rest of 2021?
I'm building a lot in and around the new house, keeping busy. I enjoy all that stuff, carpentry and messing around with cement. I'm launching an album in a new world where I can't just hit the road for two years straight, so I'm finding ways to perform and engage with my followers. I'm very fortunate to have an audience who wants to listen.
The Fray is out today.
Photo credit: Elly Lucas