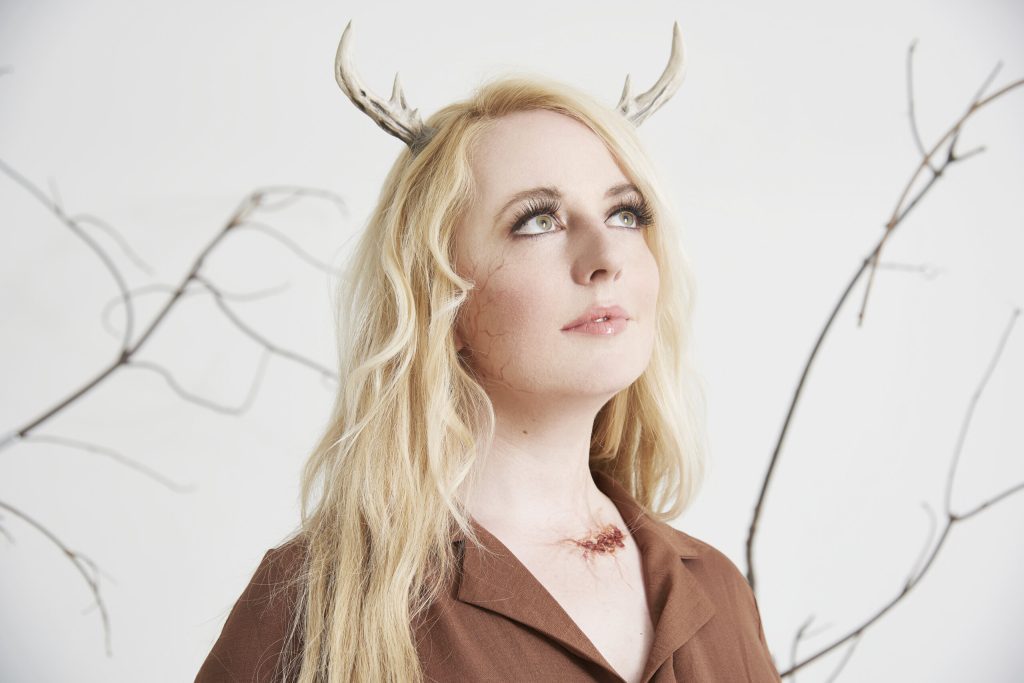 With the release of her third album, Deathbed Confessions, Hannah Rose Platt takes a stab at that dying breed in music; the concept album. Produced by Ed Harcourt, the album is described as "a collection of ghoulish ghost stories, melodious murder ballads, and humorous Hammer-horrors". We spoke to Hannah about conceptualizing the concept, working with Ed, and Inside No. 9.
Hey Hannah, thanks for taking the time to talk with us!
It's a pleasure! 
So, to start, tell us a bit about yourself.
I'm Hannah Rose Platt, a Liverpool born, Bristol based singer-songwriter/recording artist recently signed tol Xtra Mile Recordings. Lover of all things weird and wonderful! 
What can you tell me about you new album, Deathbed Confessions?
Deathbed Confessions is my audio version of an anthology series. Once you press play, and board the "G-Train" it's my hope that listeners will be transported on a twisted and wonderful journey, each stop a new vignette, both uplifting and disturbing in equal measure. Each song is its own little individual story; however, they are all linked, and the record is designed to be listened to in full, with interludes and easter eggs galore! Like watching a movie or curling up for 'story time' the way we did as kids.
Was it always the plan to make a concept album?
Yes absolutely. The idea of a train carriage full of ghostly characters came to me in a flash, I initially thought it was going to be one song, but the idea just became bigger and bigger and I knew it was going to have to spread over the course of (at least one!) album. 
Talk to me about the title.
I titled the album after all the songs were written and recorded, I knew I needed something that would give a hint to the themes of the songs and that tied them all together. I originally had 'The Deathbed Confessions' as the name for the musicians accompanying me on tour (which we will use when we do full band shows!) and then it occurred to me, this is the perfect title for the album, not just the band! 
I love 'Wendigo Rag', what can you tell me about that song?
Ha ha! I'm so glad you like it! It was chatting about this song to Ed Harcourt that made me realise he was absolutely THE person to produce the album. We were having a conversation about new song ideas and and I said I really wanted to write a 'comedy cannibal Christmas song'. Rather than being disturbed, he roared with laughter and told me to go and watch 'Ravenous' (a 'horror western'!). I immediately did so and learned all about the myth of the 'Wendigo' – a monster, part deer, that instils the insatiable desire for human flesh into anyone who is unfortunate enough to hear its 'cry'. My partner Freddie came up with a 12-bar blues bassline, and I wrote the lyrics (a little too quickly!) telling a story of a misguided college boy who takes a wrong turn in the car to give him more time with his crush (who is unaware of how he feels) and it all goes very wrong… I remember googling 'can you kill someone with a pair of tweezers' and thought, 'ok it's official I've gone to the dark side' hopefully there's enough dark humour in this to make it 'palatable' ha ha (Ed describes this song's sound as 'if PJ Harvey had a wedding band!'). 
I really like 'The Gentleman' as well, what's the background to that song?
Ah 'The Gentleman'! I LOVE this character. I wanted to be sure to provide something lighter and uplifting, this is the jangly upbeat number on the record about a benevolent spirit, who was so kind and loved in life, that he continues to help people in seemingly mundane everyday ways in death. Things like finding a lost cherished item, creating circumstances for future lovers to meet, finding lost keys back in your coat pocket etc. I took inspiration from Cary Grant's character in 'The Bishop's Wife'. Next time you go to take the bins out and you realise it's already been done, don't dismiss it as if you did it without thinking…maybe it was 'The Gentleman'? 
There are lots of terrific songs on the album, I won't ask about them all, but what can you tell me about 'Feeding Time For Monsters'?
'Feeding Time For Monsters' was first inspired by the notion that in symbolism, the psyche is often represented by a 'house', so if the house or the mind is 'haunted' what would the rooms look like? I went through a lot of my personal ghosts and memories of traumatic experiences to write this song. Ed and I wanted to create a sense of woozy chaos – in the song, a night in a haunted house means a night with your worst fears and memories, sitting in it, processing it until the relief of the light of the morning. (There's a stunning stop motion animation to accompany this song by William Davies that fans of anything Tim Burton will love!) 
Which was the final song you chose to put onto the album?
'For the Living, For The Lost' – This is the closing song about acceptance, death, grief, change, renewal. Moving towards peace. In the literal world of the characters, they are letting go, on the train, now moving onto whatever the next phase of the afterlife may be. For myself (and hopefully for listeners) It's a metaphor for releasing unhelpful patterns and overcoming dark periods in our lives, the acceptance that we have moved through shadows, and we are ready to let go, move on to the next place, the next thing. A goodbye to the old ways of being. 
How was it working with Ed Harcourt?
Working with Ed was like having the colour saturation turned up on life for a week, intense, magical, beautiful and the most fun I've ever had making a record. I've never met anyone so instinctive and wildly talented – every song he touches, the emotion – whatever it may be, is just whacked up full pelt in the most wonderful way.
The press release mentions Inside No. 9 as an inspiration, that's such a great show. What's your favourite episode?
Oooh such a tough question! There are so many fantastic ones. It really depends on what I'm wanting to feel. The thing I love about Reece and Steve's writing is that that totally nail whatever emotion they're going for. If I want to be moved it's 'The 12 Days of Christine' or 'Bernie Clifton's Dressing Room'. If I want a giggle, it'll be 'Nana's Party' or 'La Couchette' if I want to be creeped out probably 'The Stakeout'. And 'Zanzibar' it just a work of genius (that was such a cheat answer, I'm sorry!).  
It was tough question to be fair! It's almost summer, what does the summer of 2023 hold for you?
I've got a few lovely festival performances coming up, really looking forward to playing 2000 Trees in July. 
A tour later in the year?
Yes, there will be an autumn tour, and a run of dates with my talented label mate Jess Guise in August and September – details of which to be announced soon. 
What other artist would you recommend me to listen to?
I have been listening to Gavin Bryars a lot lately, after hearing him and his ensemble perform a stunning live rendition of 'Jesus' Blood Never Failed Me Yet' at Café Oto last week. Tom Waits is always on heavy rotation, also labelmate Tom Jenkins and Melody's Echo Chamber are my favourite cooking soundtracks at the moment. 
What's the best bit of merchandise you have available?
Ah there is so much beautiful merch we've had made for this release! My favourite items are the little compact mirrors with the objects on the back (from the front cover) that represent each song. Or… the PINK wendigo rag tea towels! And of course, the gorgeous gatefold gold vinyl LPS. 
Finally, how do you take your coffee?
I honestly drink it all ways, but my 'treat way' is strong with a little cream and honey – one of my favourite things about going to the USA is 'half and half' in my coffee.
To find out more about Hannah including tour dates and merch check out her website.