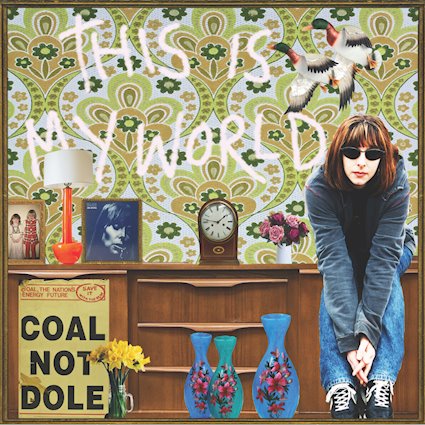 Glitter punks Helen Love have been on the scene since 1992, and according to their Spotify bio are 'probably the biggest Ramones fans in Wales'.  Their latest album will be their tenth full release and by now, as you'd expect, they've pretty much cemented their sound. This Is My World features their signature fast-paced buzzsaw guitars, hyper-localized lyrics, and colloquial-sounding vocals.
The opening track, 'My Seaside Town' is an anthem for those who have ever lived or are living in a small town that has seen better days.  Love sings about the ennui of living somewhere with nothing to do and nowhere to go, of wanting to be 'somewhere loud'  against an upbeat musical backdrop of sweeping synths and trumpet sounds:  "My seaside town on new years eve is desolate and grey, I can hear the winter wind blowing boats across the bay.  And I can't stand the steelworks smoke living in my room.  I think I'm about to choke on the boredom and the fumes"
The next song on the record is the group's single release 'Billy Liar', this is a bright, casio-infused pop song in which the lyrical content rhythms playfully: "Your dad was a black belt kung fu master, he never ate chips he was always eating pasta because he said it gave him strong arms and made him run faster." It's classic Helen Love and fans of their previous works will enjoy this.
Musically, there's not much new about this album, it's still the bubblegum punk that many know and love but thematically it sees the group exploring some personal/political themes in the form of conversations around the deprivation of towns and small cities, the death of family members on 'Clearing out Mum's House' and economic inequality on 'Our House'. The album artwork contains the slogan 'Coal Not Dole' which despite being a throwback to what now seems like a tired and worn out battle is still as relevant as it ever was, as we see the majority of the UK continue to bear the burden of the effects that Thatcher's aggressive actions aimed at leading society into a neoconservative, corporatist state, created.
'This Is My World' is another single release from the record and is a reflective number that harkens back to Love attending miners strikes in solidarity "I stood with miners in the strike of 85. We fought the government and somehow survived." It has a triumphant feeling that is steeped in the experience of a band that has lived on the fringes of subcultural society for decades to find that – in the end, this has been a huge part of their lives – making music, touring, connecting with people.
Is this the band's moment in the sun? The moment where they'll finally be recognised by more than the odd cult music fanzine? I'm not sure, I don't think they really need that because if they did then they'd probably stop making music like this. Music that's so personal, so at home with itself, that doesn't really sound like any other indie band in the UK. Well, that's Helen Love and you just have to respect that.