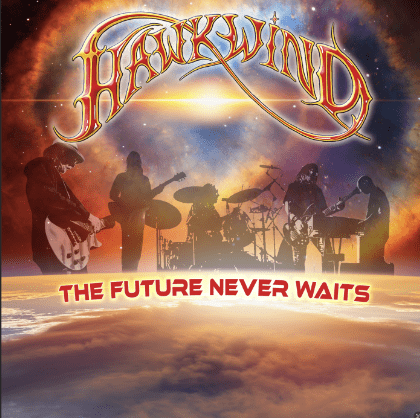 Surely everyone knows 'Silver Machine', Hawkwind's single recorded in February of 1972, which was to become a number 3 hit in the UK. I have vivid memories of Lemmy Kilmister, singing into a hi-ball microphone, his bass guitar slung around his neck, a female dancer saluting the audience, as Lemmy sang those words, we all remember so well, "I, I just took a ride, in a Silver Machine. And I'm still feeling mean…". Vivid memories, not of an actual encounter, but a Top Of The Pops promo, recorded in July of 1972 at Dunstable Civic Hall. A rare live performance, which can now be found available on YouTube, although eagle-eyed viewers may notice that the audio doesn't match completely with the performance. The band has been home to many musicians; the likes of drummer Ginger Baker, poet/vocalist Robert Calvert, and guitarist Richard Hugh "Huw" Lloyd-Langton but is most closely associated with Dave Brock, who remains the only original member.
The band have been described in many ways since their formation, as anything from hard-rock to progressive-rock to psychedelic-rock, but are regarded as one of the earliest bands to employ the genre, space-rock. As The Rolling Stones wrote in 1974 "…it's only rock and roll, but I like it…". Since their formation in 1969, Hawkwind has produced35 studio albums, the most recent of these being The Future Never Waits. I'll be honest by saying that this album wasn't the easiest listen on the first play, but, given the chance, it soon became a friend. As I allowed the tracks to massage my senses, what began to become clear were memories of Jeff Wayne's War Of The Worlds and Pink Floyd's Final Cut, so the prog-rock tag the band had once worn, still remains. But dig a little deeper into these ten tracks and certainly it's space-rock that the band still wears with pride.
As the album opens, it's the title track that meets the mind as we travel into the machine. Synthetic tones or oscillators, which the band's creator Dave Brock was famous for, before slipping neatly into the genre of space-rock. I visualise myself floating in space, void of atmosphere, with my 'Senses Working Overtime' as XTC once told us, but not necessarily in this context. I'm comfortable with these passages and as I turn the page, I find 'The End', which comes before the beginning, but more of that later. A jet plane flies overhead before the track hits full force. An electric guitar chug-chugs, as vocals are brought in. "I have lost, but not forgotten all those messages you sent to me…" Continuing, we learn what these messages might be, "Stories from those far-off places that I would like to see…". With the benefit of over 50 years of experience, Brock and company have learned from artists who have performed during this time, so as the track 'Aldous Huxley' is brought in, it's clear that the narrative on this album is as interesting as its musical canvas.
This number starts with the chiming of a mechanical clock. It's subject is the early 20th-century English writer and philosopher Aldous Huxley. The writer experimented with the naturally occurring substance mescaline, which, when taken, produces a psychedelic reaction. A subject some might say fitting for this band who were born in the late 60s. The track is more narrative than it is musical, with sound bites interspersed with spatial sounds, electronic tones, and piano.
This then serves the main dish; 'They Are So Easily Distracted', a number full of jazz timing, projecting an atmosphere of cool during a 10-and-a-half minute opus and the longest number on the album. I certainly wasn't expecting this. Call it progressive, call it space-rock, but this is, so far, an album that shines, with drums that create an atmosphere of menace, while guitar fills produce passages where the sun shines through.
Not even halfway into the album, a biblical tale is provided as 'Rama (The Prophecy)' enters like the reigning champion. A single, according to Apple Music, scales the rocky path provided by its vocal and musical accompaniment. Resounding nicely after each verse, before moving seamlessly into 'USB1', a segue between this and the next track, 'Outside of Time' presenting what appears to be a clear vista. This is sometimes menacing but mostly uplifting. Its 7'38" provides a landscape boosted by an electronic oscillator and driven by a rhythm that is furnished by a drum kit.
The eighth track, 'I'm Learning to Live Today' offers a background of audience appreciation, at least this is what it appears to be. The guitar adds to the pace of the drum, offering an almost hypnotic experience, to what is becoming an all-encompassing experience.
Finally, we have reached 'The Beginning', an epic number where a future view is offered, starting with the instruction "Upload your conscientious here and leave your body at the door marked incinerator."Obviously, this is done not to alarm, but with tongue in cheek. It later continues "…phasing out of carbon-based humans is now unavoidable, rest assured a few are being kept in captivity and will be released back into the wild at the earliest opportunity…". With recent reports concerning our burning planet and concerns about the direction, A.I. is heading, this has been picked up by the lyricist and placed in such a context, that a once thought science-fiction is now snapping at our heels. A monumental soundtrack is played beneath these voice texts and in some ways like War Of The Worlds, produces an impact that should place it in the minds of the listener. Halfway through, like similar numbers, this opens up as acoustic guitar familiar to Brock plays in what I see as a ray of sunshine. The vocalist sings "…liberate yourself, let your body go…". An alarming prospect, but can we honestly see our future-selves living any other way? Perhaps the most involving track on the album.
And so to the conclusion, as 'Trapped in this Modern Age' greets the senses, with an intro not dissimilar to the vista that opens up on ELOs' 'Mr Blue Sky'. The vocalist ends the story. "You know it's only make-believe, you only see what you want to see…". A recording of our time, is offered with the right sentiment. From 'Silver Machine' to 'Trapped in this Modern Age', a process that has allowed me a greater insight into one of Britain's rock icons. 35 years and still performing.