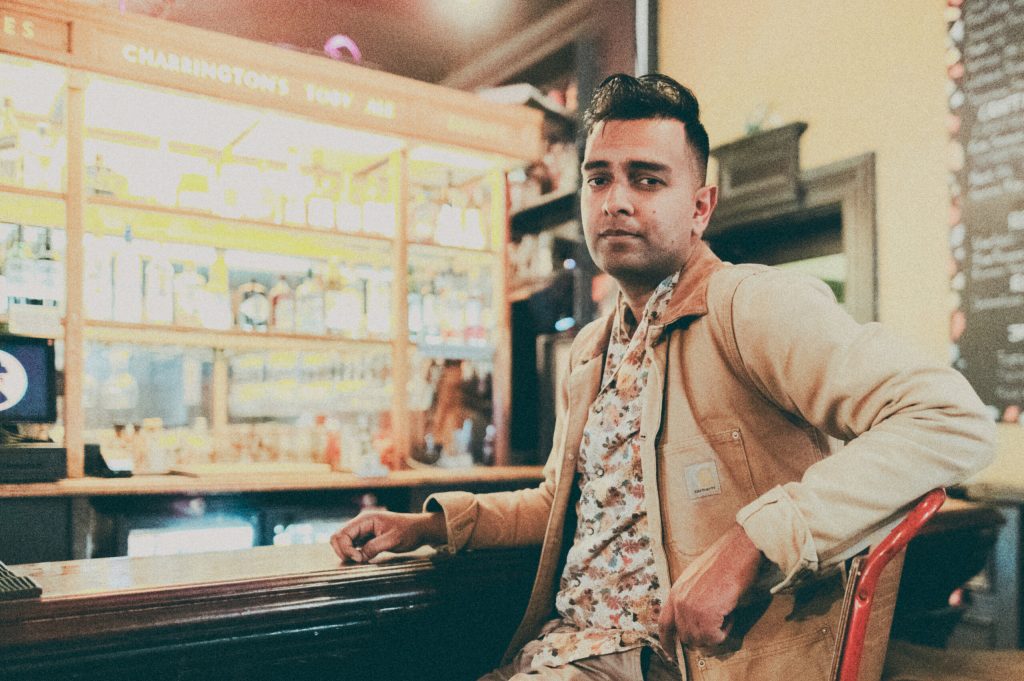 KILL, THE ICON! is the synth-punk protest project from London-based doctor Nishant Joshi, a prominent voice during the pandemic, who made national headlines, as the first frontline NHS doctor to go public with concerns that staff were not being protected. Joshi and his wife, like true punks, rebelled and launched a legal challenge against the government and triumphed leading to major changes in the use of PPE for their colleagues. The 'landmark case' sparked changes, such as doctors no longer being asked to reuse masks.
Fuelled with frustration, in the summer of 2020,  KILL, THE ICON! was born- a punk fuelled sonic addition to Joshi's activism. 'Heavy Heart' is the second single from KILL, THE ICON!'s upcoming debut EP 'Your Anger Is Rational'.  This kitschy punk anthem plays on the more serious themes of racism. Injected with disco laced percussion and glam-rock synths, KILL, THE ICON! have crafted an anthem that is equal parts playful and cathartic. GIITTV are pleased to premiere the video today.
Speaking of the video, Joshi says 'Many of the people in this video will be your friends, colleagues and politicians. We have to share trains, offices and restaurants with these people on a daily basis. Heavy Heart aims a nod towards the power structures that depend on racist outcomes, as well as pointing out some of the more comical situations that the so-called Alt-Right find themselves in.' Watch here:
[embedded content]
Speaking about his inspiration Joshi said:
'I was faced with racial slurs when I was younger, but nobody has uttered a racial epithet to my face for many years. But, I know the racists who existed in the 90s are still alive and well. They didn't die out all of a sudden, and neither did their ideas. So, the point of this song is that everyone acknowledges that racists exist. But nobody will ever admit to being racist – so where did they all go? My answer is that they all wear disguises: as politicians, right-wing journalists, and talking heads for shady think tanks. The brazen racism has retreated into the shadows, and subtle racism has taken over. 
Heavy Heart is a sardonic call to arms for racists: say it loud, say it proud. Come out of the shadows, and into the light once again where we can all see you. Subtle racism is a true scourge of our times because it's impossible to point your finger at any given incident. It then makes you doubt your entire worldview, because you've not closed that feedback loop. So there's a generation of PoC living in marginalized communities in the UK who haven't been called a racial epithet, yet still, they can detect rooms where something just feels off. Heavy Heart explores why that may be.'
The neo-noir artwork for 'Heavy Heart' is inspired by the opening scene from the film American History X. Joshi also included a spoken word quotation from the movie, as he believes the words are an 'a reflection on how one can emerge from the depths of racism through critical thinking.'
KILL, THE ICON!'s protest punk has been supported by the likes of John Kennedy on Radio X who called them 'An utterly fascinating band'' 'Your Anger Is Rational' is due for release with Blaggers Records on the 2nd June.
KILL, THE ICON! Live
Arcabaleno, Brighton – 13th May
Follow KILL, THE ICON! here: