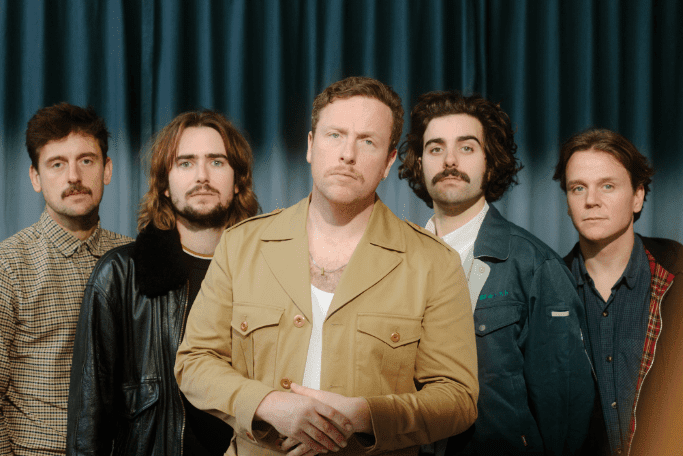 Dutch rock band, Iguana Death Cult, return with their high octane new single, 'Oh No,' ahead of their upcoming LP, Echo Place, due on 12th May via Innovative Leisure. This latest track comes after their two stellar singles, 'Pusherman' and 'Sensory Overload' continuing the freewheeling psych-rock hype ahead of the record's drop in May.
The band said, "Inspired by Dutch writer Jan Cremer, I decided to write a song about how incredibly amazing I am. This sort of self-mythification seemed funny to me since I spend most of my days wallowing in doubt and worry. In the end it became a metaphor for how we polish up our lives to near perfection on our social media accounts, while mental health problems are becoming more norm rather than an exception." Watch the video here:
Speaking of the video, the band said,
"One night, I played the new record for our good friend Max. When 'Oh No' came on and I heard myself sing the first line, I knew it; We have to get this guy in a knight costume. Max is a 6 foot 5 berserker but also one of the sweetest guys I know. We had so much fun making this video even though it was freezing and we had to hide from the rain every ten minutes. The banter you can have with this guy is unprecedented. One of the sharpest tongues in the game. Everything was filmed in Rotterdam again. Can't represent this beautiful city enough! Because this song has a bit of an old school Iguana feel to it, Hache wanted to use a lot of video distortion like he did back in the day when he made the videos for our first record."
In celebration of their forthcoming album, Iguana Death Cult made an appearance at this year's SXSW (Austin, TX), where they played a total of nine showcases and were named one of the top twenty best acts by Paste Magazine.
Upcoming album, Echo Palace sees Iguana Death Cult taking their trademark melodic garage-rock style and psych roots, pushing it further than ever before. Iguana Death Cult come to the UK for dates in Bristol, London and Brighton this month. Full dates are below:
April Tour:
28th – Astral Festival, Bristol, UK (tickets)
29th – Moth Club, London, UK (tickets)
30th – Hope & Ruin, Brighton, UK (tickets)
PRE-SAVE & PRE-ORDER: Iguana Death Cult – Echo Palace
Pre-Save / Pre-Order