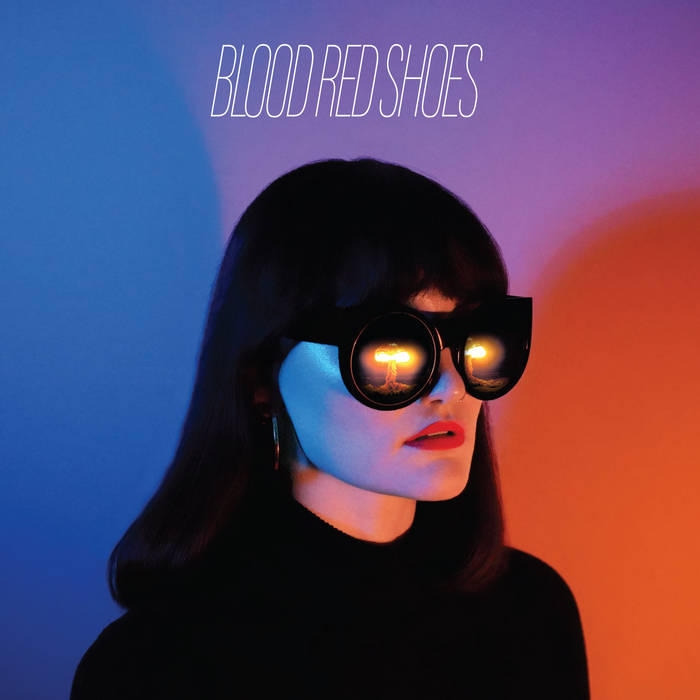 Oof. Blood Red Shoes are well and TRULY on form right now, somehow managing to make their new album Ghosts On Tape sound like Hell in many places, yet also making Hell sound like a highly desirable place to be! When it DOESN'T sound like Hell, it sounds like Heaven has heard about the crazy parties going on in the netherworld and decided to throw the mother of all euphoric raves. The whole thing sounds like the two religious cosmologicals going into battle, to quite remarkable effect. "What the heck is he going on about?" I hear you cry. Well let me explain…
As soon as 'Comply' kicks in with its bare, haunting piano motif and Steven Ansell's rather tortured vocals, you're immediately aware that this is going to be a Blood Red Shoes album like no other. Indeed, the narrative – for Ghosts On Tape is certainly erring towards the vibe of 'concept album' – was informed, according to the blurb in front of me, by "true crime and murder podcasts, many songs on the record  are told in character and explore the dark psyche of those at the pinnacle of outsiderdom."  Whoa. No wonder it sounds so murky!
That's not to say it isn't a lot of fun – Laura Mary Carter's vocals on the brilliant 'Morbid Fascination' recall Kylie Minogue or perhaps Alison Goldfrapp in a dancefloor sleazefest (I mean this in an extremely positive way), while 'Murder Me' gives a knowing nod to PJ Harvey.
The pulsating 'Give Up' is a song of two halves – Ansell's urgent, furious delivery making the track sound like a cross between The Prodigy and Asian Dub Foundation for its first two minutes. It's the second half that lead me to make the (admittedly probably incorrect) Heaven vs Hell subplot in my mind though. What sounds like a rapid heartbeat separating the two parts, leads into a euphoric, otherworldly ascent into the clouds and beyond. It's totally unexpected, and something you'd more likely find on a track by, say, A Winged Victory For The Sullen for example.
'Sucker' has a killer (no pun intended) hook that incorporates elements of glam to lift its otherwise unsettling exterior. The result is quite beautiful though and a real highlight.
'I Am Not You' has the kind of twisted edge to it that you would have found on Scottish industrialist Rico's fabulous 2004 album Violent Silences, and 'Dig A Hole' is wonderfully theatrical dramatic, before that glam sound is revisited to splendid effect on 'I Lose Whatever I Own', with a similar beat to The Black Keys' 'Gold On The Ceiling'.
There are no duffers here, and to close out Ghosts On Tape, 'Four Two Seven' made me think first of Britt Ekland's flirtatious knocking on the pub wall in The Wicker Man, and eventually of early Ultravox. I love the variety of influences on this record, whether they're real or if I've just imagined them, but, whatever the case, one thing is for sure – Blood Red Shoes, some 17 years after forming, have just put out the best record of their entire career. Cracking stuff.
Ghosts On Tape is out now on Jazz Life.