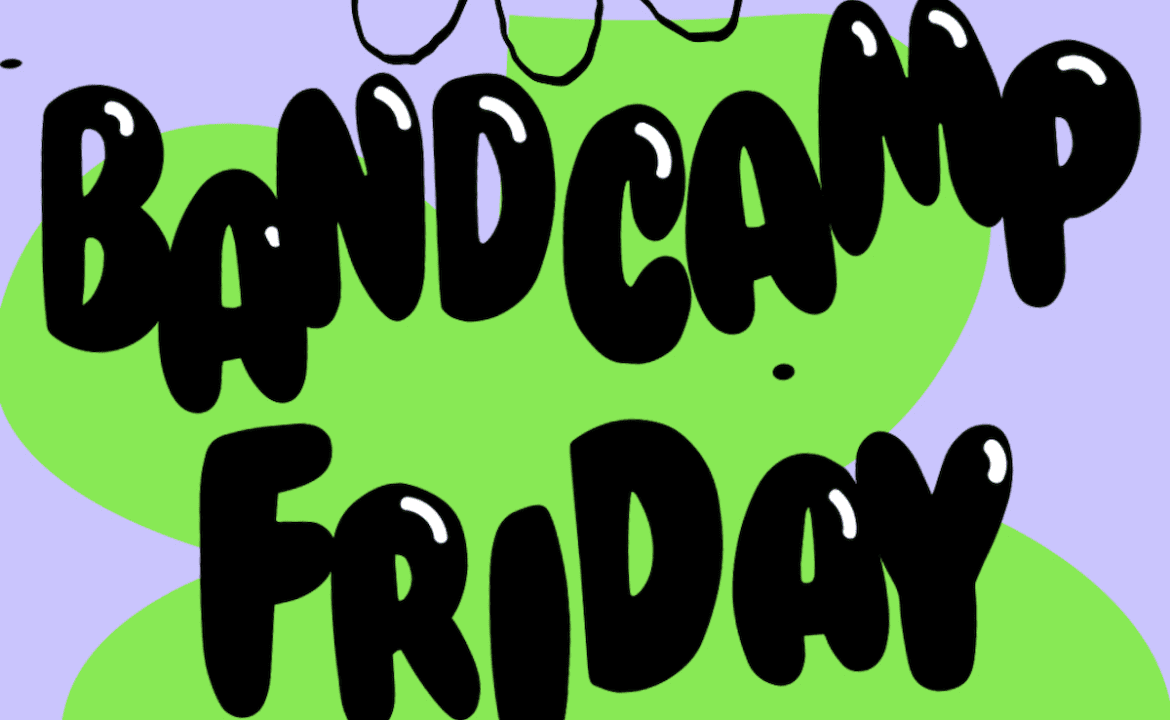 In this month's edition of Bandcamp Friday we've got a slight bias towards all things psych-rock because, in the back of my mind, I'm thinking about heat and deserts and wanting it to be full on summer already, although I am writing this in May so if you're reading this and it's now sweltering then never mind. Aside from psych rock, we've still got picks to appease you popsters and post-punkers.
Picks by Kate Harensape and Bill Cummings.
Heaters – Solstice
If drenched out psychedelia that sounds like something you'd hear in a dive bar scene during a Tarantino movie is your kind of thing then get yourself a tequila sunrise and pull up a seat. Despite their name, Michigan-based Heaters are the essence of cool. So cool, they haven't released an album since 2018 and I sincerely hope this means they're working on a magnum opus of sorts, but I recognise the likelihood of this being the case is slim. Still, 'Solstice' isn't timestamped in any sense, and spans the breadth of age like the waft of marijuana from a lock-in at your local indie venue. (KH)
Fruit and Flowers – Drug Tax
Fruit and Flowers are another US band that seemed to dissipate into thin air around 2018, this was the only full-length album they released during their time as a group. Blending elements of post-punk and psych with a sultry, melodic darkness akin to bands such as La Luz and Shana Cleveland's later solo material, Fruit and Flowers developed a subtly unique sound that captured the same night air of The Strokes and Karen O. (KH)
DAMEFRISØR – Islands of Light
Damefrisor bring an infusion of dance, industrial, shoegaze and post-punk to their sound and it's fitting that this album was recorded with Alex Greaves who also has worked with BDRMM and Working Mens Club. In a way, Damefrisor are a happy blend of these bands although the track 'D.O.D' diverges from the rest of the record slightly sounding as if members of Fuck Buttons reformed into a band with guitars. Either way, Damefrisor may still be developing their sound and whilst I personally hope they continue to pursue the more synth-laden path, it feels like whatever genre they turn their hands to, it's going to be good.(KH)
Haru Nemuri – Shunka Ryougen
Combining modern J-Pop with noise, poetry and even post-hardcore at times, Haru Nemuri covers a lot of bases and it's definitely not going to be everyone's cup of tea. However, if you are inclined to certain weeb-ish tastes then it may be yours. Shunka Ryougen is both a diverse and passionate release that showcases Nemuri's musical ambition. I'm told her live performances are something to behold and fortunately for our UK based readers there are a handful of tour dates Haru Nemuri is scheduled to play from now until 7th June.(KH)
System Exclusive – Party all the time EP
System Exclusive capture the zeitgeist with their brand of retro synth pop that appears to take influence from the cool perfection of bands like Drab Majesty and Cold Cave, I mean this in the sense that there's an obvious eighties influence but it doesn't sound as though it existed in the eighties. Instead, aligning itself closer towards an LA noir interpretation of a kitsch eighties classic. It is a modern, sophisticated pop in which bubblegum and "hyper" are replaced with a slick, self-awareness. If this EP were a book it would be Brett Easton Ellis' Less Than Zero. Happily, they are also set to be touring the UK this September.(KH)
Fake Fruit – ST
That scene in Pulp Fiction where Mia indicates Vincent is a square by air drawing with her hands could easily serve as a description of just how angular Fake Fruit's version of post-punk is. The group borrow from Wire's 'Pink Flag' and further define their sound with a hint of mathy, alt-rock crunch, think Deerhoof but slightly less experimental. There's a Mac Demarco vibe to the guitar tones at points, particularly on the track 'Keep You' and these effects really help diversify what might otherwise be a somewhat repetitive musical formula.:(KH)
ONIPA – NO COMMANDO
Onipa recently announced their new album 'Off The Grid' set for release on Peter Gabriel's Real World Records this October, featuring an impressive cast of collaborators including Moonchild Sanelly, David Walters, Dele Sosimi and Theon Cross. To preview it they shared the riotous single 'No Commando' featuring David Walters, with funky desert blues, and deep heady Afro- grooves, this foot stomping track is rife with African folklore, reminiscent of that Congotronics (Konono No.1 / Mbongwana Star), the chanted refrains amidst a tapestry of found sounds, bashed pots and pans, recycled metals, are an absolute hoot, as they explain: " A musical interpretation of the concept; One person's rubbish is another's treasure." This is the soundtrack to dancing across the continent and reconnecting with the roots. They say: "No Commando is about peace. A call for 'oneness' and a look at where 'sources originate'. Seeing how the power of community can dispel fear and help us to express ourselves with 'calm' and 'ease'."
From Accra Market cassette tapes to London pirate radio stations, Malian blues to UK jazz, the twin creative forces behind Onipa. The twin creative forces behind Onipa — Tom Excell (Nubiyan Twist) and Kweku Sackey (K.O.G. & the Zongo Brigade) – together with Finn Booth on drums and Dwayne Kilvington (a.k.a. Wonky Logic) on synths. (BC)
 4DEE – SHOTS FIRED
One of the founding fathers of Welsh Hip hop, Cardiff rapper 4Dee has been a part of hip hop since the 'breakdance' and 'electro' waves of 1983, and he has remained at its heart throughout. Picking up the mic around 85-86 he joined DJ Jaffa, MC Eric who would later go on to front the chart topping Technotronic, and acclaimed songwriter and musician Dike Okoh. Since then he has been a member of many other groups such as: rock rap outfit Under The Gun (which gave him his first publishing deal with EMI); Undecorated Veteranz with Joe Blow and the late great DJ Stagga (who went on to become a favourite producer of both the Dubstep and LA Beat scene); and Sionis, with members of youth group Underdogs.
His third album Shots Fired, produced by DJ Jaffa, was recently released on his own label Veteran Records. And it's a really impressive record, riven with the anxiety of our times, the prejudice and frustrations of the last few years, woven a military theme: whilst it has an appreciation of an appreciation of classic "Britcore" sounds, it's modern hip-hop with a message: an inventive, set layered with film and news samples and 4DEE and co's vital bars burn with highly prescient themes. Particular standouts include the confident 'Unstoppable' featuring , the low bass rumble of the nightmarish visions of 'Versed and Cursed' with guest Chew, ripe with smart beats, horror samples, fantastic witty and fiery wordplay and a brooding deep groove, and the fired up verses of the title track. The prescient and heartbreaking 'Broken Britain' is a centre piece late on, a memorable looped acoustic line provides a platform for righteous delivery that tells of injustice, gang violence and forced adoption. (BC)
Marta Salogni & Tom Relleen – Music for Open Spaces
On Music For Open Spaces the duo of Marta Salogni & Tom Rellen, produce a masterclass in minimalism and captivating, hollowed out soundscapes, this is a terrain of chiming and rippling sounds that puncture the vastness of the desolate and jagged moving landscapes such as the Joshua Tree desert, the Cornwall coastline or the inward Londoner abode. They say: "it is an adventure into a compelling intellectual landscape that involves the listener while opening unexpected perspectives at every step towards a new beginning. Listening to the tracks induces us to find our own way beyond the consuetudinary geometries through which we decipher our interaction with the ambient, offering us the chance of a true discipline of perception." Take the magisterial 'Desert Glass' that's warped sound loops, scattered samples and rumbling atmospheres, give way to a journey into the heart of the time, it could be a soundtrack to an apocalyptical film.
Marta Salogni details the context of the recordings "Tom and I started recording Music for Open Spaces during our travels to Joshua Tree, just at the edge of the desert. Other tracks were recorded while on a trip to Cornwall. We loaded the car with tape machines, a couple of synths and Tom's bass. When we arrived we set up a small studio in the living room of a rented house, facing the ocean. The last pieces were made in our familiar places, in London. All the tracks are mostly spontaneously improvised, influenced and inspired by the landscapes in which we were immersed at the time, those being both physical spaces and metaphysical ones, but always open." (BC)
Hazel English – Slide
Australian musician Hazel English — who is now based in California, recently shared her version of Goo Goo Dolls' 1998 alt-rock hit 'Slide.' "I want to wake up where you are/I won't say anything all" sings English hauntingly, as she opens up the heart of this melody with her enveloping strum and golden, bittersweet melody, shrouded in a warm productional glow, this is a gorgeously lovelorn earworm for fans of Soccer Mommy and Phoebe Bridgers. (BC)