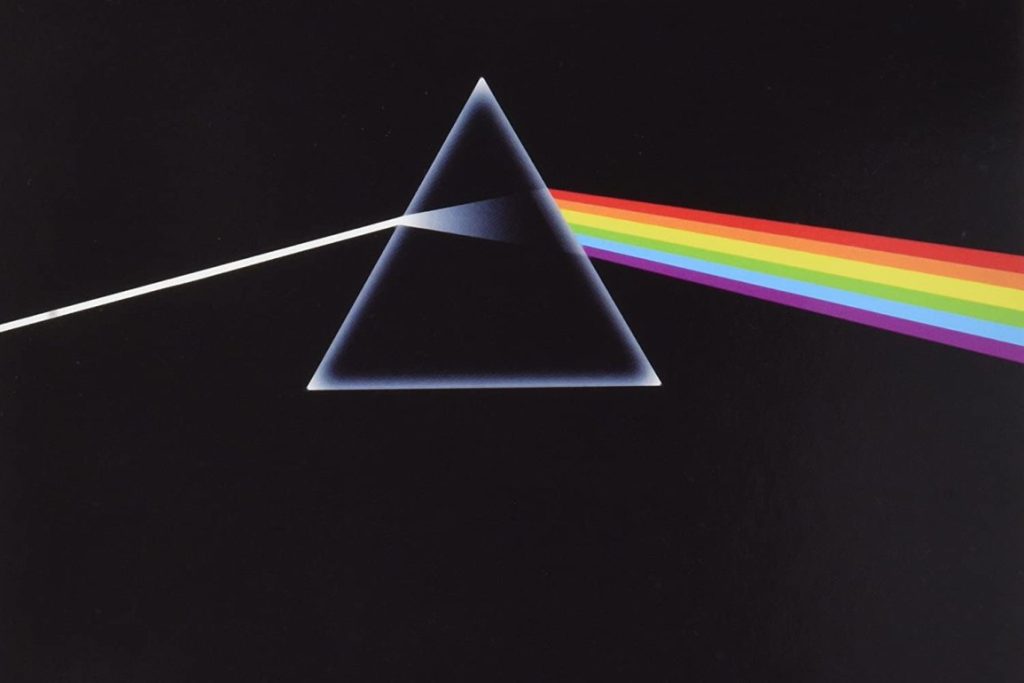 "My God, we've really done something fantastic here!"
On the 24th March a brand new box set was released to celebrate the anniversary of one of the greatest albums of all time. An album that has inspired the likes of Nirvana, Radiohead and U2. An album that should be in every music lover's prized collection and that is thought of today, 50 years later, as the ultimate "concept" album. It is instantly recognisable due to an iconic sleeve and would stay in the charts for almost 14 years, propelling the band towards the recognition and the reverence they had only previously dreamed of. That album is The Dark Side Of The Moon, by Pink Floyd.
"It was a huge album," music journalist Nigel Williamson says, "and huge not just in terms of its sales but in terms of its influence. This is where underground music, progressive rock, whatever, really went mainstream."
"But, it was also the kind of thing that took you places if you wanted to listen to it in a darkened room," broadcaster Robert Sandall added for the television series Classic Albums.
"I wish I could put a pair of headphones on, turn the lights off, lie back and hear this album for the very first time," David Gilmour admitted on the same episode, a tinge of regret colouring the tone of his voice as he looked back at a missed experience so many of us have wondrously sailed through: a rite of passage that he and the rest of the band, Roger Waters, Nick Mason and keyboardist Richard Wright, have never been able to share in. "It would have been nice."
Today, the Floyd's guitarist and singer admits to the doubts he held at the time, doubts as to how their new creation, over two years in the making, would be received, especially outside Great Britain.
"I bet Steve, [O'Rourke, Floyd's manager], that Dark Side wouldn't get anywhere near the top ten in the States, and he bet that it would, he was absolutely certain that it would… I was very wrong," Gilmour laughs with a certain amount of relief, although it was a bet that he and the rest of the band couldn't really lose.
Recorded at London's Abbey Road, The Dark Side Of The Moon would not only confront issues such as Life, Death and the band's growing contempt at what they perceived to be the gratuitous gluttony running rife throughout the record industry at the beginning of the 70s, but it would also help them try to come to terms with the mental fragility that had led to Syd Barrett's "disappearance" in 1968, and his subsequent descent into the drug-laced nightmare world from which there seemed to be no way back.
           As Roger Waters remembers: "After Syd went crazy in '68, and Dave joined, we were, all of us, searching, fumbling around, looking: well, where do we go now? Because here was the guy who starts producing all these songs and,"and Waters takes a breath, "was the sort of heartbeat of the band." Classic Albums captures, for a brief second, a glimpse into the confusion and the guilt that the band still feel about their friend's tragic demise. It's still palpable, and, as a band, they are still emotionally raw. But, now under Waters' leadership and entering a new decade, Floyd were beginning to explore and experiment, building on the musical soundscapes and the colourful effects they had been attempting to pursue during their increasingly extravagant live shows, their growing audiences intrigued and bewildered in equal measure: Waters himself growing in confidence and beginning to enhance and broaden some of the themes introduced on their previous L.P., Meddle, but now unburdened by the distraction of the extended instrumental excursions which, according to Rolling Stone critic David Fricke, had by now become one of the band's characteristics.
"Dark Side was," as Waters would later tell Rolling Stone, "the first [Pink Floyd album] that was genuinely thematic… genuinely about something."
"We rehearsed the songs and toured them for ages," Waters recalls. "Late '71, '72? Just perfecting them," he admits. "So that when we finally went into the studio, the band was so tight… everything a perfect fit." Not a note, a chord or a carefully considered word, originally scribbled down in a terraced house in North London, was to be wasted.
"There was a lot of ideas all compressed onto that one record," drummer Nick Mason told Classic Albums.
"Lots of things happened on Dark Side that, for me, are kind of magical, without us intentionally making them happen," Richard Wright would add.
           Now accepted as the band's main songwriter, Roger Waters would later tell the band's biographer, Mark Blake, that it was always his intention to try and drag the band, "kicking and screaming back from the borders of space, from the whimsy that Syd was into, to my concerns, which were much more political and philosophical."
           To Waters, the new album was to become an expression of political, philosophical, humanitarian empathy that was, in his view, "desperate to get out."
           Dark Side Of The Moon starts slowly, quietly, to the monotonous yet tense heartbeat of Nick Mason's bass drum growing ever more impatient… And the gradual fade-in of muffled voices talking in conspiratorial whispers, and building to almost-menacing laughter that cackles and crackles incessantly above the greedy shrill of a cash register constantly demanding more, more, more. And Mason's Speak To Me segues into a quite leisurely Breathe (In The Air), riding gracefully Wright's Miles Davis-inspired piano chord and with Gilmour's double-tracked vocal sliding harmoniously to the fore, rising above the cash till to give meaning to Waters' carefully crafted words, but with an uneasy underlying sense of suffocation and oppression.
           It was story-telling. The other-worldly sounds, from imagination, sped up or slowed down, coaxed out through a bank of knobs and buttons, was of and from a future coming now into reach, that finally gave life to unloved pieces, such as Gilmour and Waters' composition, On The Run; of loops, multi-track tapes and an unused synth that had lain largely ignored in a corner of the studio.
           This was true theatre; inventive, lavish production that left no time in which to catch a breath, everything gathering pace unchecked, moving on to the next warning of foreboding, the next vision or observation.
"And all you touch and all you see, Is all your life will ever be".
"It always amazes me that I got away with it really," Waters admitted in 2003, almost embarrassed. "It was so lower sixth, you know?"
           One of the album's most memorable moments was born from the band's conscious want for improvisation to embellish the overriding sense of a "live" performance. To compliment Wright's beautiful piano and organ work on The Great Gig In The Sky, it was felt that a strong female voice was needed. The resulting few minutes provide Dark Side with it's main tingling, hair-stand-on-end moment.
"It was brilliant." Wright readily agreed before his untimely death in 2008, regaling English singer Clare Torry's improvised "oohs" and "aahs" that crash over the tranquility of his chords like giant waves.
"And my memory," Wright goes on to reveal, "is that she went out into the studio and did it very, very quickly, and then came back in and said, 'I'm really sorry, very embarrassed'. And we, in fact, were sitting in the studio saying, 'this is wonderful.'"
           Waters wholeheartedly agrees, admitting that he found both Wright's work on the keys and Clare's singing, "incredibly moving."
           It had been engineer Alan Parsons who had first suggested Torry to the band, having worked with her before.
"And I was very impressed with her," he told writer Mark Cunningham. "There was a bit of direction given: they said, 'Sorry, we've got no words, no melody line, just a chord sequence – just see what you can do with it.' She was only there for a couple of hours. As I remember, she did two or three tracks, from which we assembled the best bits for a master version."
           The track Money, was to give the Floyd their first American hit single. Reaching number 13 on the Billboard Hot 100, it launched them on the road to superstardom, to  flash cars and large homes, to performing on the biggest stages at the largest stadiums… And it brought all the pressures that came with it, and started to pull the simmering rivalries towards the surface.
"You don't know what you're in it for anymore," Gilmour explained, before adding rather tellingly, "You're left with, 'what next?'".
           Money: a song all about the very thing it became, of art imitating life and vice-versa.
"I'm all right Jack keep your hands off my stack".
           Dark Side is both Jazz and Country, for hippies at the height of extraterrestrial Glam. Rocked by guitars whilst being caressed by the soft and gentle key chords of Richard Wright, draped in the blues and wrapped around the rhythm from the drums. The words speak of madness, death and greed, narrated, echoed and improvised with emotional commitment coursing through each and every vein in each and every groove. As MOJO magazine says, the album's, "ability to move the heart and engage the mind, to offer dread and consolation in equal measure, has never faltered."
"Dark Side Of The Moon was one of the most important artistic statements of the last 50 years probably,' Robert Sandall concludes. "It touched very many people, all over the world… I mean, this was a complete experience."
           Waters and Gilmour can't inhabit the same stage now and casually toss barbed dismissive comments at each other from across the ether, but back then, in '72, '73, the Floyd was a band that had found its voice, a band totally in cohesion and sharing a common goal, "which was to become rich and famous."
"And everything under the sun is in tune, But the sun is eclipsed by the moon".
The Dark Side Of The Moon 50th Anniversary Box Set contains CDs and vinyl LPs of the original album re-mixed, as well as The Dark Side Of The Moon Live, recorded at the Wembley Empire Pool in 1974. It also includes 2 books, containing the Complete Songbook and rare black and white tour photographs, replica 7" vinyl singles, as well as Blu-Rays and DVDs, and will be available from 24th of March.