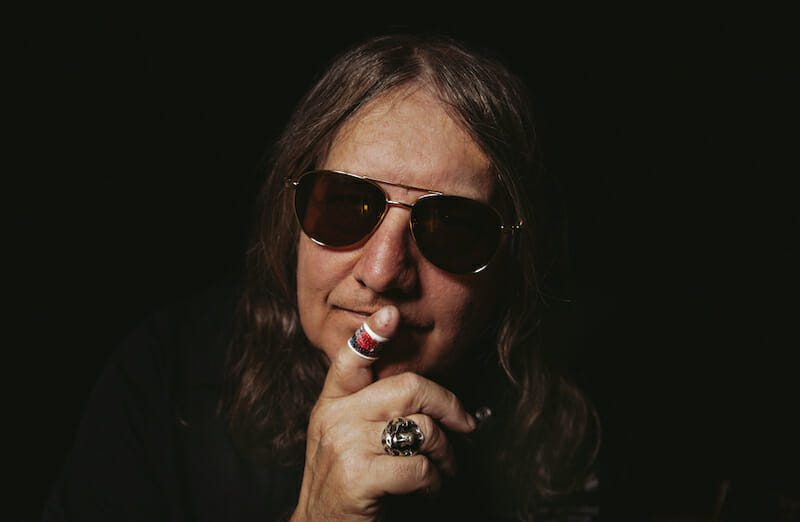 "The tumor had been laying on my vocal cords so I hadn't used my voice in years. I didn't know what was going on," Kevn Kinney says, while checking in from his home in Atlanta, as he describes his uncharacteristically long break between studio projects. "I got surgery for it and immediately made a demo tape. Then I started practicing."
Despite going under the knife, which the artist says left his voice sounding like Marlon Brando's 1972 portrayal of Vito Corleone in The Godfather, his vocals are as strong as ever on Think About It—his first solo record in a decade and his first vinyl set since 1990's MacDougal Blues. Released in December, the 11-track LP offers a swirl of heavy hooks, spoken word poetry and quintessential down-home Southern vibes that callback to Kinney's early days fronting the Athens, Ga.'s collective Drivin N Cryin.
The new album also captures the sense of solitude that Kinney and many others felt during the global pandemic. Throughout the record, the Drivin N Cryin frontman questions society's obsession with instant gratification in the digital age—and he's especially interested in technology's effect on the younger generation.
"I try to teach all my kids just to be 14. Enjoy it because 14 is 14, you know? 24, 34, 44, 54, 64. But 14? Enjoy 14! Be 14, be 15, be 16 because there's gonna come a time when you are who you are. There's no rush," Kinney says emphatically. "I truly believe that social media is part of my frustration. Instant gratification—it's dangerous in some ways."
Elsewhere on the album, Kinney embraces his beatnik side, co-opting the spirit of Jack Kerouac and his poetry albums, which seemed to foreshadow the mind expansion of the psychedelic '60s.
"The music is all improv. We just wrote it after lunch. I sat down with Col. Bruce Hampton; he was a big influence on me. He had a big influence on the jamband scene," Kinney says of his old friend—a key figure on the Atlanta live-music circuit who passed away in 2017, after collapsing onstage at his own 70th birthday show.
"I'm just riffing, winging it, you know? When Col. died, I wrote this poem for him, and then I just recited the poem over the music, and it came out perfectly. So, it's a tribute to Col. Bruce Hampton," Kinney says while describing "Shapeshifter Grifter." The song successfully channels Kerouac, as well as Neal Cassady, William Burroughs, Allen Ginsberg and other artists who rejected the cookie-cutter ideals and materialistic lifestyles of their time.
In the same poetic vein, "The Innocent" is a haunting reinterpretation of the rock-heavy Drivin N Cryin number that shares its name with their 1991 release, Fly Me Courageous. However, on this take, the track's original drums and soaring guitar parts are replaced by Peter Buck's droning EBow and a thread of words that present as verses plucked from the literary section of a highbrow Portland, Ore., bookstore. At one point, Kinney deftly twists lines inspired by the Preamble to the United States Constitution: "With the people of these united rights/ In order to form a more perfect reunion/ Find which binds the common ground and little in common at all/ Nothing can change until you change it/ Nothing can be free until you free it in your own self/ In your own mind in your own time."
A later selection, "Stop Look Listen Think," features a few of Kinney's Peach State counterparts, R.E.M. co-founders Buck and Bill Berry, as well as former Sugar bassist David Barbe. And the collaborations don't stop there: "Another Scarlet Butterfly" boasts appearances by Barbe, Buck and Kinney's Drivin N Cryin bandmate guitarist Laur Joamets—who also spent time working with Sturgill Simpson—while the stinging "Wishes" weaves in Joamets, and Hampton collaborators Kevin Scott and Darren Stanley.
Yet, perhaps the most surprising selection on Think About It is the final number, "Never the Twain Shall Meet"— an a cappella offering that often feels like an old Irish ballad. While Kinney describes the tune rather simply as "me singing to you at 4 a.m. in your apartment," the impact is profound, and the cooing lyrics offer a guided perspective for future generations. The closing cut also reinforces Kinney's overarching message throughout Think About It: "There's no rush."