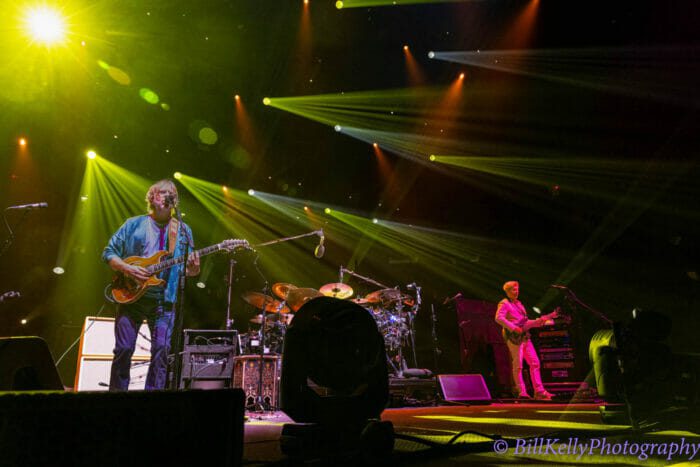 On Tuesday, Madison Square Garden in New York once again reverberated with the mesmerizing sounds of Phish, drawing in a sea of enthusiastic fans. The evening was a spectacle of rare performances and memorable jams, featuring the debut of "Broken Into Pieces" and fleshed-out renditions of classics like "Ghost," "Wolfman's Brother," "Timber (Jerry The Mule)," and "Sample In A Jar."
The show began with a captivating rendition of "Ghost," then transitioned into the fan-favorite "Reba." "Funky Bitch" followed, keeping the energy high before they gave way to "Timber (Jerry the Mule)" perhaps in honor of late Grateful Dead guitarist Jerry Garcia, whose birthday was remembered by the crowd.
Continuing their streak of surprises, Phish treated The Garden to the debut of "Broken Into Pieces," a song previously performed by Trey Anastasio Trio in Denver. The quartet then unleashed the howling and groovy "Wolfman's Brother," with each member working in perfect harmony during the extended exploration. An impressive highlight was percussionist Jon Fishman's nod to "The Well" during this awe-inspiring jam, adding a unique twist to the performance. The first set concluded with a psychedelic reinterpretation of The Beatles' classic "I Am the Walrus," painting the arena with vibrant sonic strokes.
After the set break, the excitement reached new heights with the upbeat and dance-worthy "Sample in a Jar," which extended past 17 minutes, pushing the boundaries of the song. An unfinished rendition of "Kill Devil Falls" followed, leading seamlessly into the groovy "Golden Age." The band continued to deliver one hit after another, including a moment of contemplation with "Shade" before launching into a high-energy performance of "Sneakin' Sally Through the Alley" seamlessly melded with "Twist." The set could have concluded there, but Phish had more in store as they extended the second frame into overtime with the beloved "You Enjoy Myself." The performance was experimental and lush, featuring beautiful piano work from Page McConnell and shimmering percussion from Fishman, while Mike Gordon and Anastasio added their signature skills to the mix, delighting fans with an exceptional display of musical expertise.
For the encore, Phish returned to the stage with the resounding shouts of "Wilson," leading into a thrilling bust-out of "Sanity" for the first time in 103 shows since August 6, 2021. The encore reached a climactic peak with a jam that flowed seamlessly from "David Bowie" into "Character Zero."
Photographer Billy Kelly captured the action below.