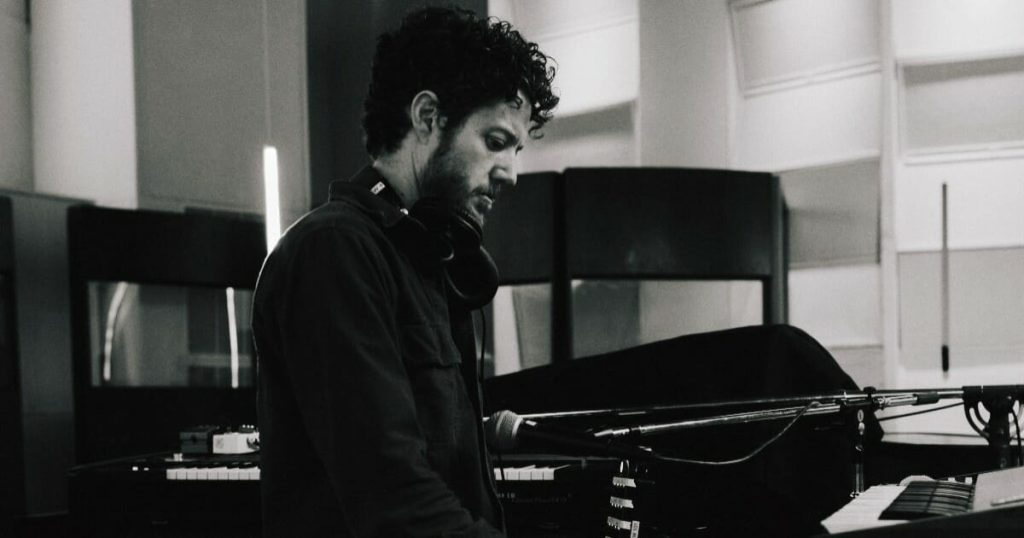 Photo by Alex Kweskin
Eminent pianist Lee Pardini of Dawes has partnered with his group for a collaborative new single titled "What It Takes." The musician who his known for his half-decade tenure with Dawes and work with the likes of Phil Lesh, Chris Stapleton, Roger Waters, Cass McCombs, Jonathan Wilson, Aimee Mann, Jason Isbell, Theo Katzman and more composed the song while Dawes' Taylor Goldsmith penned lyrics.
Pardini's arrangement is soaked in vapor wave vibrations and production, while Goldsmith's voice adds a gilded shimmer to the track that transcends convention while making the song thoroughly contemporary. Together they create a city street, adorned with streetlights pouring luminance which attempt to shine light on bigger ideas like fatherhood, commitment and life's demands.
"To me, this song always felt like city life. Tough, relentless and a little menacing, yet extremely rewarding if you can persevere," said Pardini in a statement. "That's the tone that I think was captured in the original instrumental version on my EP, and that's exactly what Taylor picked up on before approaching the lyrics. Maybe because we are in a band together, or perhaps because we are the same age and share similar musical ideals, but I knew we were in perfect synch as soon as Taylor showed me the lyrics and melody he composed. He got it. It's special to me that we've collaborated like this, but also very special to be able to release this with the band. We've worked up our own unique live version of 'What It Takes' that absolutely has its own vibe. The openness and willingness of my bandmates to venture into this territory further solidifies everything I love about being in Dawes."
Goldsmith added to Pardini's description: "This is a lyric about the demands a city makes on you. Especially the city I've grown up in – Los Angeles, CA. Anyone who lives here is constantly fed this message that your success depends on whether or not you're willing to push your commitments to the absolute extremes. And that all might be true for all I know. But by the time we reach the chorus, this song becomes a kind of resistance to that idea. Recognizing that, sure, maybe sacrifices need to be made. But where is the line for when that sacrifice is too big? I think as a new father this idea has been knocking around in my head for a while now. But it's not a song about parenthood. It's a song for anyone who's wrestling with ideas of dreams, grace, and boundaries."
He went on to say, "The words all kinda wrote themselves when I sat down with Lee's original music for this piece – Lou's Theme. I've always loved this track, as I've always loved every note of Lee's music. He creates such a rich emotional soundscape that the themes and mood of the lyrics felt kind of inevitable somehow. In the best way. I couldn't be more proud of the tune, but also excited about those of us in the Dawes universe continuing to find new ways to all make music and get it out into the world."
Dawes are currently traveling across the United States on their An Evening With Dawes tour which will come to a close with a hometown performance at The Theatre at Ace Hotel in Los Angeles on May 5. Learn more and find tickets to the tour here.
Read a Track by Track article with Dawes on their latest album Misadventures of Doomscroller here.
Listen to "What It Takes" below.