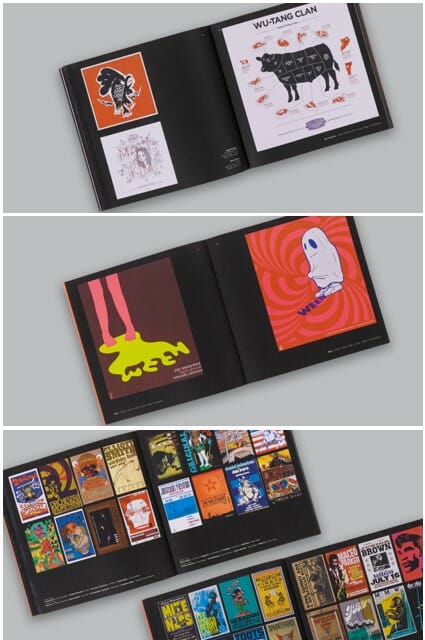 Burlington, Vt.'s beloved music venue Higher Ground is set to celebrate its 25th-anniversary in three days on April 15, and in celebration of the milestone, it has released a beautifully crafted book comprised of original, silkscreen concert posters that have been released over the years. The book titled ECHO: A Survey at 25 Years of Sound, Art, and Ink on Paper comes from the venue the acclaimed design firm Solidarity of Unbridled Labour (formerly JDK Design), and the Iskra Print Collective.
The book features 367 poster designs over 280 pages that have been released since the venue opened, along with a foreword from Grammy Award-winning Wilco frontman and solo artist Jeff Tweedy who is no stranger to the venue. He writes, "What coheres in these images is the work of the music and art communities intertwined and invested in each other … Concert posters are as close as one can get to the solid evidence that we all crave—proof that what happens when we create is beyond the scope of the individual work."
The book includes striking silkscreen posters for specific shows that took place at the venue, that aren't available for purchase and evoke the core of each band with unbridled creativity. Bands featured include Neil Young, Bob Dylan, The Lumineers, Ice Cube, Robyn, Bon Iver, Norah Jones, Wilco, My Morning Jacket, Rob Zombie, Sean Paul, Wu-Tang Clan, The Black Crowes, Gregg Allman, Phish, Taj Mahal, Maggie Rogers, Willie Nelson, Modest Mouse, Jimmy Cliff, Anderson .Paak, and many more.
ECHO: A Survey at 25 Years of Sound, Art, and Ink on Paper also includes interviews with Alex Crothers (founder and co-owner of Higher Ground) and Michael Jager (Co-Founder and Creative Director of Solidarity of Unbridled Labour and Co-Founder of Iskra Print Collective); backgrounds on select posters and shows; an exploration into the art of silkscreen printing and more.
"A concert poster makes the echo of a fleeting experience, like an amazing show, tangible. It's a unique piece of art – one that embodies both promotion and emotion, music and design," Higher Ground described in a press release.
The book is not only a celebration of the 25-year creative partnership between Higher Ground and Solidarity of Unbridled Labour, but it's also a service to the local community. All proceeds from ECHO: A Survey at 25 Years of Sound, Art, and Ink on Paper will will support the nonprofit, Iskra Print Collective, a community space in Burlington, dedicated to the practice, understanding, and appreciation of the printmaking arts.
Watch a short promo video for the book and some stills below.