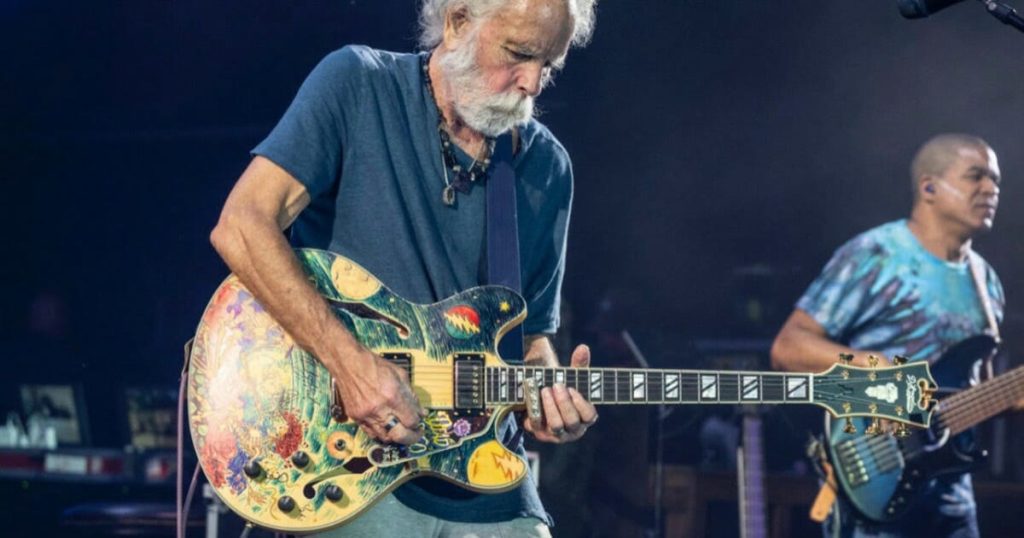 Photo Credit: Jay Blakesberg
With just a handful of concerts left on their Final Tour, Dead & Company are already marking a milestone in charitable contributions made by fans. This year's series of memorabilia auctions have reached $1 million in just over a month, making it the most lucrative auction series in the band's eight-year history.
Notably, a single D'Angelico guitar, signed by the band and played by their legendary guitarist Bobby Weir at Wrigley Field in Chicago on June 10, attracted a bid of $128,000. The item will remain up for bid until the final set of the shows slated for San Francisco. The sizable contribution propelled the total raised to at least $1.14 million.
Also contributing to their charitable success was nearly $220,000 from fine art pieces created and donated by Dead & Company drummer Mickey Hart, auctioned along the tour stops and at a special event prior to last week's New York sweep. Also, Hart recently discussed his artistic practice with Relix Editor-in-Chief Dean Budnick. Read the full interview here.  
The charity auctions were organized by HeadCount, the non-profit voter registration organization that works with Dead & Company, as well as mainstream acts like Harry Styles, Lizzo, and others. Weir is a board member of HeadCount and an artist endorser for D'Angelico Guitars. The auctions benefit HeadCount, the environmental group REVERB, and over a dozen other "Dead Family" non-profits personally selected by the band. 
Most auctioned guitars feature illustrations by contemporary poster artist AJ Masthay, featuring iconic Grateful Dead imagery also seen on official tour posters. Five guitars with Masthay's artwork, each specific to a particular stop on the tour and a corresponding poster, have closed for $60,000 or more. One played by Weir at Citi Field in New York on June 22 closed that night at $125,000. Another fetched $114,420 a few days earlier in Saratoga, N.Y.
Additional signed guitars, drumheads, posters, and fine art will be auctioned at upcoming stops in Boulder, Colo., George, Wash., and San Francisco. The remaining items are displayed each night along Participation Row–the charity social action village which has traveled with the Dead & Company tour since 2015 and has raised nearly $4 million for charitable causes since it began. 
Fans who can't bid on a guitar can have the chance to win one for free by taking action with the non-profits on Participation Row. Those who cannot attend in person but wish to participate in the auctions can also submit bids remotely by contacting HeadCount's Major Gifts Director, Kristina Raines. In addition, Dead & Company donates $2 per ticket to charity and has run multiple online charitable promotions tied to the tour. 
Additional information pertaining to HeadCount and its charitable endeavors can be accessed here. 
Visit their official website to learn more about Dead & Company's upcoming tour stops.